I'm interviewing Olga Buchenko, our new experienced Agile Product Owner at Dandy People with a background from Start Up ecosystem, fast moving consumer goods and retail industries. I'm very interested in her experience of how consumer needs can drive digital development and what that might mean for the retail industry today and tomorrow.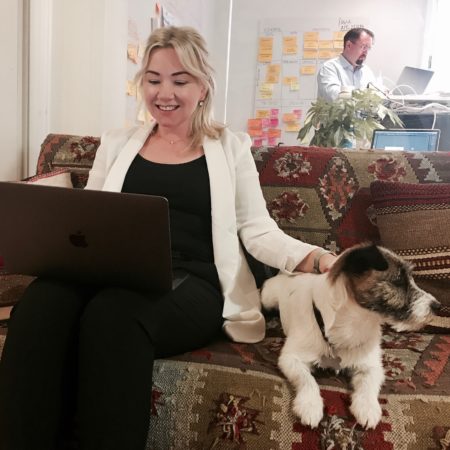 Which are the key trends that you see in the industry today?
A lot of consumers tend to treat the brands and products beyond the product itself and they are expecting to receive an added value from the product's offering as a combination of the physical product and services around the product's key value offering. Therefore creating additional services and finding new and exciting ways to drive product trial is a must for the brands to meet new consumers and stay relevant.

Another exciting trend is omni-channel shopper experience, With new e-commerce channels evolving reflecting consumers new behaviors offline and online, omni-channel is definitely an exciting trend to follow. Consumers want to be able to buy and get their product on their terms, meaning when they want and to the location that is convenient to them. Therefore it is important to understand consumer needs and design effective and flexible services to meet their expectations.
What challenges do you see in the retail industry during the digital transformation period?
I can see three main challenges:
 Working in the retail industry requires working with a large number of suppliers who are all at different stages in their digital transformation journey. This requires a lot of effort both from the retailer's and suppliers side to synchronize and accelerate their efforts in the digital transformation to be able to meet customers expectations online across various brands that the retailer works with.
 It is important for the retailers to be able to meet their customers where they are. In the current continuously growing omni-channel landscape, it requires retailers to place changing consumer needs and behaviors in focus and design their products and services based on the new consumer behaviors.
A lot of retailers are still struggling to make their online business highly profitable. Since e-commerce business model is relatively new, there is a big need to find more cost effective solutions around e-commerce end-to-end processes and transportation while providing a great user experience.
What challenges do you see that the brands are facing today?
Similar to the retailers, it is important for the brands to be present where the consumers are and constantly exceed brand expectations with superior brand offer. Shortening path-to-purchase and offering great product and brand experience are essential questions for the brands to adress in order to win in the e-commerce and digital landscape.
It is also essential to be able to provide personalized offers, as well as improving conversion for the products online as a way to grow and sustain market shares online in a cost efficient way.
So Olga, why did you want to join Dandy People?
When comparing my experience from working in the multinational corporations to the start up scene I can see a clear transformation happening in the business environment and a higher pressure that it puts on the large scale businesses. Constantly changing consumer behaviours, driven by digitalization and urbanization trends requires a new approach to doing business, focusing on creating superior consumer experiences and helping consumers solve their "pain" points in new ways.
Amazon is a great example of a such approach, where their motto is "Everyday is Day One". This is where I believe agile methodologies and practices can be fundamental in driving transformation from the "old ways of doing business" to the "new" ways, allowing to respond to constantly changing business environment. This is where Dandy People's expertise is and that's what I want to focus on in my work.
What are your strengths that you are bringing to Dandy People team?
With my background from Start Up ecosystem, fast moving consumer goods and retail industries, I have gained valuable experience of cross-functional team management, agile product management, conversion optimization and online business development with consumer needs in focus. I will be happy to contribute with my experiences and skills to strengthen Dandy People's offering in these areas.
It will be exciting to work with Dandy Peoples customers who are in the middle or are just starting their digital transformation journey and help them meet their consumers demands in the fast changing digital landscape.
Interested of learning more about Olga Buchenko or hiring her to accelerate your transformation?
Here you find Olgas consultancy page and her contact information >