At Dandy People we support growth both our personal and our customers. Continuous improvement has always been part of an Agile Coach journey and learning from different fields and industries is what we believe makes a team of Agile Coaches great.
Looking for a inspiration? Look no further, few of us would like to share our January picks with you:
 Eduardo (Eddie) Llanos
Can't get enough of this fantastic talk: "Why Agile Fails in Large Enterprises" by Mike Cottmeyer
"Why? Real concrete discussion on how to get the benefits of agile in a large complex organization. Pragmatic. Handson."
Beata Padlo
Is discovering  the science behind the perfect timing techniques while reading Daniel H. Pink "When"
"This book totally changed my life in a way I look at time!
Did you know that by adjusting activities in your team to match different type of  personalities you can help your team grow and create inclusive culture. The one that doesn't judge whether you are an early bird, middle bird or an owl you can create environment for everyone to thrive in."
Catrine Björkegren
Is aiming to get healthier with Lina Aurell, Mia Clase and their "Food Pharmacy"
"I find it interesting because I get to learn so much about the body, what fuel it needs and why. And at the same time it's hands on things I can easily change in my life to feel better."
Mathias Kolmodin
Feels very touched  after reading "Amerikanska inbördeskriget"  (American Civil War) by Thomas Sörensen
"The author draws a comprehensive picture of the events that changed the country and laid the foundation for what would be USA we see today. If you supplement with for example a read of Antony Beevor's titles about the Second World War you get a thorough understanding to the development of the modern United States and also large parts of the western countries"
Martin Teljeby
Is just getting started with The Leadership Model – The art of matching individual and organizational characteristics"
"It is interesting because it describes how different complex ingredients affects leadership. It is great insights to understand, transformations also require great leadership and with this book you can start understand what affects great leadership."
Mia Kolmodin
Recommends  "Salvation: The Bungsu Story: How Lean and Kanban saved a small hospital in Indonesia" by Marcus Hammarberg to anyone who would like to get a very practical and also different example how Lean and Agile mindset and practices can help to improve the business and organizations.
"It is a inspiring read to see how Lean and Agile mindset and practices piece by piece can make big changes for people and organizations. It's also interesting to read about Marcus reflections around peoples behaviour and how the Indonesian culture works. Half way through the book I thought they where all done, everything seemed to be working, but as in al transformations you need to have a strategy to sustain to keep the positive new behaviours also after the coach leaves, and it was a positive surprise to get to read about the dip too."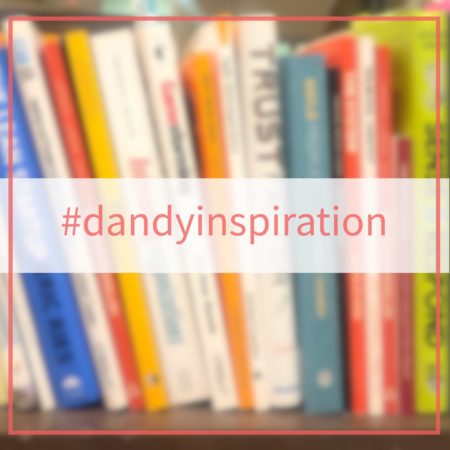 What are your top picks this January?
Are you finishing reading a novel, a book? Feel inspired and want to share with us?
Comment below or tag us on social media with #dandyinspiration