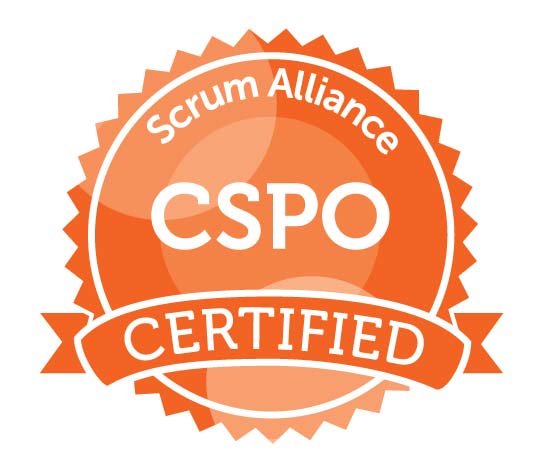 Certified Scrum Trainer® Evelyn Tian leads an intensive, two-day Certified Agile Product Owner Training.
This course is an introduction to Scrum and the principles and tools required to be an effective Scrum Product Owner. You will get a good understanding of the Scrum framework and the underlying principles required to make effective decisions regarding the application of the Scrum framework to different situations. Participants successfully completing this course earn a Certified Scrum Product Owner (CSPO) designation. The ScrumAlliance certification includes a one-year membership in the ScrumAlliance.
Though each CSPO course varies depending on the instructor, all Certified Scrum Product Owner® courses focus on Scrum from a product owner's perspective. Graduates will receive the CSPO designation. All CSPO courses are taught by Trainers approved by the Scrum Alliance.
Who this course is for
Whether you are a Product Owner, Portfolio Manager, Program Manager, Product Manager or Business Analyst or just responsible for defining product vision or requirements, this course is for you. Performance Focus Learning the Agile principles Scrum Overview Defining Scrum roles and responsibilities. Going over product backlog and user stories Estimating for planning Scaling Scrum.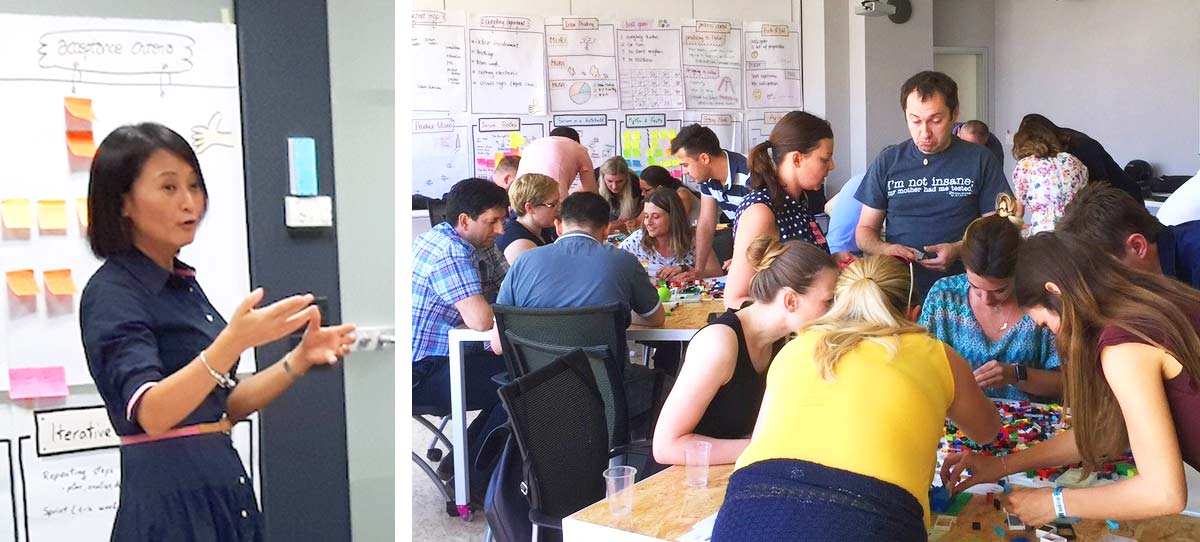 Training Overview
You will learn how to use the principles, practices, and tools required to be an effective Scrum Product Owner.
Make effective decisions regarding the application of the Scrum framework to different situations.
Setting product vision and goals Chartering the project Writing user stories and structuring your product backlog.
Scaling the Product Ownership.
Estimating for forward planning.
Applying prioritization techniques.
Planning and tracking release progress
Said about Evelyn's Training
"The best two days of training I ever had." —Sridhar
"A perfect insight into the Agile world." —Smita
"Great actionable content." —Jason
"Very personable and great delivery." —Jennifer
"Delivering both 'How to do it' and 'Why it works' in a fun and enlightened way." —Hugo
Contents of the Training
Introduction
Course structure
Course goals and objectivesGetting Started

Agile Principles and Scrum Overview

Process control models
Incremental and iterative development
Shifting the focus on product management
Overview of the Scrum process
Agile principles
Lean principles

Scrum Roles and Responsibilities

Scrum roles
Cross-functional teams
Product Owner Responsibilities
The Scrum Project Community
What happens to my traditional role in Scrum?

Chartering the Project

Establishing a shared Vision
Elevator Statement
Data sheets
Product Vision Box
Magazine Review / Press Release

Product Backlog and User Stories

Product uncertainty and progressive refinement
User role modeling
User Stories
Product backlog characteristics
Getting backlog items ready
Slicing User Stories
Using the product backlog to manage expectations

Sprints

Done and Scaling Done
The Scrum process in detail
Sustainable pace
The Product Owners role in each of the Scrum meetings

Scaling the Product Owner

Scaling Scrum
Approaches to scaling the Product Owner

Estimation for Forward Planning

Why comparative estimation works
Planning Poker
Affinity Estimation

Prioritization Techniques

Additional Product Backlog Prioritization Techniques
Kano Analysis
Theme Screening

Release Planning and Tracking Progress

Velocity
Release Planning
Tracking release progress

Summary

What did we learn, and how can we implement this in our work environments?

Prerequisites

Please read: Scrum Guide – Scrum Alliance

About your Trainer Evelyn Tian

Evelyn is a Certified Scrum Trainer approved by the Scrum Alliance. 

She is an experienced coach and trainer with over twenty years of product development experience in product management, project management, system design, software design, system integration and customer support. She has worked with a variety of products and sectors, from telecom, e-commerce, finance, automobile and consumer services.

Scrum Alliance Certified Enterprise Coach (CEC)
Scrum Alliance Certified Agile Leadership Educator (CAL Educator)
Scrum Alliance Certified Scrum Trainer (CST)

As a Certified Scrum Trainer (CST), Evelyn uses accelerated learning techniques like Training From The Back Of The Room to teach the course content in brain-friendly ways that help you maximize learning experience and information retention.

As a Certified Enterprise Coach (CEC) with over twenty years of product development experience, and solid hands-on experience as the head agile coach of Ericsson, Evelyn brings in years of coaching experience to the class, which helps the session to be more beneficial and practical.