Join this leadership training that is centered around leading change in an agile way with focus on both people and results. We can practically guarantee that you will get energized and have a lot of fun in addition to experiencing the mindset, processes and tools that make you equipped to take on real-life challenges. We speak Swedish or English depending on audience.
The full two-day Agile Change Management course is now available as an evening class in five sessions of three hours.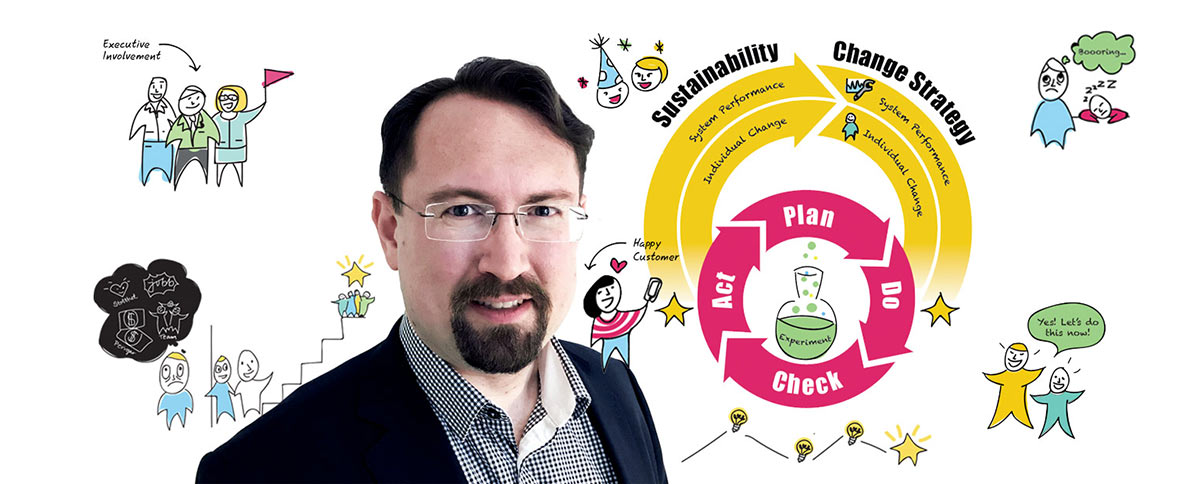 Do you recognize this situation?
Maybe the traditional change management tools don't work in a highly complex and changing environment where we can't just "plan and execute"?
Need to work strategically with improving lead times, quality, organization or collaboration between parts of the organization? Don't know where to get started?
Wonder how to engage people to support this transformation?
With Agile Change Management you work in a structured and iterative way while using best practice from people-centered change management based on research.
Why Agile Change Management?
While many change management methodologies contain proven methods based on substantial experience and research, not enough is done to cater for the highly complex nature of change where you can't simply make a big plan for the whole transformation and get it right the first time. An iterative approach with rapid feedback and gradual learning is therefore suggested here.
Similarly, methods from Lean or Agile risk being not deep enough if only focusing on basic PDCA. We want to include best practice in defining the problem to be solved together with assessment of the change capability of the people and organization going through the change. To assert that improvement has happened beyond a shadow of a doubt in a high-variation environments, statistical significance between baseline and new performance data should be established.
This course has therefore combined the best parts of both approaches using concepts from Lean, Agile, DMAIC and the Standard by ACMP. Agile Change Management is made up of two circles. The outer circle represents a particular change that is required. It contains both a people track and a system track as both dimensions are needed for change to happen quickly and ensure return on investment. The inner circle is the iterative discovery of what actually works in terms of bringing people and system to work in a new and improved way. The course is not specifically describing how to implement Agile (Agile with a capital "A") in e.g. software development but uses agile (agile with lower case "a") methods in facilitating change, making it applicable also outside software development.
How you will learn it
This course is very practical in its nature. A mix of theory and exercises gives the participant a balance of understanding and experience of performing hands-on Agile Change Management. We will also look at a few real-life examples.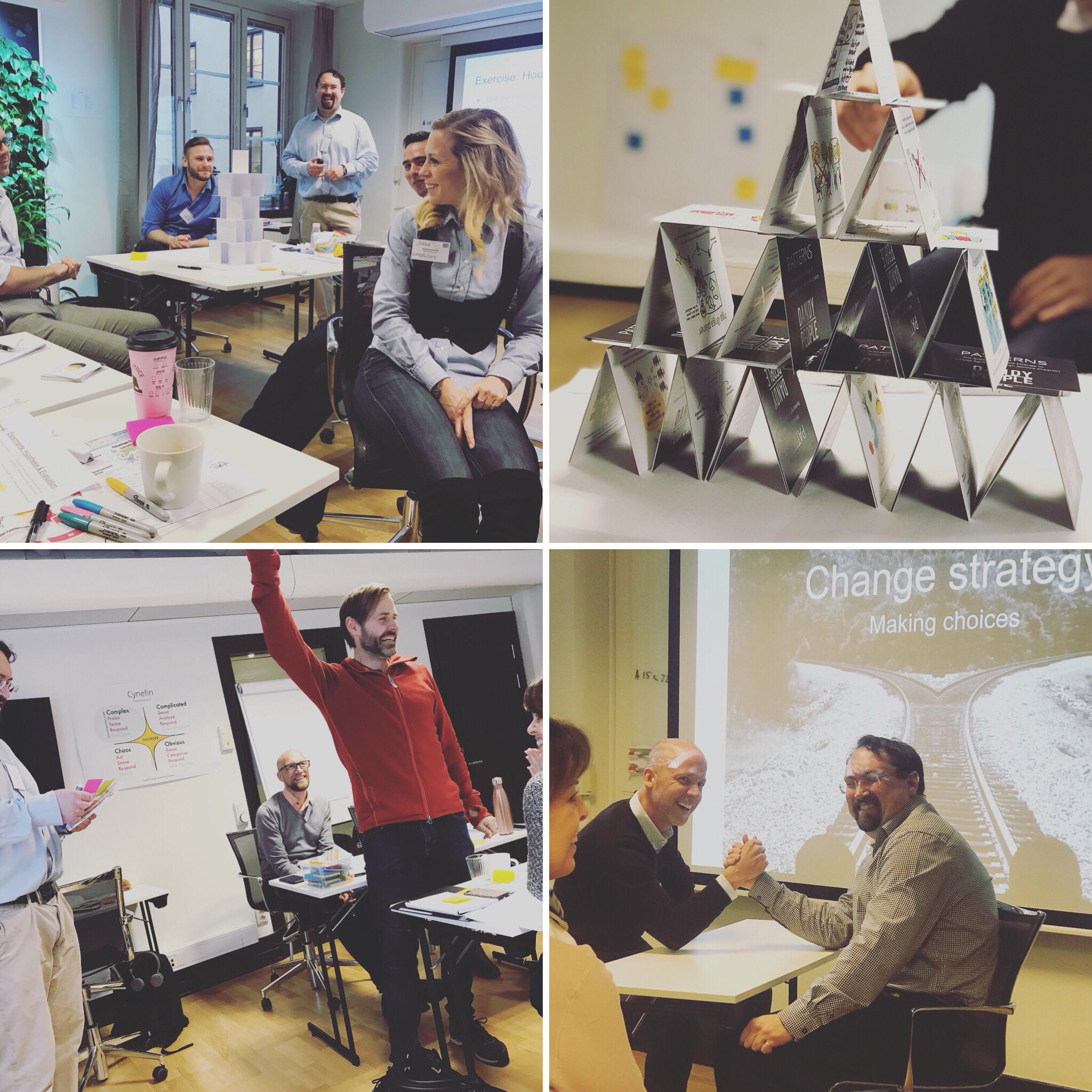 Methods and tools your team will learn through practical application in this course:
Define the problems and prioritize
Perform stakeholder analysis and form a change team
Assess the change readiness of individuals and the change capability of the organisation
Resistance to change – how to handle it. Tips and tricks from real life. How to use the SCARF model.
Visualize the existing process and reveal pain points
Baseline the performance of the existing process through data collection and analysis
Learn about variation, how to quantify it and its importance in an agile / high variation environment
Set a relative and SMART goal
Do experiments based on hypotheses and move the knowledge threshold. Increase people capabilities and improve process performance. Analyze outcome of experiments and capture essential learnings
Perform Root Cause Analysis based on facts
Develop a new process that meets the goal.
Assert goal fulfillment. What is "statistical significance"?
Sustain performance over time through ownership and motivation. Celebrate!
The concepts are summarized in our Agile Change Management-poster below. All students will receive an A1-size poster at the training.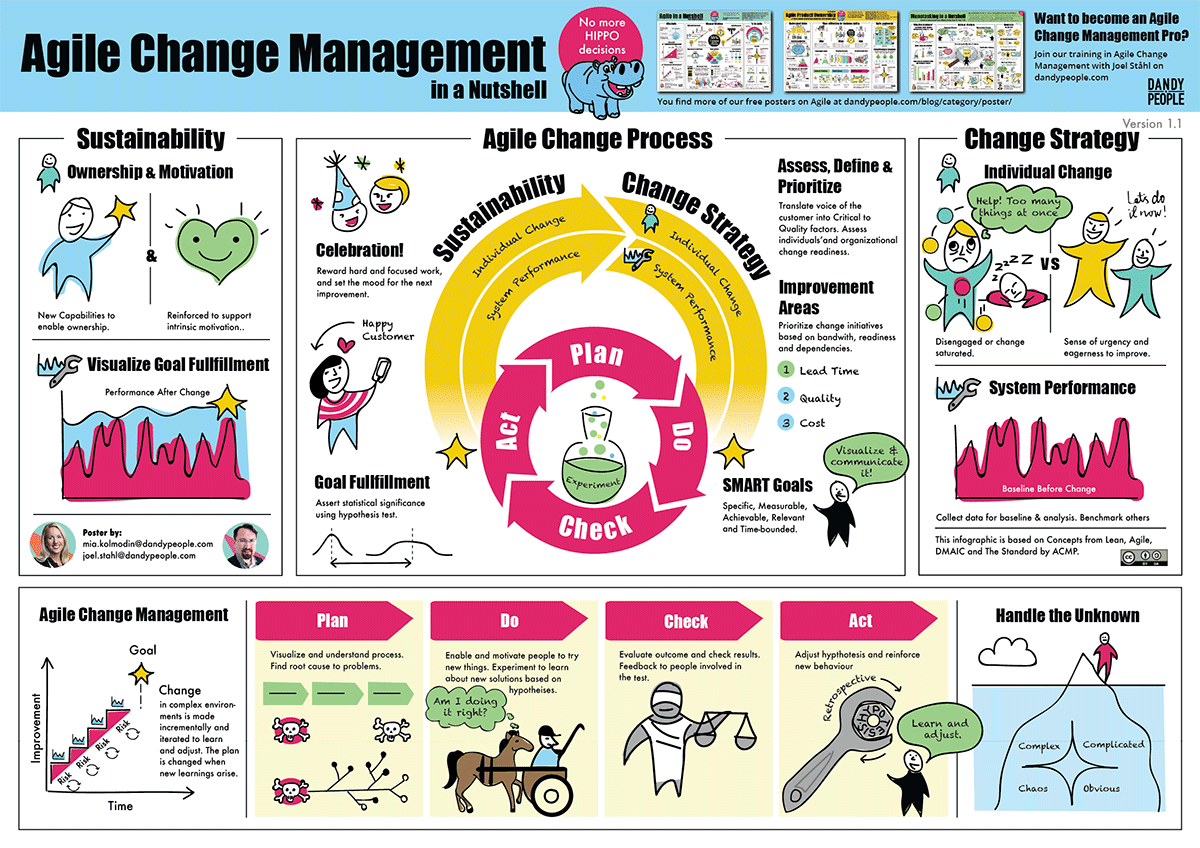 Who this training is for
Practitioners who want to learn how to make change happen, e.g. :
Change leaders
Product owners
Agile coaches
Scrum masters
Line managers
Program/project managers
Team members
When and where
This training will be held in Stockholm at the Dandy People facilities, Kungsgatan 8, 2nd floor.
It runs over five consecutive Tuesdays: 5 March, 12 March, 19 March, 26 March and 2 April.
The training is scheduled 17.00 – 20.00. Sandwich/wrap and coffee is provided in the break around 18:30.
Your trainer Joel Ståhl
Joel Ståhl is a skilled and passionate trainer and Agile coach, author of the Wild Animals Lean Game and a Six Sigma Black Belt. He has deep knowledge in Change Management and large portfolio of methods & tools to use from Lean, Agile and Six Sigma. He has a proven track record of helping organizations, team and individuals to improve and deliver business value in product development as fast as possible as well as with as high quality as possible, even in globally distributed organisations. He has helped organizations to change and improve on all levels through building their own insights into proven methods, visualizing, adjusting for their situation, learning how to experiment and how the human side of change management plays its role.
Read more about Joel in his consultancy profile >
This training is suitable for internal training to change ways of working and speed up cultural change across the organisation. We speak Swedish or English depending on audience.