Develop Yourself within Agile HR
"Lead the way to inspire something different in your workplace –
become certified in iCAgile – Agile Talent"
Connect to the reason you got into HR in the first place – to help people unleash their full potential and nurture a culture of innovation, high performance, and engagement.
Join us for our 2-day immersive training experience and be part of pioneering a new agile way of leading that benefits everyone!
Sources such as Harvard Business Review and Forbes have published pieces in 2019 about Agile HR. Let's explore what it actually takes to do something with the ideas described in these pieces!
Our iCAgile – Agile Talent Certification will give you the practical knowledge and skills needed to tackle the changing ways of working and become even more people-focused and values-based.
During the Training we Cover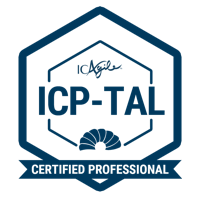 Introduction to the Agile approach and how it is related to Lean and systems thinking. Why work with agility?
What characterizes an Agile mindset and how to change the traditional HR processes when we are working with Agile values?
How should HR adapt work to create maximum value in an Agile organization? What should recruitment, performance evaluations, and salary discussions look like in this new context?
What concrete examples are there? How have others done? What works?
How can you use Agile techniques like Scrum and Kanban for HR?
HR's Role in an Agile Organization – Learning Outcomes
How HR can support an Agile organizational transformation: Assess the current organizational structure and design a new structure that enables business agility, maximizes communication and collaboration within and among teams and enables the flow value.
Goal setting and performance management in a new way: Appraise current performance management practices and identify ways of bringing Agile thinking to enhance performance, accountability, and growth.
Salaries and benefits for an Agile organization: Describe and contrast traditional incentive structures with Agile-friendly structures. Discuss the pros and cons of each approach and explain how they could be applied to their own environment.
Job Roles – are they needed in the future? Develop an organizational action plan for role modeling an Agile mindset and to build new skills that will enable cross-functional teams.
Employee engagement in an Agile manner: Recommend different motivational tools to be applied in a context. Describe how the traditional employee engagement survey is changing.
Talent acquisition and the candidate experience: Design a sourcing strategy that can be used to find and acquire the "right" people to support the strategic growth of the organization taking values, culture, diversity, and collaboration into the hiring decision.
Agile learning: Suggest ways to enable and support a learning mindset of a team, supporting the shift from a focus on deficiencies to a focus on the development of new skills and capabilities.
Onboarding practices for Agile companies: Design an onboarding experience that enables new employees to become a part of the organization rapidly and smoothly.
Why the Agile mindset is HR's responsibility: Design the talent/people elements needed to help support an Agile transition in an organization and explain how different contexts can influence the approach to be taken.
The needed changes in the HR core function: Relate how the need for business agility affects HR function and organization and how it impacts the HR team member's roles and behaviors.
Practical tools, templates and exercises for HR and managers: How an HR department can work with Agile tools and methods, for example with Kanban, Sprints, Scrum, and Retrospectives.
The training places great emphasis on practical examples and we will present a series of tools that you will be able to use when getting started on your own agile HR initiative. We will take you through an Agile HR case from setting goals and developing user stories for HR to implementing sprint planning and monitoring the sprint using Kanban.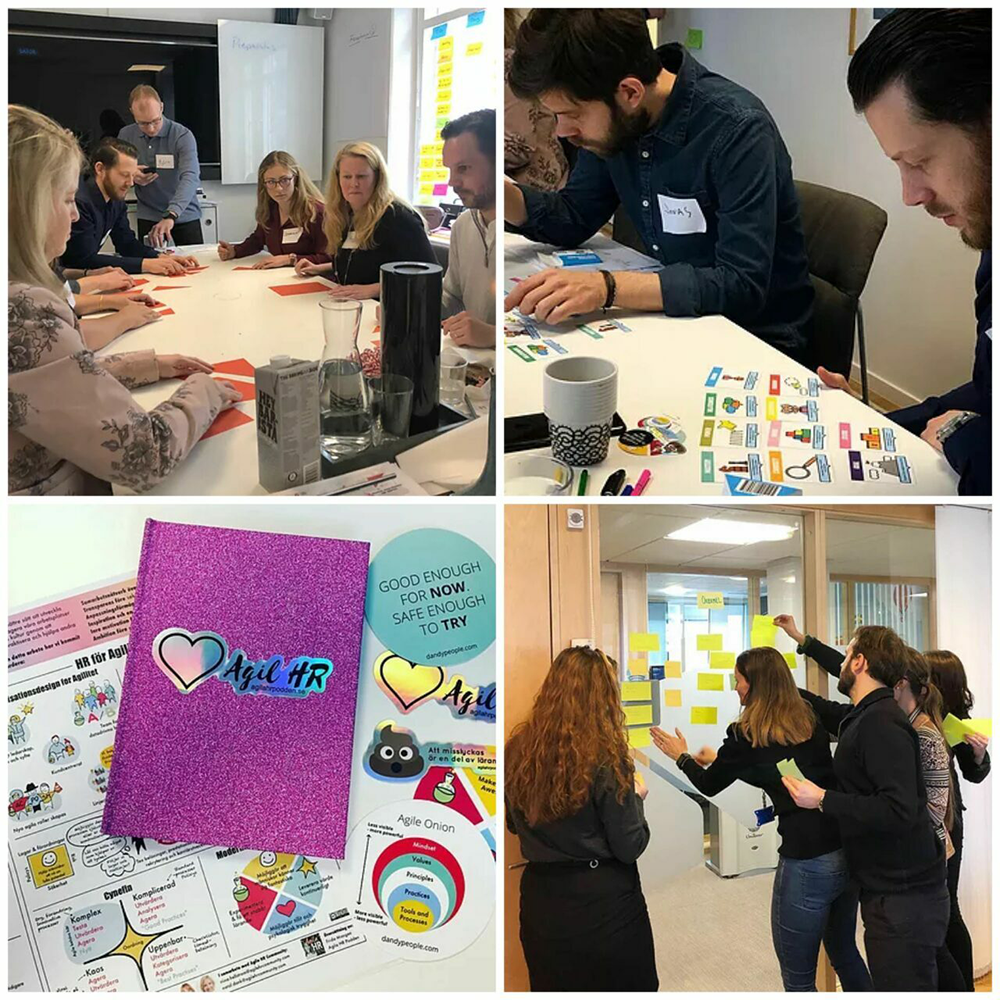 Target Audience
Agile coaches, Consultants, HR managers, HR Busines Partners, HR Professionals, Line managers, Operational& business managers and consulting managers in both the private and public sector
We have previously trained participants from SKF, SE-Banken, Marginalen Bank, Nordea, Volvo TetraPak, Tele2 IFS, If, Svevia, Helsingborg, Uppsala, Manpower, Evry, TV4, Vitrolife, Rebtel, magine, Toca Boca, Dynabyte, Södertörns University, DEK Technologies, Vasakronan, IKEA, Blue Garden, Nordic Morning, Findwise and many others companies and organizations.
Evaluation of the last completed training ended up on average 4.83 on a 5- point scale.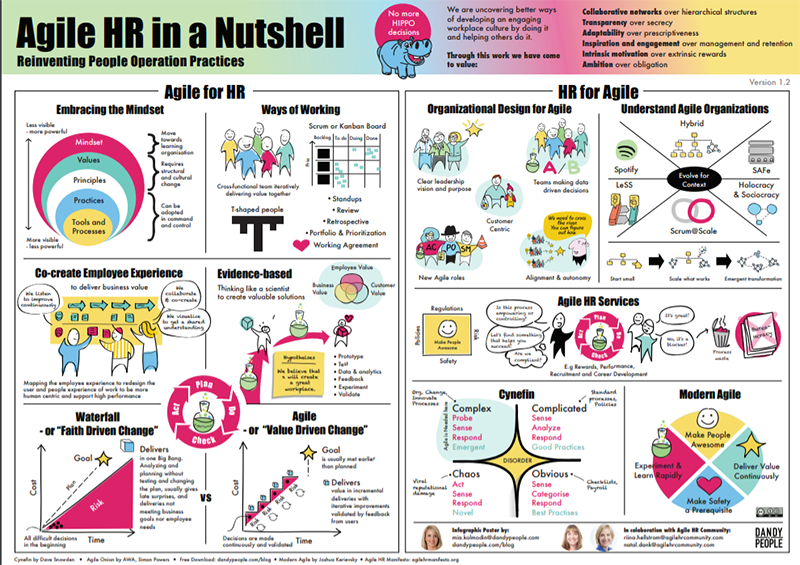 Course Material
You will receive all course material, the Agile in a Nutshell HR poster and the Agile People book by Pia-Maria Thorén.
Course Facilitators
Your course facilitators are Björn Sandberg and Kari Kelly
Björn Sandberg has a long experience within Agile HR, leadership och Agile change management from both global companies as well as medium-sized organizations and the public sector.
Björn is running the Certified HR Agile Processional training together with Frida Mangen. Here you can read more and sign up for Björns Agile HR training >
Some call it Business Agility and Next Generation HR. It's about to take the next step within HR, organization and business development to handle a rapidly changing and complex world. We start where you are in everyday life, take it at a pace that works and builds the ability that is needed. It is done with a unique combination of leadership, team, management, and learning.
Kari Kelly´s passion is helping leaders cultivate adaptable, bold, and courageous teams that come together to create work environments that inspire people to do great things.
She has extensive experience in partnering with organizations as a Learning and Development trainer, consultant, and coach. Kari's experience includes culture transformation projects and change management. She is an emerging active member of the Agile community and shares her insights and knowledge through workshops and an active LinkedIn presence.
Kari has worked in the nonprofit sector as well as biopharma and technology, the most notable being Apple. Before pursuing a career in adult learning and performance, she was a physicist at Imperial College London where she fell in love with the learning process and switched careers. Kari is currently writing a book for academia that explores agility and cognitive diversity called The New Normal to be published in early 2021. The publisher is Emerald Publishing.
Location
Downtown Works
550 West B Street
San Diego, Unites States