About this Course
Facilitation is a key skill required to foster collaboration, enable self-organizing teams, and create trust and safety. This 16-hour ICAgile Certified Agile Facilitation training course focuses on the mindset and role of an Agile Team Facilitator, showing you how to employ a range of tools and techniques that can be used for designing engaging in-the-room and online meetings that result in agreed outcomes.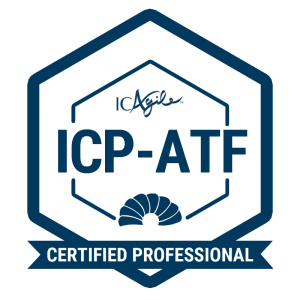 By attending this highly interactive workshop you will gain the necessary skills to design online and in-the-room meetings for maximum impact. You will come away with both updated toolkits and practical experience that you can use back in the workplace and with your remote teams while leveraging your new skill sets to facilitate agile practices towards successful team outcomes. Attend our online class to learn how to foster a feeling of safety so that everyone feels heard online using quickly effective and engaging remote collaboration tools that allow you to think and collaborate visually anytime, anywhere.
Upon successful completion of the course, you will receive the ICAgile-Certified Professional Agile Team Facilitator certification.
Know what an agile facilitator is and how this role plays out with your teams, even when they are remote!
Demonstrate effective facilitation mindset such as self-awareness, self-management and neutrality works online and in-the-room.
Identify how to foster a feeling of safety so that everyone feels heard online.
Show how to design and present online and in-the-room meetings with a clear purpose and a variety of group activities to achieve desired outcomes.
Explain how to facilitate in-the-room and online collaborative sessions with a clear decision scope and how you do this using remote collaboration tools.
Create specific agile meetings, like retrospectives, that overcome obstacles and achieve overall purpose and outcomes and how you do this online.
Acquire a new online (and in-the-room) facilitation tool kit enabling you to facilitate all your session sessions for full participation.
Facilitate better, more meaningful collaborative online and face2face conversations and increased capacity to give and receive feedback.
Demonstrate how to use and design online and in-the-room retrospectives techniques depending on your team's context that will enable you to build trust and work through common pitfalls, even when you are all remote.
Design and facilitate agile meetings in a variety of contexts and for varied team maturity levels, even when everyone is remote!
Who is this for?
The target audience for this training includes ScrumMasters, Agile Project Managers, Agile Coaches, and aspiring coaches, Product Owners, Business Analysts, and anyone with the desire to explore the power of facilitation.
Prerequisites
This is an intermediate-level course for practitioners with at least six months of hands-on agile experience. You will build upon the experience you already have working with agile teams.

Certifications
ICAgile Accredited
This course is accredited by the International Consortium for Agile (ICAgile) as fulfilling all Learning Objectives in the Agile Team Facilitation track. After successful completion of this course, you can apply for the ICAgile Certified Professional-Agile Facilitation (ICP-ATF). This continuing education certification is a key step toward achieving the ICAgile Expert-Agile Coaching (ICE-AC), the industry's first competence-based certification.
There is an ongoing assessment throughout the class as well as a practical assessment at the end of the course that you will need to pass. As long as the trainers believe you have demonstrated competence and that you have understood the learning objectives and you do not miss more than one hour of the course then you will receive the certification. The certification is included in the price of the course. Following the class, you will receive an email from ICAgile with your certification.
Endorsed by the Scrum Alliance
By attending this course you will be eligible to earn up to 15 Category C SEU Points.
What do I need to take part in this course?
This is an intermediate-level course for practitioners with at least six months of hands-on agile experience. You will build upon the experience you already have working with agile teams.
You will also need to:
Have a good internet connection
Have a webcam that is turned on
Be able to use Slack and Zoom (at least 10 Mbps download/upload)
Be in a quiet space where you can speak freely
One person, one device
We also recommend (although not essential)
Two monitors
Space to move around the room
Why should I choose this course?
By enrolling in the Agile Team Facilitator course with Adventures with Agile you will receive:
Pre-class support and class alignment call
20 hours of live online training providing you with unrivaled access to deep experiential learning, support, and practice to embed learning
"Do it now" format emphasizing learning by doing so you come away from the class with hands-on capabilities to help your teams succeed
Two highly-experienced, professional coach trainers, with real-world experience working in agile transformations and (co-located and remote) agile teams across many different companies of all shapes and sizes
Improved skills and knowledge that will enable you to create and facilitate meetings that engage the entire audience and drive towards agreed-upon outcomes
Learn how to Facilitate online. You will learn how to dramatically improve your agile facilitation skills for online as well as in-the-room meetings!
Create safety and trust! You will also learn how to create high-trust and psychologically safe environments online too using the powerful online collaboration tools we will share with you!
Membership to the global Agile Team Facilitator class community providing a rich ecosystem for support, learning, and sharing experiences post-class.
This course is taught in English by our highly-qualified coach trainer team.
About the Trainer
Rafa Ribeiro
After working as a Software Developer for 11 years, Rafa Ribeiro realized that despite the knowledge he had about machines and computers, he lacked the skills to empower and support other people. With the challenge of creating his own company, he felt the need to start a learning journey into the realms of Psychology, Expressive Arts, and Professional Coaching.
As a result of this mixture, Rafa currently works as an Agile Coach and Professional Coach with organizations, teams, and individuals, helping them discover and becoming aware of their goals, reflecting on their behaviors, and supporting their growth. He has a range of deep experience working with co-located, distributed, and full remote teams, as a Scrum Master, Agile Coach, or Enterprise Agile Coach.