This is an essential training if you want to build an organization that is fit for the future that acts Agile, not just do Agile. An organization that can innovate and act on new learnings during the year instead of stick to a plan made a long time ago. Beyond Budgeting is a holistic concept that has been practices for 20 years by companies like Handelsbanken and Statoil that support Business Agility, enabling adaptability and speed in the organization making you outsmarting the competitors. This is a training for Curious Leaders. 

Bjarte Bogsnes has a long international career, both in Finance and HR, and has been heading up the implementation of Beyond Budgeting at Statoil. Bjarte is Chairman of Beyond Budgeting Round Table (BBRT). He is a popular international business speaker and is the winner of a Harvard Business Review/McKinsey Management Innovation award.
He is the author of "Implementing Beyond Budgeting – Unlocking the Performance Potential", where he writes about his implementation experiences at Statoil. The 2nd edition is just out. Statoil has recently opened up for Bjarte to undertake select external consulting work.
Don´t miss this great opportunity to learn from the best and become an organization for the future!
Background
Many organizations are looking to get Agile for the benefit of the people, the customers and the business. Beyond Budgeting offers clear guidelines about continuous planning, dynamic resource allocation and more adaptive ways of setting targets and rewards enabling strategies, finance and hr to align and support the people to be Agile. Organizations who change in to business agility more often manage to create autonomous teams with the same focus over a long time, enabling them to innovate and deliver value at speed. This is when you uncover the real benefits of Agile.
What you will learn
Learn the concepts and benefits form Beyond Budgeting and how to manage implement it in big or smaller organizations from the CFO of Statoil.
Learn how to maximize a performance climate with teams committed to a common purpose, shared rewards, and sustained value creation.
Find out how other organizations have applied Beyond Budgeting in practice, and how you can do it too.
You should take this training
Any leader who wants to get an organization fit for the future.
CEO, CFO, HR, Management
Agile Coaches and Change Makers
What previous Students say
"the training was interesting and time flew; the training was great; the most difficult part of the training was the end of the day, so it was harder to focus; The workshop gave a new perspective and lot to think about."
"clear and enthusiastic; professional in the topic and in training skills; the positions were well argumented; structure was good."
Points for the trainer (average): 9,38 (max 10)
Points for training (average): 8,92 (max 10)
 
Detailed Content
Beyond Budgeting – an agile management model for new business and people realities
– The problems with traditional management, including budgeting
– Beyond Budgeting  – the adaptive management model
– the background,  philosophy, the 12 principles
– Companies on the journey around the world; examples of how they operate
– Beyond Budgeting and Agile
– The Borealis story – going Beyond Budgeting before Beyond Budgeting
– the Statoil story –  the "Ambition to Action" model;
    –  redefining performance – dynamic and relative targets and a holistic performance evaluation
    –  dynamic forecasting and resource allocation and no traditional budgets
    –  from calendar-driven to event-driven
    –  examples of self-regulating management mechanisms
– The KPI pitfalls
– The bonus problem
– Implementation experiences and advice
– The Beyond Budgeting Roundtable
– Recommended reading
When and where
This training will be held in Stockholm at Dandy People´s HQ, Kungsgatan 8, 2nd Floor.
When
October 11, 2018, 9.00 – 15.00
08.30 – 09.00 Breakfast
12.00 – 13.00 Lunch
09.00 – 15.00 Training
Price
6.500 SEK. Early Bird until September 10, 6.000 SEK
Said about Bjarte Bogsnes book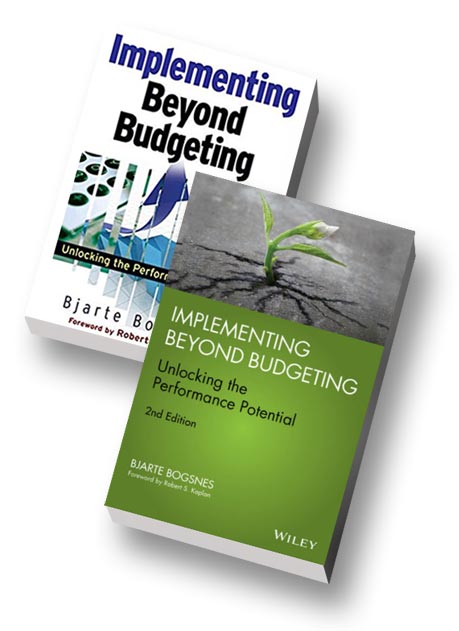 "At last, Bjarte Bogsnes has made his experience and enthusiasm for Beyond Budgeting available for a wider audience with this remarkable book. I have appreciated his engagement in these important management issues for many years, and his knowledge and leadership have been critical in the transformation of our organization."
—Eldar Sætre, CEO, Statoil
"This is an excellent book for those who want to grapple with the difficult task of radically changing conventional ways of running a company to more effective ways of doing it and ways more in accordance with human nature."
—Jan Wallander, Honorary Chairman of Handelsbanken
"This is essential reading if you want to build an organization that is fit for the future."
—Professor Gary Hamel, London Business School
First edition was published in 2008, second edition 2016.