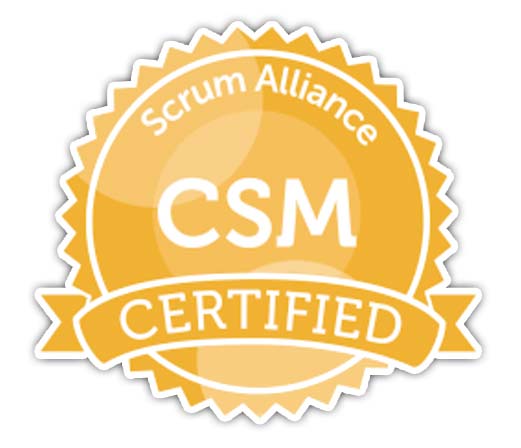 The goal of the training is to learn the essentials of succeeding with Scrum in theory and practice. The Certified ScrumMaster® (CSM) course is a two-day, entry-level course taught by a Certified Scrum Trainer®. The CSM course is designed to cover all the basics of Scrum so you can begin to fulfill the Scrum Master role.
Taking a CSM course, passing the CSM test, and accepting the license agreement designates you as a Certified ScrumMaster, which indicates that you have been introduced to and understand the basic concepts you need to perform as a ScrumMaster or team member on a Scrum team. This course also satisfies two elements of the CSD track: Scrum Introduction and Elective.
Who this course is for
Anyone who have the need a deeper understanding of Scrum and Agile, and for you who will start in the role of the Scrum Master.
We ask that you have a basic understanding of Scrum before the course starts.
Said about the Trainer
Evelyn Tians training are well known as "two days of fantastic learning and great fun!"

Learning outcomes for this Training
Scrum basics and core values
How the Scrum framework compares to other methods, such as waterfall
How to identify when to use Scrum
A Scrum team's three roles and responsibilities
Scrum meetings, including the Sprint Review, Sprint Retrospective and Release Planning
Sprint Backlog and Product Backlog
Scrum artifacts, including the Product Backlog, Sprint Backlog and Burndown Charts
Prerequisites
Please read: Scrum Guide – Scrum Alliance
About your Trainer Evelyn Tian
Evelyn is a Certified Scrum Trainer approved by the Scrum Alliance. 
She is an experienced coach and trainer with over twenty years of product development experience in product management, project management, system design, software design, system integration and customer support. She has worked with a variety of products and sectors, from telecom, e-commerce, finance, automobile and consumer services.
Scrum Alliance Certified Enterprise Coach (CEC)
Scrum Alliance Certified Agile Leadership Educator (CAL Educator)
Scrum Alliance Certified Scrum Trainer (CST)
As a Certified Scrum Trainer (CST), Evelyn uses accelerated learning techniques like Training From The Back Of The Room to teach the course content in brain-friendly ways that help you maximize learning experience and information retention.
As a Certified Enterprise Coach (CEC) with over twenty years of product development experience, and solid hands-on experience as the head agile coach of Ericsson, Evelyn brings in years of coaching experience to the class, which helps the session to be more beneficial and practical.