In this free webinar experienced Agile Coach Mia Kolmodin will guide you through the famous Agile in a Nutshell poster (one of our many pedagogical Agile tools) that displays the foundations of Agile Ways of Thinking and Working. Even though this is an online webinar you will not just get theoretical understanding, you will also gain experience through experience-based learning.
What will you learn?
Mia will walk you through the Agile in a Nutshell poster (with some practical examples too) and share her extensive knowledge about Agile from various perspectives, like;
What is the difference between Agile and the old Waterfall approach?
Why should you use Agile Methods?
What problems will be solved by using Agile?
What does Agile Ways of Working really mean?
How can we set up our work to run smoothly and deliver value at the right time?
What is an Agile Team?
What are the benefits of an Agile mindset and ways of working in the organization?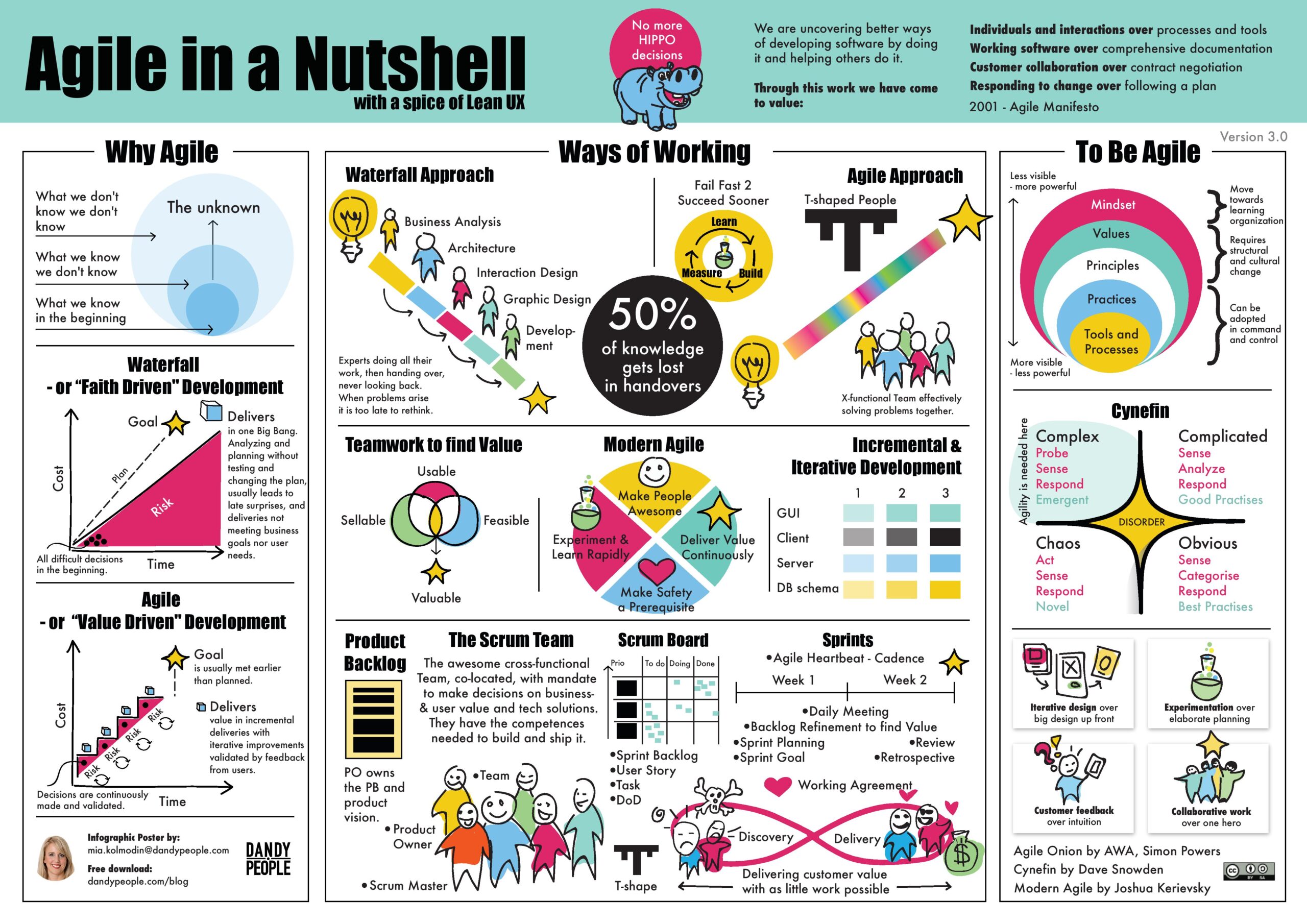 The Agile in a Nutshell poster
The Agile in a Nutshell poster was created by Dandy People to cater to the need to visualize the different basic aspects of Agile and offer a pedagogical layout for anyone interested in Agile and Agile methods.
You can read more about the poster and download it for free here. Available in several languages.
When and where?
This is an online webinar. We will use Zoom to broadcast, so please make sure you are properly set up before we start – we don't want you to miss out on any juicy knowledge.
Next event: October 27
Start time: 12.30 CET
Duration: The presentation is approx. 45 min. There will be an additional 15 min at the end open for questions.
Who should join this event?
Anyone curious about Agile, Agile methods, and how to use them. Regardless of where you are in the organization, since Agile ways of working can be used on any level and for all areas of business. Perhaps you are completely new to Agile, or already belong to an Agile team but want to learn more. You can also be a project manager, line manager or reside somewhere as a stakeholder in the claim process.
About the speaker
Mia Kolmodin is the creator of the well known Agile in a Nutshell poster with over 100.000 downloads. She is an experienced speaker and trainer of Agile educations. Mia has worked in Agile Teams with product development as a team member and in the leadership role and as an Agile Coach, Scrum Master, and Product Owner for many years, and introduced Agile working methods across many organizations. She is also the founder of Dandy People.
A Warm Welcome from the Dandy Acceleration Team!