Many of us have read amazing examples of disruptive innovation. Many of us have dreamt of doing the same. But it is not easy to disrupt. What to do then? How to make your innovation dreams come true?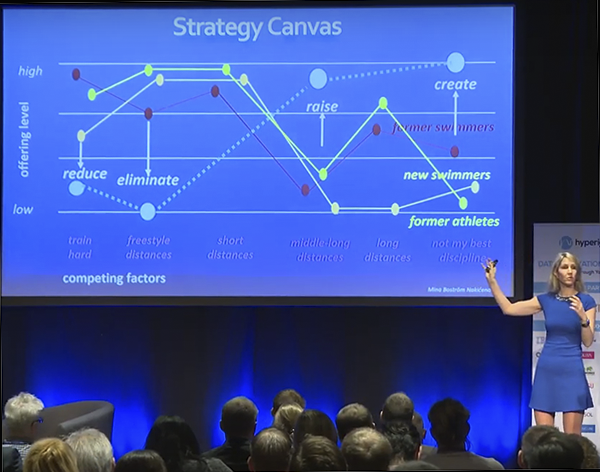 What is Blue Ocean Strategy and what is the connection to non-disruptive?
The Blue Ocean Strategy (BOS) proposes a systematic approach on how to innovate and how to find new differentiating factors and new market niches – Blue Oceans. BOS focuses on creating something new instead of disrupting something existing. It focuses on the non-disruptive creation of new market spaces, beyond the existing market boundaries.
Although the BOS was first proposed as a business strategy, the approach can be applied much wider – on product leadership, product discovery techniques,  strategy visualization, processes and much more.
Through real-life examples, Mina will demonstrate this systematic approach in a very eye-opening way. She will guide you on how to use the Strategy Canvas and to systematically search for new competing factors. You will also learn how you can tweak your strategy value curve to make a shift from the red ocean of competition to a blue ocean, through non-disruptive innovation.

Who is this seminar for?
Management and leaders on all levels, team managers, product owners, business development managers, enterprise agile coaches, innovation managers/coaches, UX and everyone interested in taking innovation to another level.
Location
Our office:
Dandy People, Kungsgatan 8/KG10 2 tr, Stockholm
Agenda
17.00 Drinks and light snacks
17.30 Seminar
18.10 Time for questions and discussions
Read about the safety measures we have taken to make sure you have a safe learning experience with us
Your speaker Mina Boström Nakicenovic
Mina is a passionate agile leader with 20+ years of experience in software development. She works as a Chief Technology Officer at Paradox Interactive.
Apart from Mina's big passion for technology, in the past few years, she developed a big interest in innovation questions and innovation management. As an engineer, Mina prefers systematic approaches, rather than just brainstorming ideas. Luckily she discovered that systematic approaches to successful innovation exist!
Mina's passion for software development has spread within her family. She and her husband are often taking their three kids to conferences, where they are presenting together as an agile family.