This training is suitable for internal training to change ways of working and speed up cultural change across the organisation.
Agile made us realize that we should work in teams that are cross-functional, teams that have a wide range of competences. That requires us to find new ways of cooperating to avoid hand-overs in a team with everyone in their own silo. Here you and your team are given tools and ways of working to enable a continuous product discovery and delivery based on ideas from Lean UX and Agile practices.
Here you can read a blogpost of how we use the X-team silos Game in the course >
When we stop making plans on what and how we shall build and starts filling the backlog with hypothesis and needs, aiming towards a desired impact – then we can discover continuously what we should build.
Students about the training
"It was striking to see how the game relate directly to the benefits of collaboration. Values like diversity, egalitarian, partnership, interaction, synergy and trust popped up and enabled the teams to accelerate their delivery process. Wow. A great game!"
"I recommend this Agile training for all teams who want to work end to end from concept to cash"
Who this training is for
This is for a high performance Lean Team, bring the whole team!
– Developer
– UXer
– Designer
– Product Owner
– Web analyst
– Tester
– Support
– Content creator
– Social media expert
Anyone with some view on the product, is a member of the Lean Team!
What you and your team will learn
We kick-start this experience based training with insights on the problem of working in silos within a team by playing the game: "X-team Silos Game". A game we developed specifically for this training to invoke discussions on our ways of working.


It also help us to find which measurements we should use to validate these assumptions. Gives an overall view quickly and simply. Read here the developer's take on Impact Mapping.
Goobing
– get out of the building and meet users and customers to understand their needs and validate, or invalidate, your hypothesis and soon as possible.
Hypothesis-driven development
– by forming hypothesis, either based on collected data or assumptions, we can quickly learn about our target audience, what would be a good feature or design. And throw away the rest.
Rapid prototyping
– quickly creating prototypes to validate with real users is a cornerstone of Lean UX. When working as a Lean Team, it is the team's responsibility, during the sprint.
Time-boxed ideation
– cooperating in short time-boxes where the whole team is engaged in solving problems, contributing each with their competence. Time-boxes stimulates to generation of many ideas and see things from different perspectives. Helps us understand what to build and identify risks. On this course we teach you to use Design Studio.
Experiments and MVP
– experiments is what we plan for all the time, independently of where in the product life cycle we are. The team constantly asks itself "What is the minimum we can do to learn more?". The Minimum Valuable Product is not only the smallest possible release but also the shortest path to learning.
Said about this training in social media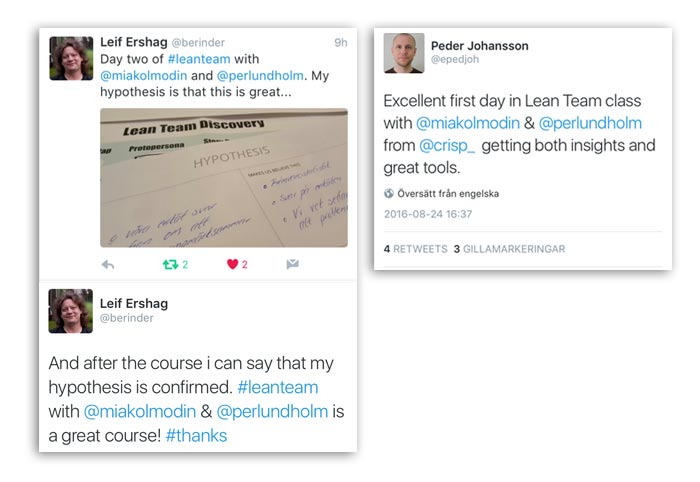 This training is suitable for teams. Thats why we give a rebate for teams with up more than 3 people. Sign up more than 3 people and you all get 20% off for all! We speak Swedish or English depending on audience.