Systems thinking is an approach to understanding how something works and behaves, by focusing on its purpose, rather than focusing on the parts it is made up of. We know this from our everyday life, yet often it is so much part of how we see things that it can be difficult to realise. Systems thinking reminds us to always keep the whole in mind, the overall purpose of the system, as well as regarding the system parts.
Join Jon Inge Hervik from Adventures with Agile as he dives deeper into the subject in this interactive and inspiring Meetup. Get an insight into how can we use Systems Thinking in our organisations and how using the Systems Thinking approach as part of Systems Coaching can be a great way to help organisations and teams to improve, align their efforts, and thus reach their common goals.
John Inge will also talk shortly about the new training Systems Coaching and Thinking (ICP-SYS) – 3 Days in Stockholm that will be held in Stockholm next year. If you want to gain solid and demonstrable understanding of systems thinking, systems coaching, and complexity and become a better, more effective change agent, you should definitely check this out.
For whom?
Agile Team Coaches, Enterprise Coaches, Managers, Leadership, Scrum Masters and anyone who is curious about Systems Coaching.
When & where?
9 November, 2022
In our new and cozy office space at Humlegårdsgatan 19A, 2nd floor.
18.00 – 18.30
We mingle and take time to eat our Brown Bag dinner.
Cold drinks and snacks will be available.
18.30 – 19.30
John Inge presents and facilitate exercises around System Thinking. Discussions and questions.
John Inge Hervik
John Inge Hervik is Head of Training at AWA Norge. He is a PCC certified coach from ICF with more than 15 years experience in agile ways of working. He has a technical background from software development, and has also studied psychology and coaching.
Read more about John Inge here >
A warm welcome from the Dandy Acceleration team!
---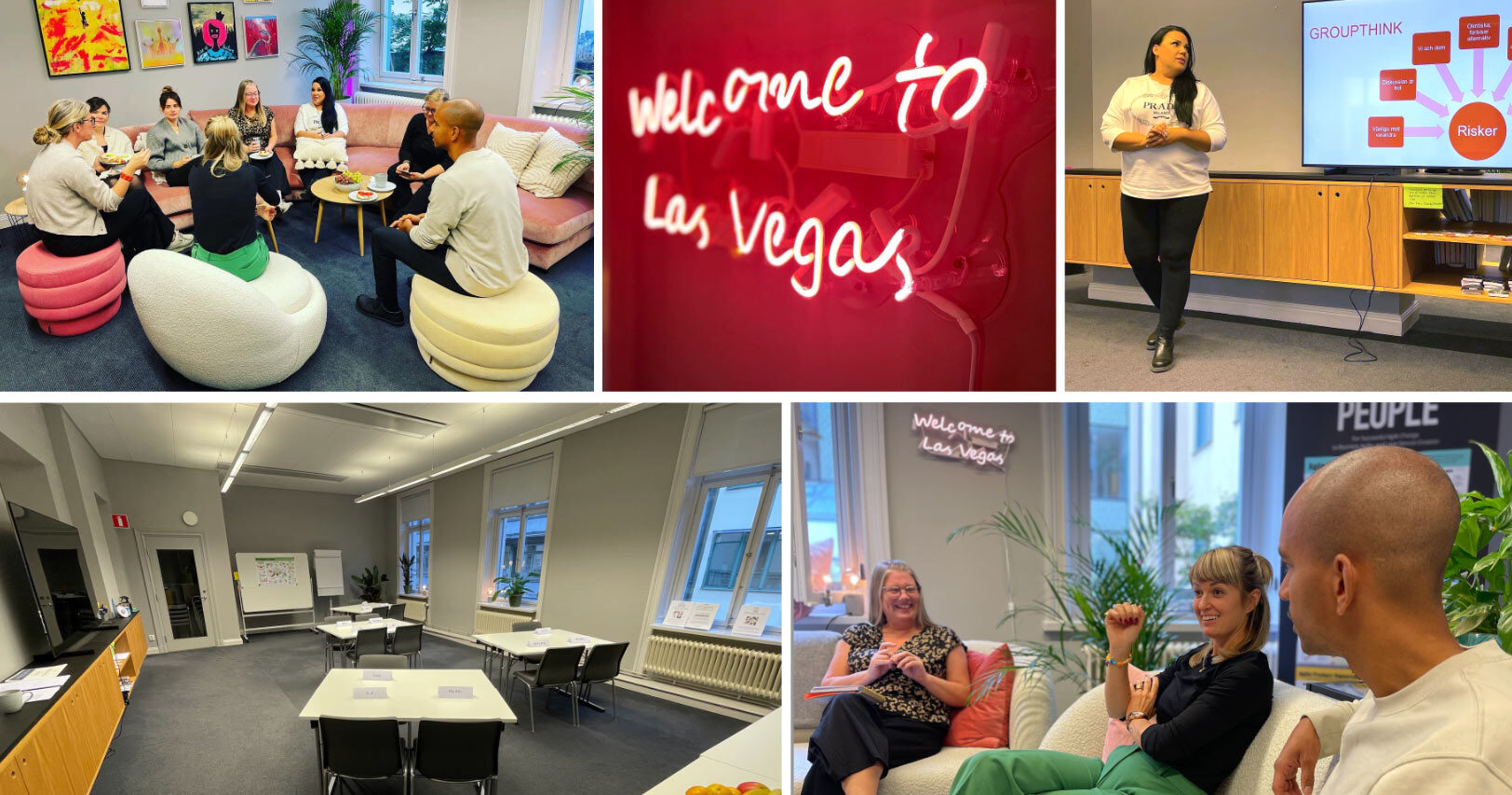 Our central workshop and training facilities that inspires to creativity and growth.
In the center of Stockholm you find our creative space of 100 sqm designed for Agile workshops, trainings, seminars, meetups and other activities to support fun and energizing growth. We offer our consultants, customers and partners to use our facilities and we also use it for our own activities within Dandy People.
The space is named Las Vegas, because what happens in Vegas stays in Vegas 😉
The Las Vegas space is divided in two big rooms with a wall, but no doors in between. That is why both areas are always used by the same group at all times. One part, the SOCIAL SPACE, of about 50 sqm is designed with comfy sofas and chairs for about 20 people. And on the other side of the wall is the WORKSHOP SPACE. This space is dedicated for workshops, trainings and seminars and it is an open space about 50 sqm with flexible furniture to fit any purpose.
Read more about our facilities here