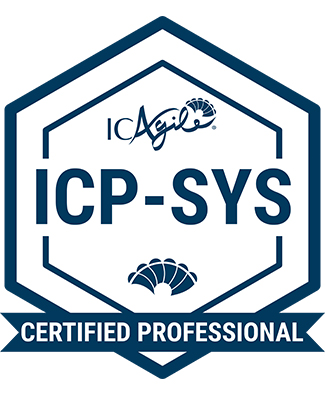 Seeing the world through new eyes changes the world. Systems Coaching, which is based upon Systems Thinking, helps us see things from a different perspective and is an incredibly powerful tool for change agents. This ICAgile Certified Systems Coaching and Thinking course helps you uncover and visualise hidden problems within your organisation, as well as work with large groups of people to co-create solutions to those problems.
Everyone has problems. In business, we want to express these problems as outcomes and then work towards achieving them. To do this we need to make the unseen seen so that hidden problems are brought to the surface, bringing everyone together and enabling them to work toward the desired outcomes. By revealing the hidden elephants in the organisation, we can uncover the real reasons why change is so hard and how to make it much easier.
About the Course
During this highly-interactive, powerpoint free, Systems Coaching and Thinking course, you will learn how to work with and coach complex systems and a variety of systems coaching approaches as well as how to work with your client as a system, tools and techniques to help systems move into action, and ethics (along with an ethics framework for decision-making). You will also learn about your own personal biases, make a plan to grow your inner-capacity as a systems coach, and create a coaching plan for a client.
By taking this Systems Coaching course, you will discover a new way of thinking and coaching organisations as well as how to effect the necessary changes needed for survival, growth, innovation, and delivery in today's rapidly changing and complex world.
Upon successful completion of the class you will receive the ICAgile Certified Professional in Systems Coaching certificate, a key step in developing your agile coaching mastery.
Learning outcomes
Identify WHY organisational change is needed and show how systems coaching helps systems unlock the potential
Feel confident interacting and working with complex human systems without feeling overwhelmed
Create a systems coaching contract template that can be used with clients/teams/systems back in the office
Acquire multiple facilitation and systems coaching techniques that help the system learn aspects of itself
Show how the things that are visible and tangible are the result of a complex web of structures, patterns, and events that are hidden beneath the surface.

Recognise 

when conflict is toxic or healthy and invite teams to find balance and a healthy way to resolve differences.
Demonstrate an organisation's complexity in a way that helps clients

/

systems to make better decisions
Articulate the impact coaching has on the 

organisation

 and show what structural changes are needed to deliver customer value.
Explore the relationship between systems and sub-systems and how these relationships create complexity within an 

organisation

Leverage different mapping tools to understand the relationships that form within the organisation to reveal the hidden field from which everything 

emerges

Recognise 

how internal biases, privilege and one

 own's 

development 

impacts

 one's ability to coach a client
Demonstrate how to sense and bring out hidden dynamics within a system and make decisions based on that sense-making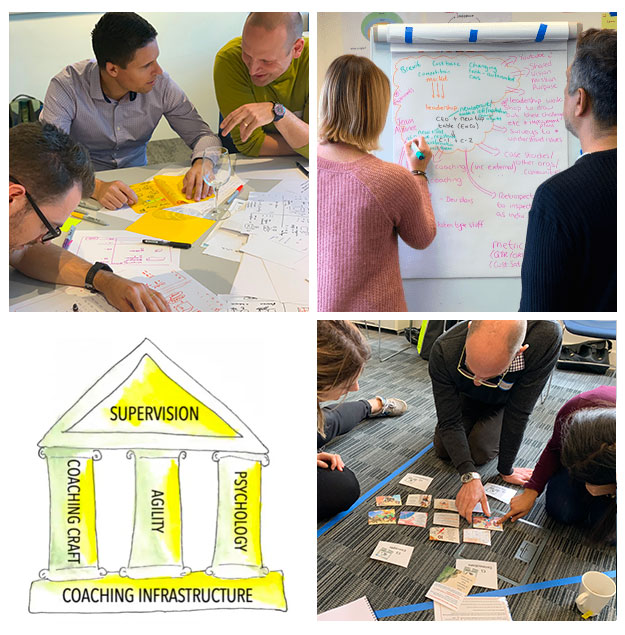 Agenda
Problems to outcomes
Multi-stake holder contracting for outcomes
Systems
Systems thinking models
Coaching craft
Systems coaching
Ways to reveal the system to itself (Iceberg, Causal Loops, Constellations)
Emergent ethics and ethical decision-making for Systems Coaching
Conflict resolution
How to continuously evolve your organisation (co-coaching, building a coaching culture, supervision)
Case study and building a coaching plan
What you will receive
Twenty-one hours of immersive in-classroom/online training providing you with unrivalled access to deep experiential learning, support and practice to embed learning. Plus two sleeps helps the new learning sink in deeper!
Improved skills and knowledge that will enable you to work with and coach complex systems.
Enhanced competency and skill set to do the work required of an Systems Coach with the internationally recognised Agile Coaching Certification (ICP-SYS) from the International Consortium of Agile (ICAgile).
Free Membership to the global Systems Coach class community providing a rich ecosystem for support, learning and sharing experiences pre and post-class.
Free Membership to Adventures with Agile community for organisational change and agile.
Who should attend
If you are a coach, leader or change agent working with teams or large groups of people and need to know how to visualise hidden problems to help others make better decisions then this course is for you. You should take this course if you want to gain solid and demonstrable understanding of systems thinking, systems coaching, and complexity and become a better, more effective change agent.
This course is for Agile Team Coaches, Enterprise Coaches, Managers, Leadership, Scrum Masters and anyone who wants to learn about Systems Coaching.
Prerequisites
This course is for practitioners with at least 6 months of coaching experience. You will build upon the experience you already have and expand that to work with whole systems, organisations, and teams.
Duration and Accommodation
Duration: 3 days
Dates: June 7-9 2023 & November 13-15 2023
Location: Dandy People Humlegårdsgatan 19A, 2 tr, Stockholm
Certification
The AWA Systems Coaching course is accredited by the International Consortium for Agile (ICAgile) as fulfilling all Learning Objectives in the Systems Coaching track. After successful completion of the Systems Coaching course and assessment, you will receive for the ICAgile Certified Professional-Agile Coaching (ICP-SYS).
ENDORSED BY THE SCRUM ALLIANCE
By attending this course you will be eligible to earn up to 15 Category C SEU Points.

About the Trainer

John Inge Hervik is an Enterprise Agile Coach and trainer who has been involved in Agile ways of working since 2006. He has a technical background from software development, but has also studied psychology and coaching.
He uses his experience and knowledge from Agile, psychology and coaching to help organisations, teams and leaders to increase the level of collaboration and psychological safety through work with peoples inner potential and social skills, in addition to how structurally they can adapt for higher performance.
View John Inges' profile page here
Onsite Training
Systems Coaching and Thinking is available to run privately for your coaching team/group, managers etc and anyone who wants to learn how learn systemic coaching. Talk to us today about our transformative in-house training for groups or individuals which we can run for your business online or at a location of your choosing, anywhere in the world.
High Praise for this Training
"Thank you for running the Systems Coaching and Thinking training. It was a great opportunity to learn new tools and techniques and also improve some I already knew. Interactive, engaging and lots of fun!"
Zara Hughes – Coach – Systems Coaching and Thinking (ICP-SYS) Participant
"This course shifts how you perceive the world around you, its events and how they are interconnected and gives you the tools to coach groups of various sizes. A brilliant way into the world of systems thinking and coaching"
Toby Glaser – Team Coach and Facilitator – Systems Coaching and Thinking (ICP-SYS) Participant
"I highly recommend this course. It has help me develop better thinking tools and models I can use in my work"
Salvatore Rinaldo – Agile Coach – Systems Coaching and Thinking (ICP-SYS) Participant
"Great insights & opportunity to explore systems thinking and systems coaching, to complement agile/lean coaching."
Amani Elsheikh – Agile Coach – Systems Coaching and Thinking (ICP-SYS) Participant
"Rarely you will meet such enthusiastic and professional people about Agility, Coaching, Systems Thinking. Highly recommended!"
Dawid Stepien – Lead of Agile Coaching Competency – Systems Coaching and Thinking (ICP-SYS) Participant
---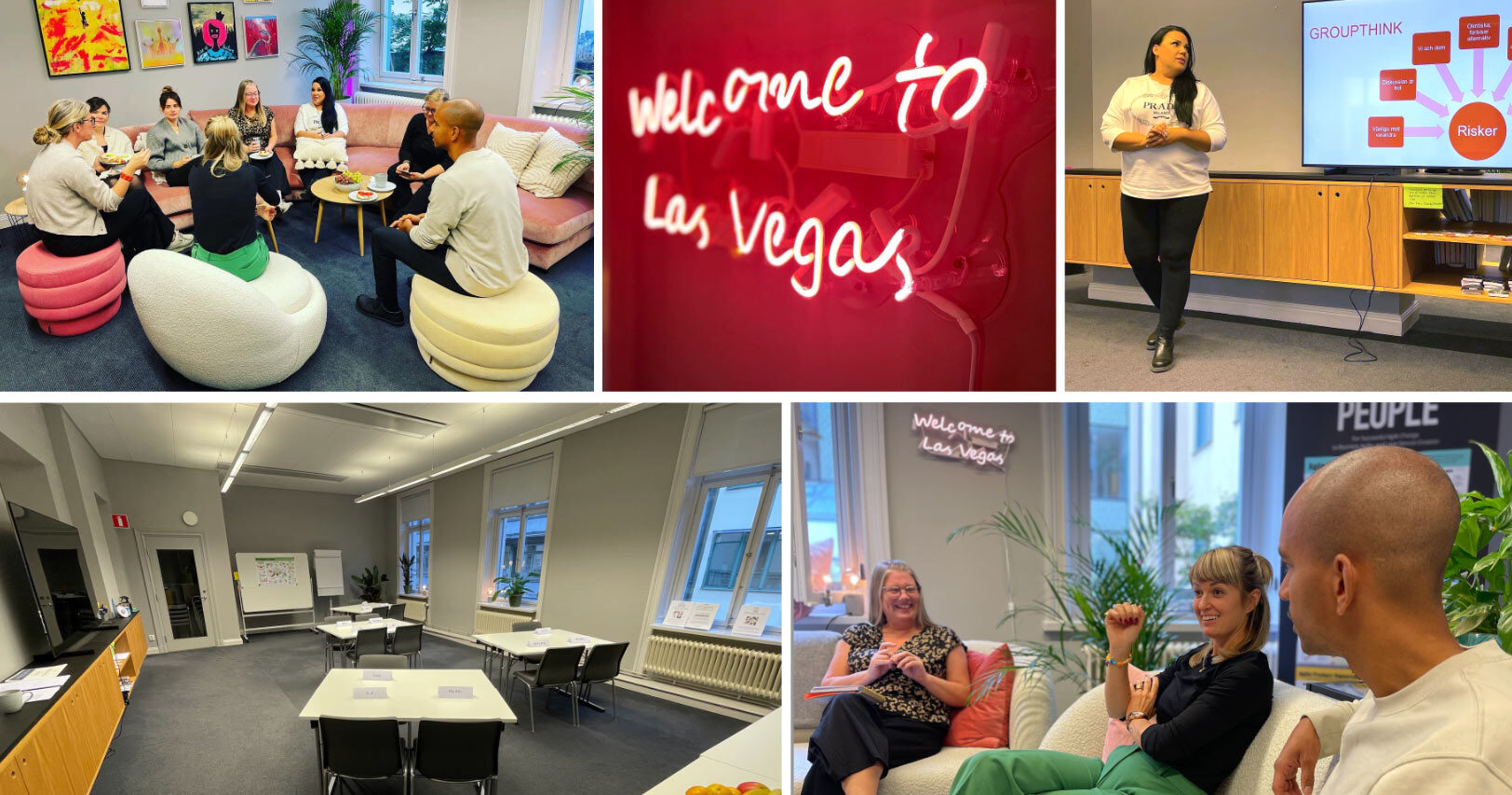 Our central workshop and training facilities that inspires to creativity and growth.
In the center of Stockholm you find our creative space of 100 sqm designed for Agile workshops, trainings, seminars, meetups and other activities to support fun and energizing growth. We offer our consultants, customers and partners to use our facilities and we also use it for our own activities within Dandy People.
The space is named Las Vegas, because what happens in Vegas stays in Vegas 😉
The Las Vegas space is divided in two big rooms with a wall, but no doors in between. That is why both areas are always used by the same group at all times. One part, the SOCIAL SPACE, of about 50 sqm is designed with comfy sofas and chairs for about 20 people. And on the other side of the wall is the WORKSHOP SPACE. This space is dedicated for workshops, trainings and seminars and it is an open space about 50 sqm with flexible furniture to fit any purpose.
Read more about our facilities here