In the world of today speed and flexibility is even more important than ever before. Unfortunately, this is the opposite of what our organizations have been constructed for.
Too often we find ourselves stuck in organizations with structures constructed to control instead of giving flexibility. We can't collaborate with the people we need to, or talk to customers when we want to, or make the decisions we need to deliver value – even the workplace environment is often constructed against our needs. Managers might think they don't have the capacity to pursue new ideas, or perhaps even not the right people – this is not true. You have all of that, but you prioritize the illusion of control instead of making use of the collective intelligence in your employees.
This is a link to a recording of the event on YouTube.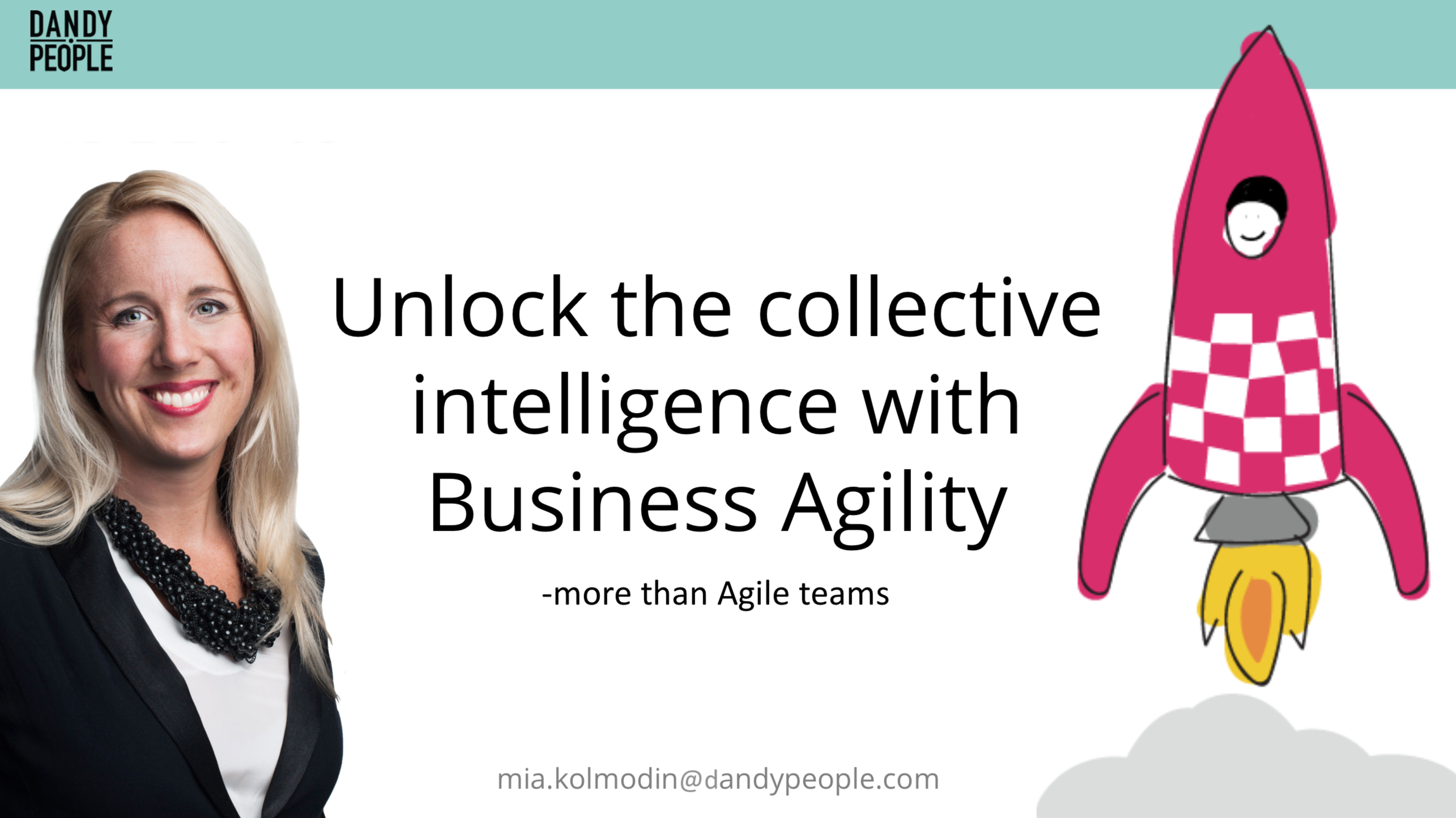 Agile values and principles are a great way to unlock the collective intelligence in any organization to enable innovation and awesome people – when used across the organization we call it Business Agility.
In this presentation, Mia will share ideas and examples that enable Agile change and Agile ways of working, making any organization high performing by removing hindering structures and empowering the employees to deliver customer- and employee value.
Agenda
This is a link to a recording of the event on YouTube.
When and Where?
This is an online meeting. We will use Zoom to facilitate, so please make sure you are properly set up before we start with video and sound before we start. There will be space available for questions so also be prepared to have your camera turned on.
Date: New date coming soon
Start time: CET  (Meeting room will be opened 5 mins before we start)
Duration: 60 min
The event is in English 
After signup, you will receive an email with the link to the seminar.
For who?
Leadership (No matter what discipline or level)

Anyone who wants to innovate and work customer-focused to deliver continuous customer value

Executives who want to lead an Agile and user-centric organization and outsmart competitors
Bring your curiosity and an open mindset!
About the speaker
Mia Kolmodin is the creator of the well-known Agile in a Nutshell poster series with over 100.000 downloads. She is an experienced speaker and trainer of Agile educations. Mia has worked in Agile Teams with product development as a team member and in the leadership role and as an Agile Coach, Scrum Master, and Product Owner for many years, and introduced Agile working methods across many organizations. She is also the founder of Dandy People.
If you would like us to have this event at you internally please contact  rosemarie.andersson@dandypeople.com
A warm welcome from the Dandy Acceleration team!