As we at Dandy People are strong supporters of Ukraine in the war against Russia we are really happy to be able welcome Dmytro Yarmak as a speaker. So welcome to join us in this very special and unique webinar where we get to know Dmytro as he shares his story of trying to apply his knowledge as an Agile Coach in completely different "domain", namely the war in Ukraine. Get to know how he applies the same principles and methods at the frontline, but with the danger of his and others lifes.
Dmytro says "Imagine you are on a job that you cannot quit, you have people that you didn't hire, and you cannot change or fire them. And all of this happens in war time.

Before war you was an Enterprise Agile Coach, and now your main responsibility is a successful execution of combat tasks and, at the same time, well-being and returning home in safe 150 people. What leadership style will you chose? Can you benefit from your experience of leading 30+ IT teams, from driving organisational transformations in big companies, from knowing how to facilitate, delegate, communicate, teach. Yes, it turned out that you can benefit from it even in the army."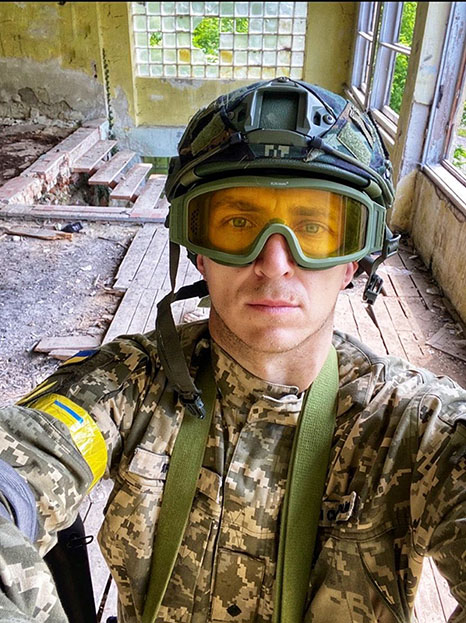 In case of emergency
Please be aware since Dmytro is serving in the war (as far as we know now at least) unforeseen events might occur at the time for the webinar. We will do our best to find a way forward no matter what happens and we of course most of all prioritize his safety.
For whom?
Anyone curious in how the Agile Mindset, Agile leadership and WoW can be applied outside of IT, and how it helps to manage unforeseen events when we are in VUCA for real.
When & where?
October 5, 2022
18.00 – 19.00 (6 – 7 PM) CET
We listen to Dmytros talk together, streamed directly from Ukraine. Ending with questions and dialogue together with Dmytro.
How does it work?
You sign up here to confirm your spot. Once signed up you should receive an automated sign up confirmation if your email was correctly filled out. About a week before the webinar you will receive another email from us with the zoom link to the webinar. So make sure you put us on your friendly list in your email client 🙂
About Dmytro Yarmak
Dmytro is an Enterprise Agile Coach and Partner at agiledrive where he is helping companies with Agile and IT Transformations. He is currently fighting in the war in Ukraine.
Please consider donate to the Ukraine Army to support Ukraine in the war
Via this link you can donate directly to the UA army via a secure international account.
A Warm Welcome from the Dandy Acceleration Team!