Open positions
| Job | Category | Location |
| --- | --- | --- |
| Enterprise Agile Coach | Coaching / Enterprise / Leadership / Transformation / Agile & Scale / Agile / Lean | Stockholm, Sweden |
| Agile Coach | Coaching / Leadership / Transformation / Agile & Scale / Agile / Lean | Stockholm, Sweden |
Are you a Dandy?
Do you have experience applying Agile and Lean principles and values? Are you a team player who likes sharing your knowledge? Are you a skilled trainer who sees training as a natural part of creating lasting change? Do you work both horizontally and vertically in organizations to engage and coach management, product organizations, agile teams or specific individuals? Are you trustworthy, have a pragmatic attitude and positive energy that makes people want to change and find new solutions together? Then you're most likely fit to become a Dandy!
What we offer
Dandy People offers you a place in our exciting startup. We are building an amazing company with Agile values and an Agile mindset. We promise you creative and exciting work in self organizing teams of Dandys at our clients, some of Swedens largest and most interesting companies.
Through our strong commitment to what is best for the client, we build strong relationships based on trust. We work with companies and organisations who strive to be Agile across the whole organisation and value chain. Helping companies be more humane enables them to be innovative, have shorter lead time and higher quality. Dandy often operates on management level, leading and supporting a transformation – or, evaluate an organisation that is already Agile and supporting it in rising to the next level. We are rarely in one place in an organisation, instead we increase the ability of employees and leaders, building the new skills needed to face a changing world.
We are proud of our competence, both deep and wide, where all Dandys contribute with different experiences and expertise. We learn from each other by close cooperation in cross-functional teams. We attend each others trainings, share experiences as lightning speeches, coaching material or blog posts. Together we create flexible teams with new possibilities to support our clients in the complex challenges they face.
Dandy People is a family where you can safely grow, broaden and deepen your knowledge with like-minded. 
What we believe in
Transformation has always been happening, it's just much faster now in the digital era. Either you lead the transformation, or it will take the lead over you. Dandy People help organizations transform and become Agile that can move fast, create innovative human centered solutions and make data driven business decisions with short time to market.
We do this by helping organizations to adapt to Agile and Lean principles, values and practices across the total value chain of the business. We coach and train people, build up their mindset and provide knowledge to do incrementally and iterative improvement as well as the infrastructure to support it.
Our mission is always that our clients should be able to continue on the wanted path when we leave.
Our Dandy Delivery Model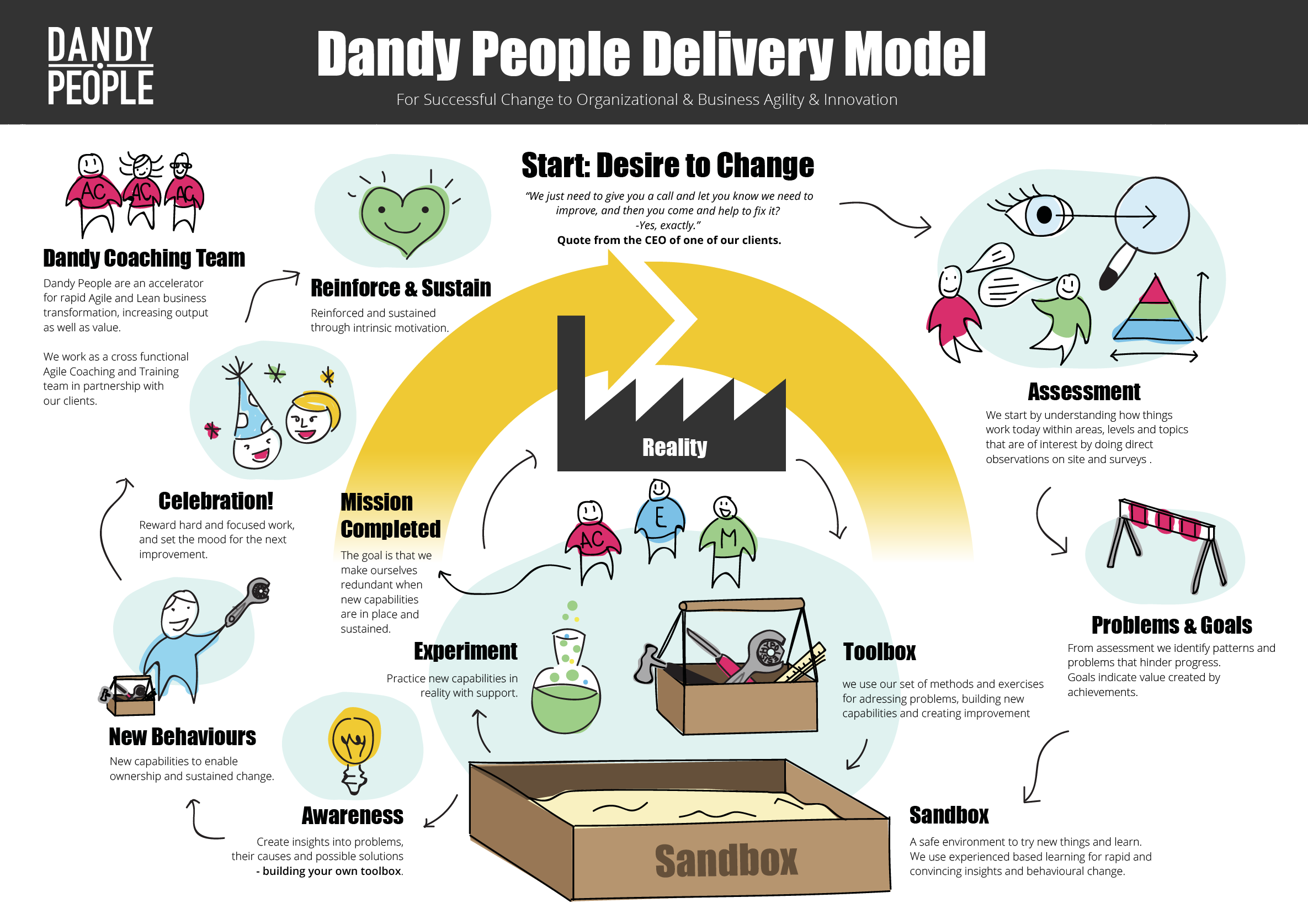 Here you can read more about our delivery model >