We grow with our amazing customers and now we need to become even more Dandys!
Open positions
| Job | Category | Location |
| --- | --- | --- |
| Enterprise Agile Coach | Coaching / Enterprise / Leadership / Transformation / Agile & Scale / Agile / Lean | Stockholm, Sweden |
What we offer
Vi på Dandy People erbjuder dig en plats i vår spännande startup där vi bygger ett nytt fantastiskt företag med Agila värderingar och ett Agilt mindset. Vi lovar dig ett omväxlande spännande och kreativt arbete där du arbetar i självorganiserande team med andra Agila Coacher från oss ute hos några av Sveriges största och mest spännande företag.
Genom vårt starka engagemang för kundens bästa skapar vi djupa relationer över tid som bygger på förtroende. Våra uppdrag innebär ofta att vi arbetar med företag och organisationer som strävar efter att vara Agila över hela organisationen och värdekedjan för att möjliggöra mer humana organisationer som ger innovationskraft, rätt kvalitet och kortare ledtider. Vi kommer ofta in på ledningsnivå och leder eller stöttar i en transformation – eller så utvärderar vi en redan Agil organisation för att sedan ge stöd i att lyfta den till nästa nivå. Vi fyller sällan en plats i ett organisationsschema, i stället ökar vi förmågan bland medarbetare och ledare, bygger de nya förmågor som behövs för att möta en föränderlig värld.
Vi är stolta över vår breda och djupa kompetens, där alla Dandys bär med sig olika erfarenheter och spetskompetenser. Vi prioriterar att stötta och lära av varandra genom nära samarbete i tvärfunktionella team, vi går andra och varandras utbildningar, delar ofta med oss av våra erfarenheter i form av blixttal, coachingmaterial eller bloggposter. Tillsammans skapar vi flexibla team med helt nya möjligheter att stötta våra kunder i de komplexa utmaningar de står inför.
Dandy People är som en familj där du tryggt kan växa, bredda och fördjupa din kunskap tillsammans med andra likasinnade. Vår strävan är att den Agila mindsetet genomsyrar allt vi gör. Alla ska med och tillsammans är vi starka.
What we believe in
Transformation has always been happening, it's just much faster now in the digital era. Either you lead the transformation, or it will take the lead over you. Dandy People help organizations transform and become Agile that can move fast, create innovative human centered solutions and make data driven business decisions with short time to market.
We do this by helping organizations to adapt to Agile and Lean principles, values and practices across the total value chain of the business. We coach and train people, build up their mindset and provide knowledge to do incrementally and iterative improvement as well as the infrastructure to support it.
Our mission is always that our clients should be able to continue on the wanted path when we leave.
Our Dandy Delivery Model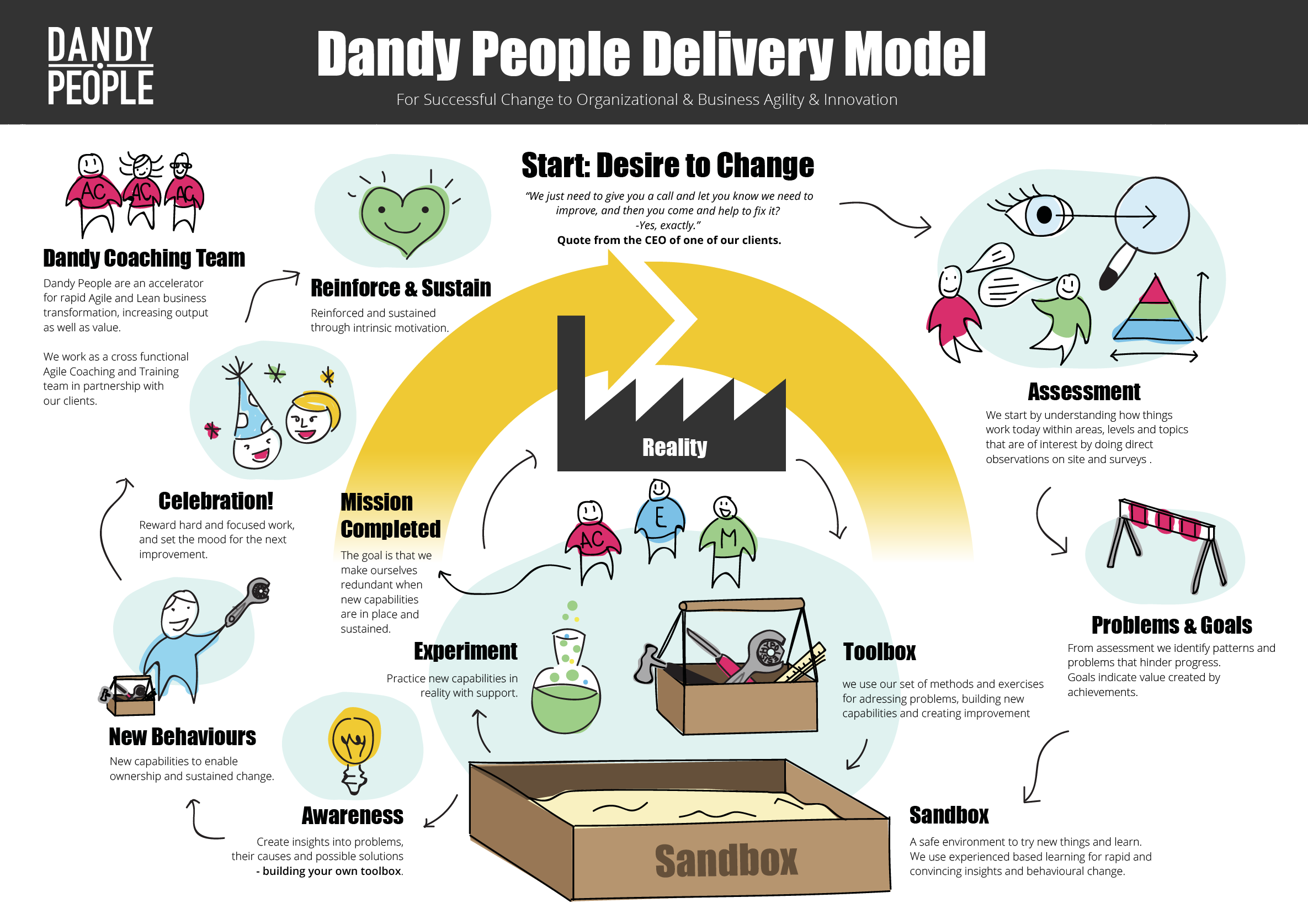 Here you can read more about our delivery model >
Meet the team