Our Services for Agile Business Evolution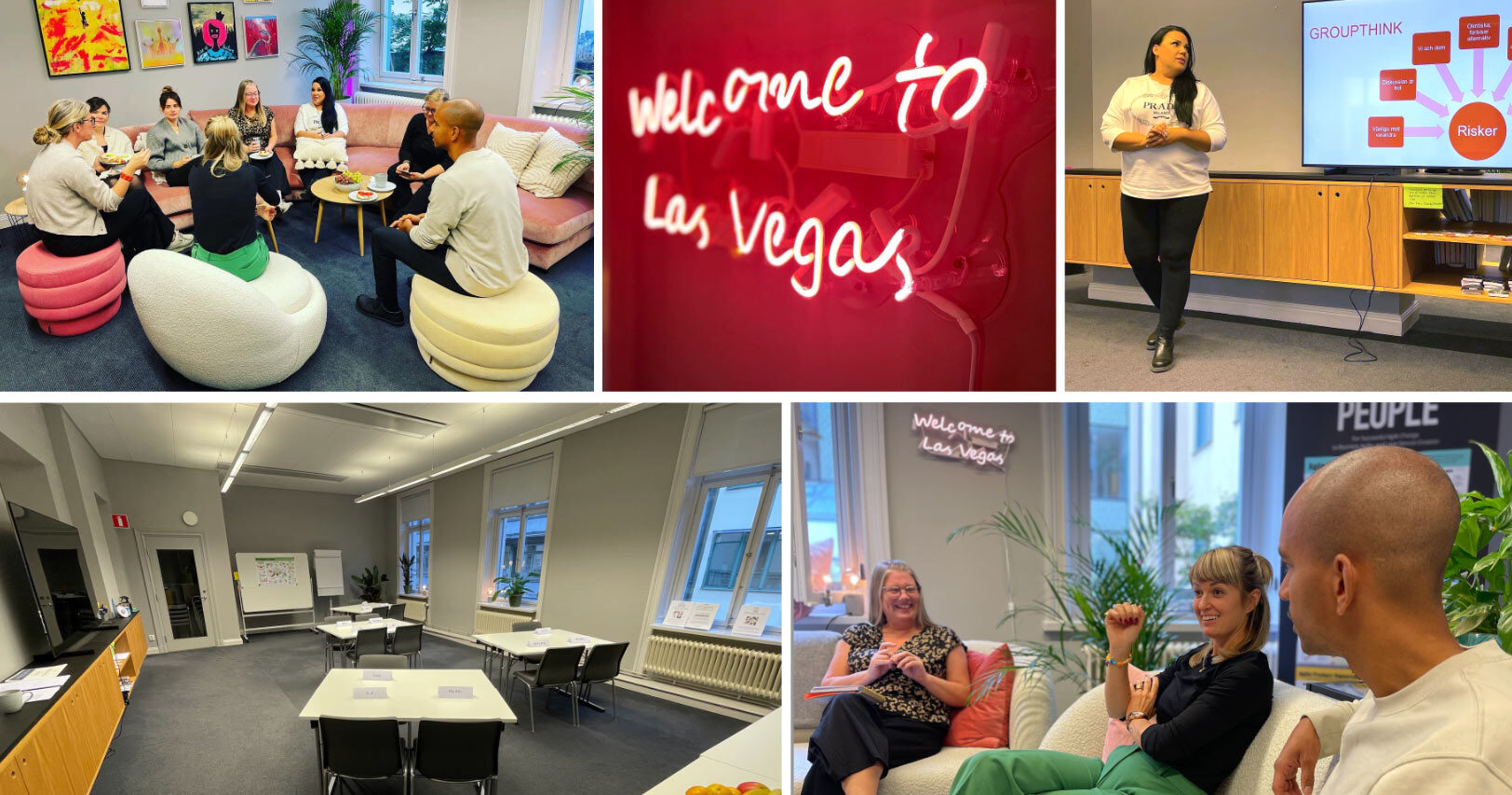 Dandy People is a leading Agile coaching and training company within organizational change, leadership, product and business development. We support organizations by acting as a partner through coaching, advising, facilitation, change leadership and teaching. We help to shift mindset and build high performing organizations where the leaders know how to lead the organization to enable agility, employees can take responsibility and together continuously improve and deliver.
We have long experience in coaching organizations in a technical environment to become and act more agile and use the agile mindset and ways of working to enable better results through building a Learning Organization. Often we assist in bridging between existing parts of the organization, in many cases, IT and business, to enable new teams and management structures that support end-to-end customer delivery with fewer handoffs. This is usually needed to support digitization in large organizations.
Our agile coaches work in teams and bring both a wide perspective and in depth knowledge with different backgrounds. Using our shared knowledge and toolbox we guide our customers to take bigger leaps and to improve, always based on the context and what is needed.
It might also be that our customers already have a team-based organization but need people to take on different roles to facilitate collaborations, continuously improve and give clarity to the teams and teams of teams on strategic, tactical and operational levels. This is also a service we offer.
Agile Coaching
We at Dandy People are experts in everything Agile. This means that we have the experience of many different organizations and we have succeeded – failed and learned many times when supporting organizations, teams and leaders to enable a customer focused way of working with valuable deliveries more often than in traditional setups. This is the experience we bring with us when joining our customers in often long partnerships. 
When doing the work as an Agile Coach we often share our agile mindset, principles and good practices. Act as coaches for groups and individuals, act as trainers for groups and sometimes for the whole organization as well as analyze the organization and support in shaping a strategy to move it forward together.
The Agile Coaches at Dandy People all have different backgrounds. It can be as a C-level manager in a tech organization – or as a HR-specialist on executive level in a global organization. Or it can be a systems developer, product owner, CPO or with a design background building digital products. But we all have in common that we have worked in our roles to start change towards Agility, and now often 10-20 years later coach others to build organizations with agility – and today we are all called Agile coaches.
We have three different types of Agile coaches. Senior Agile Coaches, Enterprise Agile Coaches and Executive Agile Coaches. Senior Agile Coaches focus on work with Agile teams and the system around them. Enterprise Agile Coaches work on a system level across the organization with all functions and on a strategic level, often to support bigger leaps from traditional structures and ways of working on a business level. Executive coaches support executives to transform and support the change on an overall systemic level and share a compelling story and vision. All of our Agile Coaches no matter the level we work on have the experience of working in and with agile teams, as well as have the experience from doing bigger changes in an agile way towards business agility and can therefore guide our customers and together help them succeed sooner.
Dandy Digital Academy for Businesses and our Facilitated Trainings
We take pride in delivering world-class Agile training and coaching content to organizations that want to enable Agility within teams and across the organization. Our experts work together to always make sure it is not only correct, but also to the point, practical and useful, beautiful, engaging, and fun. Our expertise in Agile teams, leadership, product development and how to transform from a traditional organization where also Agile HR and Agile finance and budgeting are important factor to really achieve Business Agility. Our digital learning content in all areas grows every day based on the work we do as Agile coaches to support our customers. This is the knowledge and content we put into these online trainings and toolboxes.
The Dandy People Digital Academy contains different learning modules to enable individual and group learning to move towards an Agile organization. This makes it easy for the people in the organization to "pull" on content and speed up the learning in the organization.
The first goal is often to get a shared understanding and also to train managers and specific Agile roles. The content on our learning platform is always up to date, full of videos, articles, activities and hands-on tools that serve both as self study content, as well as coaching content that people can use in their daily work.
All businesses are different. That's why we'd love to listen to your needs and present our solution. An offer will be based on the size of groups who will have access and we prefer to set group licenses instead of individual to make administration super easy and flexible. We love simple and smart solutions that build bridges between people and groups.
Learn more about the Dandy Digital Academy for Businesses >
The Agile Business Simulation – an interactive workshop to train leaders in Leading in an Agile way
This is a unique business simulation that Dandy People has created together with experts in business simulations. The goal is to quickly give people the experience and understanding in how to transform  organizations (your organization) from a traditional silos based organization to a dynamic organization with business agility. It is an interactive, engaging and fun training where we use a business simulation and connect it to the reality of running a business, and how to manage a shift towards business Agility. You will in the simulation act as the leadership team and based on scenarios, discuss and choose different alternatives to move forward. The players get instant feedback in how the your organization and business is responding to your decision. Did it make it better and more Agile – or not?
The focus is on quickly building real experience in how to lead the organization from traditional structures and ways of working to a team based organization with an agile operation model and strategic flexibility. You will after a couple of days in the simulation be fit for the future. The last half day after the 2,5 day training session is focused on your way forward with reflection and co-creation of a high level plan that help you get started for real.
Read more and download information in English (PDF Download>
Interim Agile Manager
Get your agile transformation going right ahead by having one of our experienced Agile Coaches in an Interim Agile Management position. In an operating role, someone with the former experience of being a manager in an agile transformation can lead the way by doing the change. Being part of the management team, practicing the agile mindset in decision making, cooperating as a team, setting goals and visions, supporting and coaching employees in the agile teams to reach high performing teams, inspire and teach individuals and the organization what agile is and how to use the agile methods.
5 nycklar till en lyckad Agil evolution – och hur HR är en nyckelspelare att få med tidigt
Our central workshop and training facilities that inspires to creativity and growth
In May 2022 we moved in to our new office space at down town Stockholm, right by the beautiful Humlegården and Stureplan. Here you find a creative space of 100 square meters designed for Agile workshops, trainings, meetups and other activities to support fun and energizing growth in individuals, teams, organizations and businesses. We offer our consultants, customers and partners to use our facilities and we also use it for our own activities within Dandy People.  The space is named Las Vegas, because what happens in Vegas stays in Vegas 😉
Learn more about the Dandy Creative space at Humlegårdsgatan 19A in Stockholm >
Contact us to book a meeting and talk about how we can be your partner to support your Agile and Business transformation too.
We offer our clients a partnership over time with Advice – Coaching – Mentoring – Training – and Consulting.