This is a visualization of what we as Agile Coaches do and what competences we have. The purpose of this poster is to create a common understanding of this new role(s) and function for the rest of the organization – but also a way for us as Agile Coaches to use for growing our competences in a strategic way and building cross functional Agile Coaching teams.
At Dandy People we work as Agile Coaches at our customers and support them in Agile change journeys over time. I started to create this poster to create a common understanding at our clients, as well as within Dandy so that we have a shared view of our core capabilities. I have used it many times with great success, the confusion of what we do is gone in minutes and we can get started to bring value to people! This poster has now been updated many times with great feedback from you all.  The development has been in a collaboration with the experienced Agile leader Frank Olsen who is Chief Agile Coach at Simcorp, leading their LACE team. Thank you Frank for awesome collaboration!
FREE DOWNLOAD ENGLISH: Here you can download the Agile Coaching in a Nutshell poster for free in high resolution (PDF) >
FREE DOWNLOAD PORTUGUESE: Here you can download the poster in Portuguese >
FREE DOWNLOAD RUSSIAN: Here you can download the poster in Russian >
FREE DOWNLOAD TURKISH: Here you can download the poster in Turkish >
FREE DOWNLOAD SPANISH: Here you can download the poster in Spanish >
Free Download in Simplified Chinese: Here you can download the poster in Simplified Chinese >
BUY: printed A1 poster >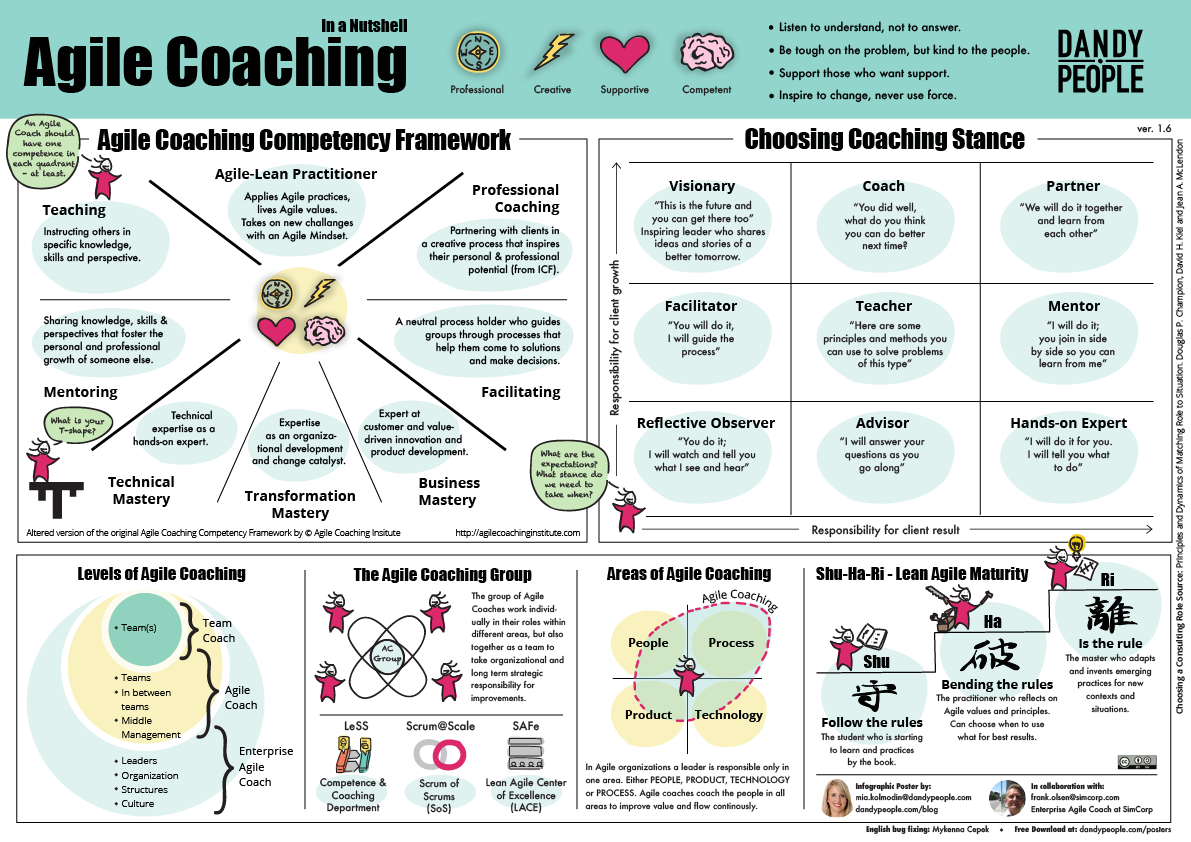 Are you interested in becoming an Agile Coach?
Here you find our trainings for Agile Leaders and Coaches >
The content of the Agile Coaching in a Nutshell poster
The Agile Coaching Competency Framework
The framework that I find best describe the complexity of the role in a great way is the Agile Coaching Competency Framework by Lyssa Adkins and Michale Spayd at agile Coaching Institute. I have tweaked it a bit  to be able to use it on a broader perspective then within software development. My hope is that it can be used by Agile Coaches across the organization. The way they explain it is that every Agile Coach should master at least one area within the 4 main areas.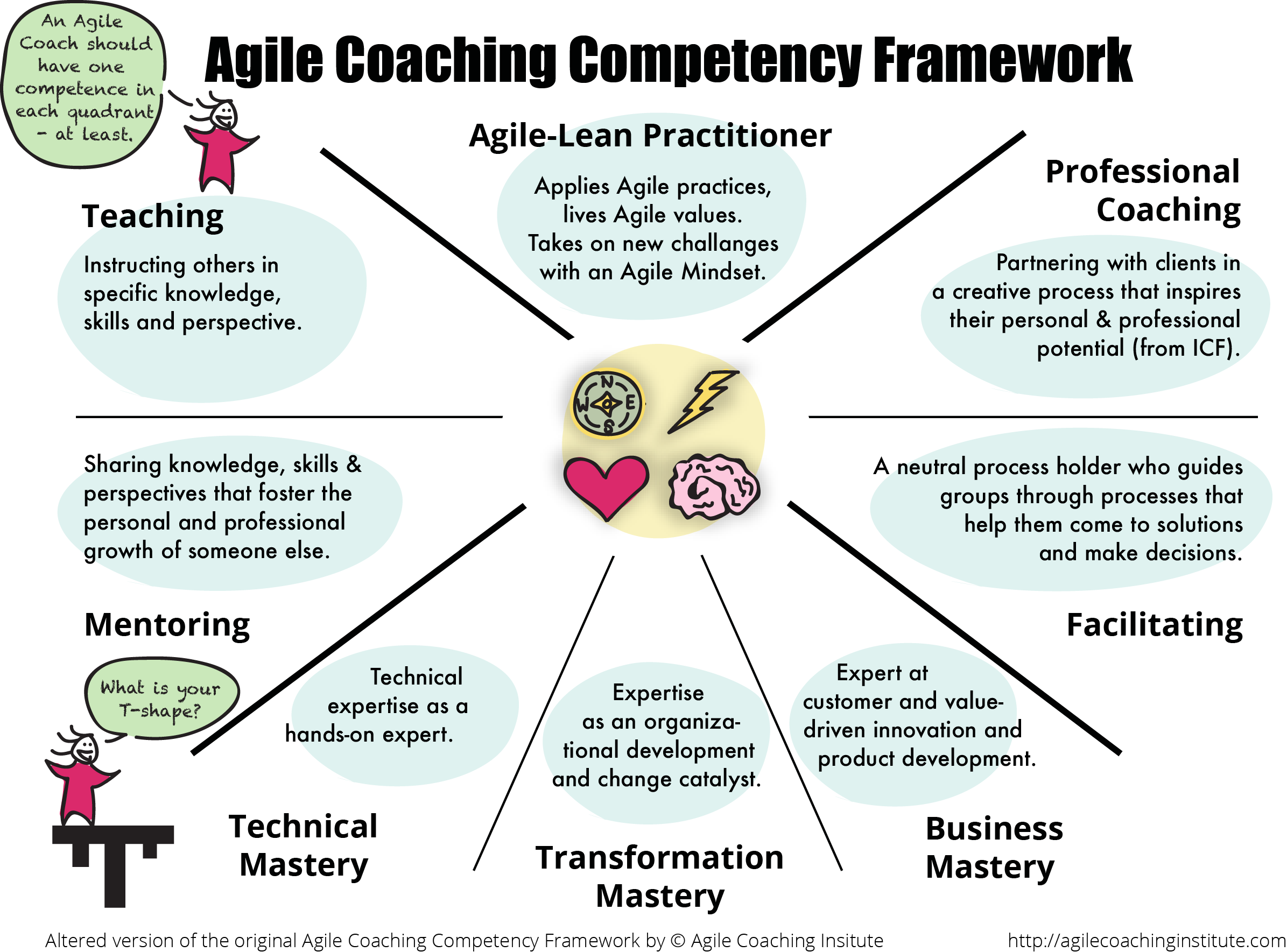 Choosing a Coaching Stance
This 9 grid is based on the original paper from 1985, Principles and Dynamics of Matching Role to Situation. Douglas P. Champion, David H. Kiel, and Jean A. McLendon. This one has also been modified to better fit our way of working today when our stances may vary all the way from visionary Agile leaders to hands-on experts.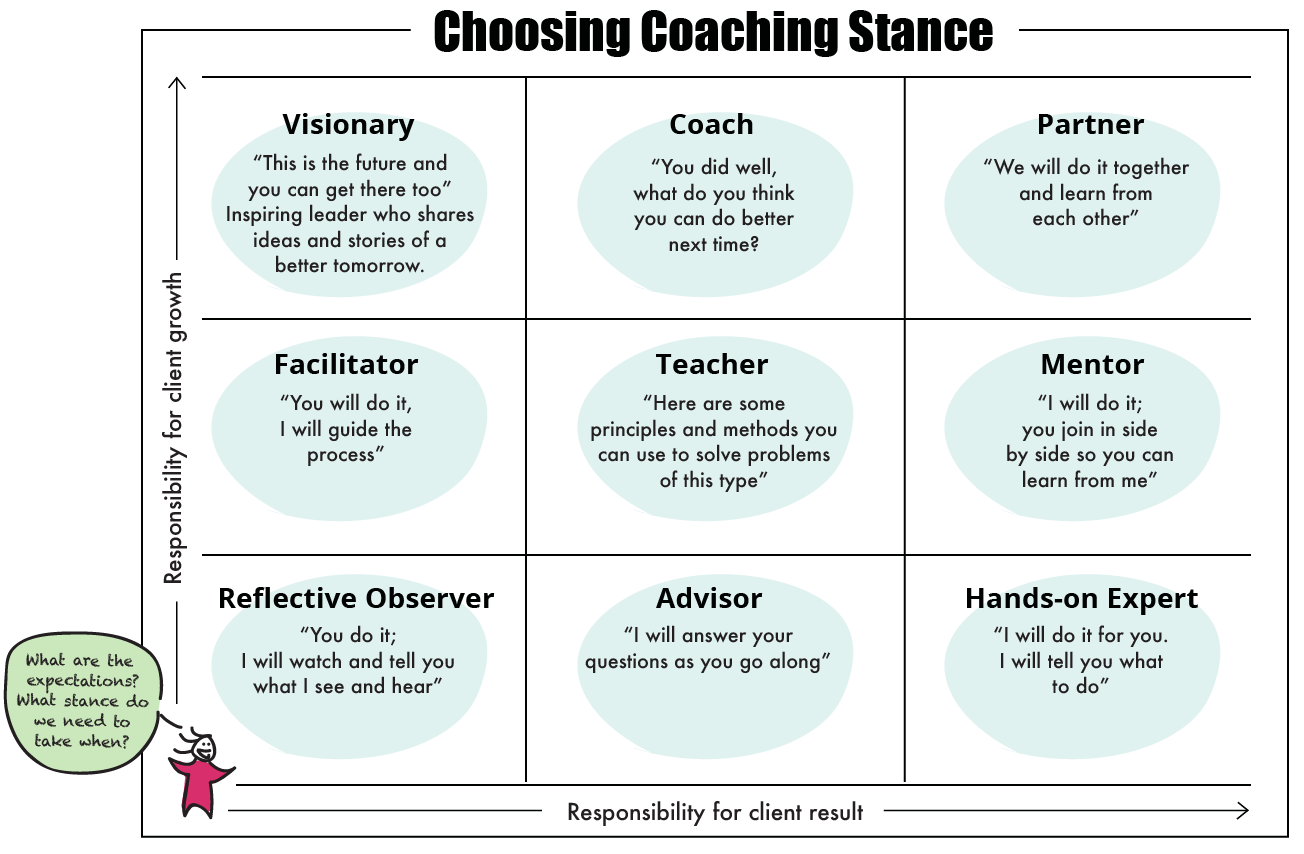 Levels of Agile Coaching
This is a description of how we work at different levels in the organization. When we combine our efforts and also work as a team in parallel – that's when we can get great results moving forward changing the culture. The most important for all organizations who want to become Agile is to get leadership across the organization on-board and to support the Agile teams to become high performing by removing hinders continuously, this is often the focus for Enterprise Agile Coaches. Also enabling Business Agility by transforming functions such as finance and HR to support Agility – strategic process improvement and leading the Agile Coaches group. Agile coaches on team-level work with building high performing teams as well as supporting needs in between teams in organizations with several teams. Team facilitators handle the facilitation of the team ceremonies. This is also originally a model from Lyssa Adkins and Michael Spayd that we have altered too and added the strategic level.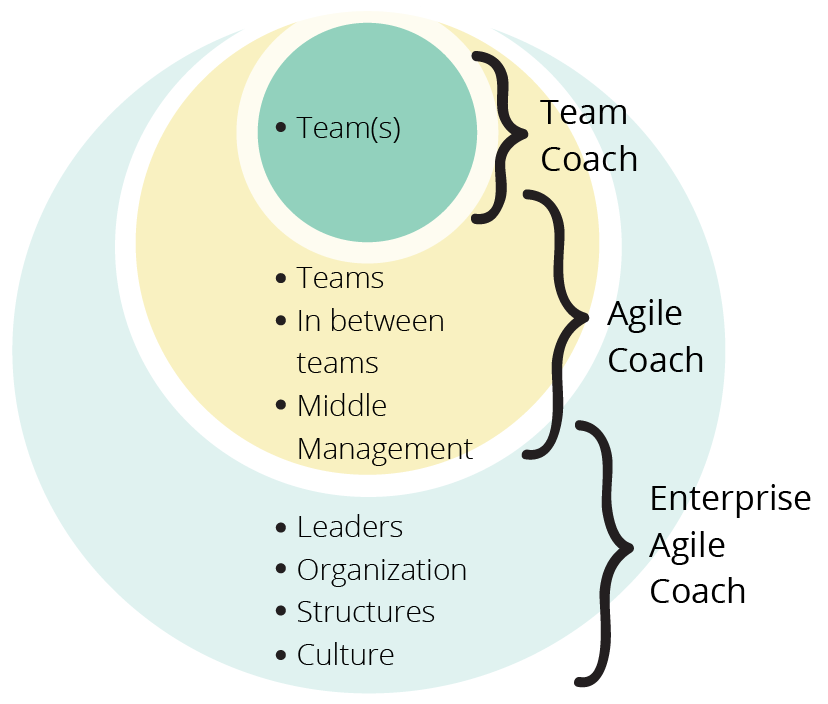 The Agile Coaches Group
The group of Agile Coaches work individually in their roles within different areas, but also together as a team with shared goals to take an organizational and long term strategic responsibility for improvements. The group is named differently in different frameworks, but the purpose is always the same; to work strategic and operational with process improvements and do coaching, training and mentoring.
Areas of Agile Coaching
In Agile organizations a leader is responsible only in one area. Either PEOPLE, PRODUCT, TECHNOLOGY or PROCESS. Agile coaches coach the people in all areas to improve value and flow continuously. This is something we often see as a subject of misunderstanding and fear to many traditional leaders where they previously in their line manager role might have managed both strategy, people and technology. This does not mean they will lose their job, or become less valuable, it just means they can focus more, become better leaders who are less stressed, enabling the organization to be more innovative and people-friendly. Agile Leadership teams often consist of 3-4 people working together to enable their people.
Shu-Ha-Ri
This is a classic way to visualize the different levels of Lean-Agile maturity on an individual level that I use a lot in my coaching. We often work to get as many as possible up to HA-level, that's when we get a strong foundation for an Agile Mindset in an organization. If too many people stay on SHU-level and the Agile Coaches leave, that's when the organization starts to fall back to previous behaviour and structures.
SHU – Follow the rules The student who is starting to learn and practices by the book.
HA – Bending the rules The practitioner who reflect on Agile values and principles. Can choose when to use what for best result.
RI – Is the rule The master who adapts and invent emerging practices for new contexts and situations.
Some last coaching advice
Listen to understand, not to answer
Be tough on the problem, but kind to the people
Support those who want support
Inspire to change, never use force
FREE DOWNLOAD: Here you can download the Agile Coaching in a Nutshell poster for free in high resolution (PDF) >
Free to download, use and share
The posters is published under Creative Commons License, so please use it and share it as you like. If you are interested in doing a translation to any other languages please let me know and I will help you with the file and publish it here in the blog as well.
You are free to:
Share — copy and redistribute the material in any medium or format
Adapt — remix, transform, and build upon the material for any purpose, even commercially.
This license is acceptable for Free Cultural Works.
The licensor cannot revoke these freedoms as long as you follow the license terms.
Under the following terms:
Attribution — You must give appropriate credit, provide a link to the license, and indicate if changes were made. You may do so in any reasonable manner, but not in any way that suggests the licensor endorses you or your use.
ShareAlike — If you remix, transform, or build upon the material, you must distribute your contributions under the same license as the original.
No additional restrictions — You may not apply legal terms or technological measures that legally restrict others from doing anything the license permits.

Here you find all the other Free Agile in a Nutshell-posters in the series that are now translated to 14 languages and downloaded over 90.000 times world wide.