The recruiting and onboarding process is something that often has to be adapted when organizations "go Agile". We were curious about what can be done to adapt the process for the people working with recruiting, what it would mean for the candidate, and how and what to look for when hiring for Agility. So we got together as a cross-functional team to look at this with our different perspectives, Frida Mangen, known from the popular pod Agila HR-podden, Thomas Eklöf, and Nils Hallén, both experts on recruiting and authors of books like "Innovative Recruiting (in Swedish), Björn Sandberg Agile HR and transformation expert at Dandy, and myself, to see if we could create a poster as a first step. The work of creating the poster started in October 2019 and was paused a bit during COVID19. Now we are so happy to be able to share it with you after 8 months!
Free Download of the Poster
Free Download of the Agile Recruiting in a Nutshell poster here (PDF) >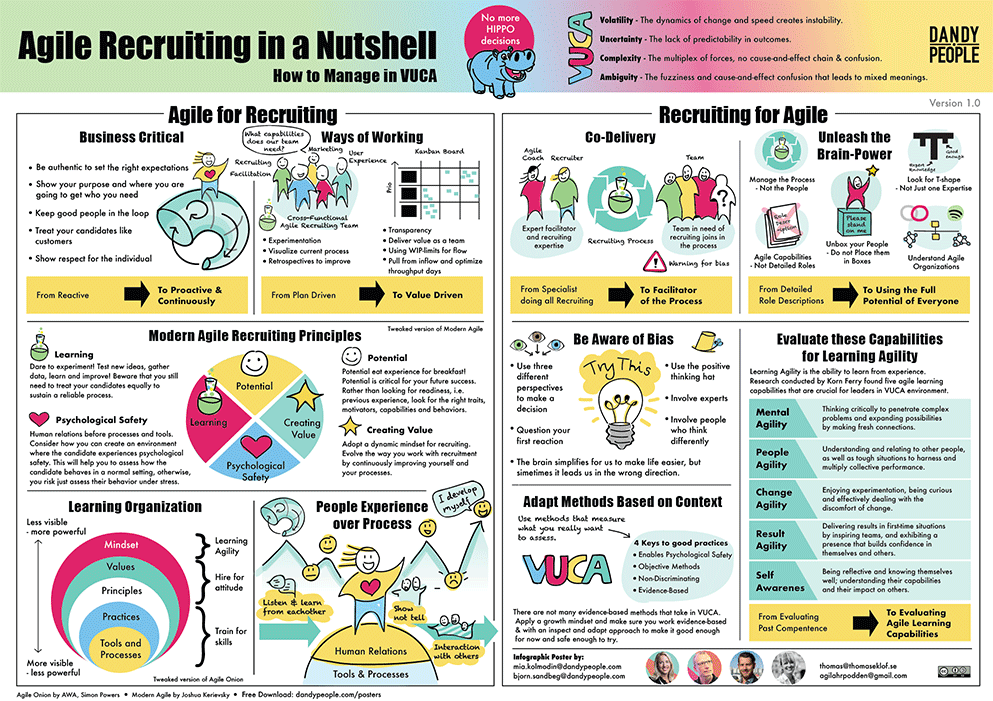 Modern Agile Recruiting Principles
You can think of these principles as a lighthouse. If you are in sight of the light you are on the right path, but if you lose sight of it then you are probably off course.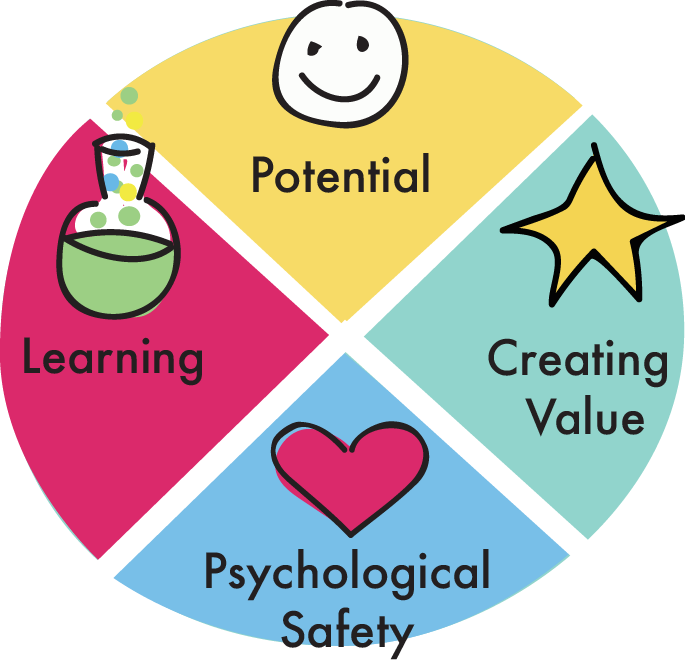 Learning
Dare to experiment! Test new ideas, gather data, learn, and improve! Beware that you still need to treat your candidates equally to sustain a reliable process.
Psychological Safety
Human relations before processes and tools. Consider how you can create an environment where the candidate experiences psychological safety. This will help you to assess how the candidate behaves in a normal setting, otherwise, you risk just assess their behavior under stress.
Potential
Potential eat experience for breakfast! Potential is critical for your future success. Rather than looking for readiness, i.e. previous experience, look for the right traits, motivators, capabilities, and behaviors.
Creating Value
Adopt a dynamic mindset for recruiting. Evolve the way you work with recruitment by continuously improving yourself and your processes.
We all love how Modern Agile supports everyone thinking and acting in ways that support Agility, that is why we created a version of the Modern Agile by Joshua Kerievsky specifically for Agile recruiting.
(more…)