Many organizations right now are moving from viewing the organizations as a machine to a people first culture,  enabling valuable collaborations, strategic flexibility and customer focus. The Stairway to Business Agility can be used as a tool for self- and shared reflection. It is based on experiences from many different organizations and their journey towards a well functioning and high performing organizations. You might have totally different experiences, and thats fine too.
Where are you and your organization today?
Are you doing Agile – or being Agile, and what is your ambition? You will probably find that you partly might be on different steps at the same time, in different parts of the organization, and that you might have done some things that in this visualization "belongs" on another step. That is not wrong, we should work in parallells and not in a waterfall implementation manner. Perhaps you can find even more things that you can do to enable business Agility by looking at this as inspiration and take some time to reflect together. Please skip the steps in the bottom now that you know they don't bring the value we usually are looking for when going Agile.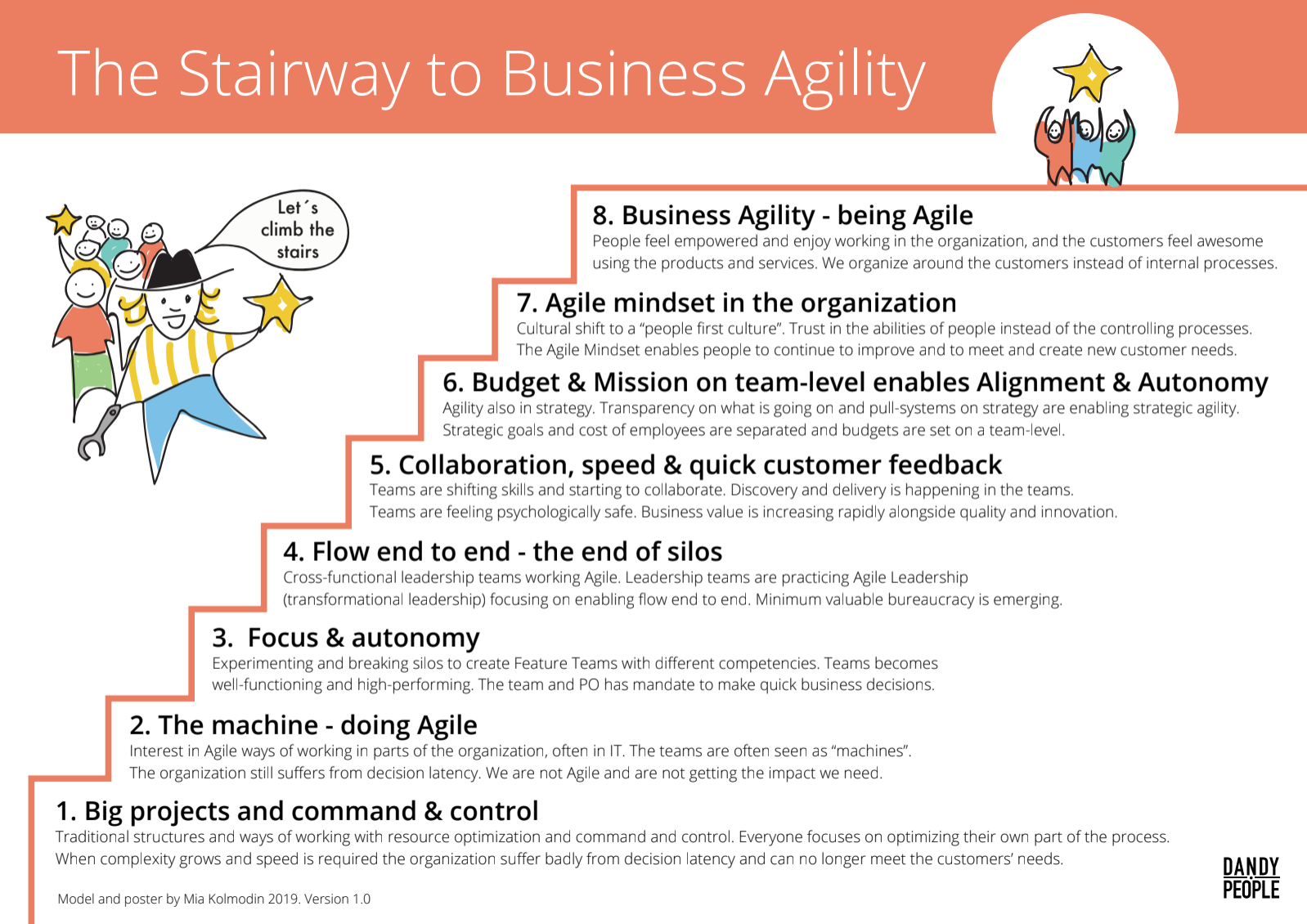 Download the Stairway to Business Agility as high resolution PDF here >
Let's start at the bottom of the stairs where we are non Agile.
1. Big projects and command & control
Resource optimization and command and control. Everyone focuses on optimizing their own part of the process, running bigger and bigger projects and making sure everyone is as occupied as possible. Complexity grows, you are hiring more people – but it takes longer and longer while you deliver even less with worse quality. We suffer badly from decision latency and can no longer meet the customers' needs. The management models that have served the organization well the past 100 years is no longer giving us what we need and we are starting to feel the pain of it.
2. The machine – doing Agile