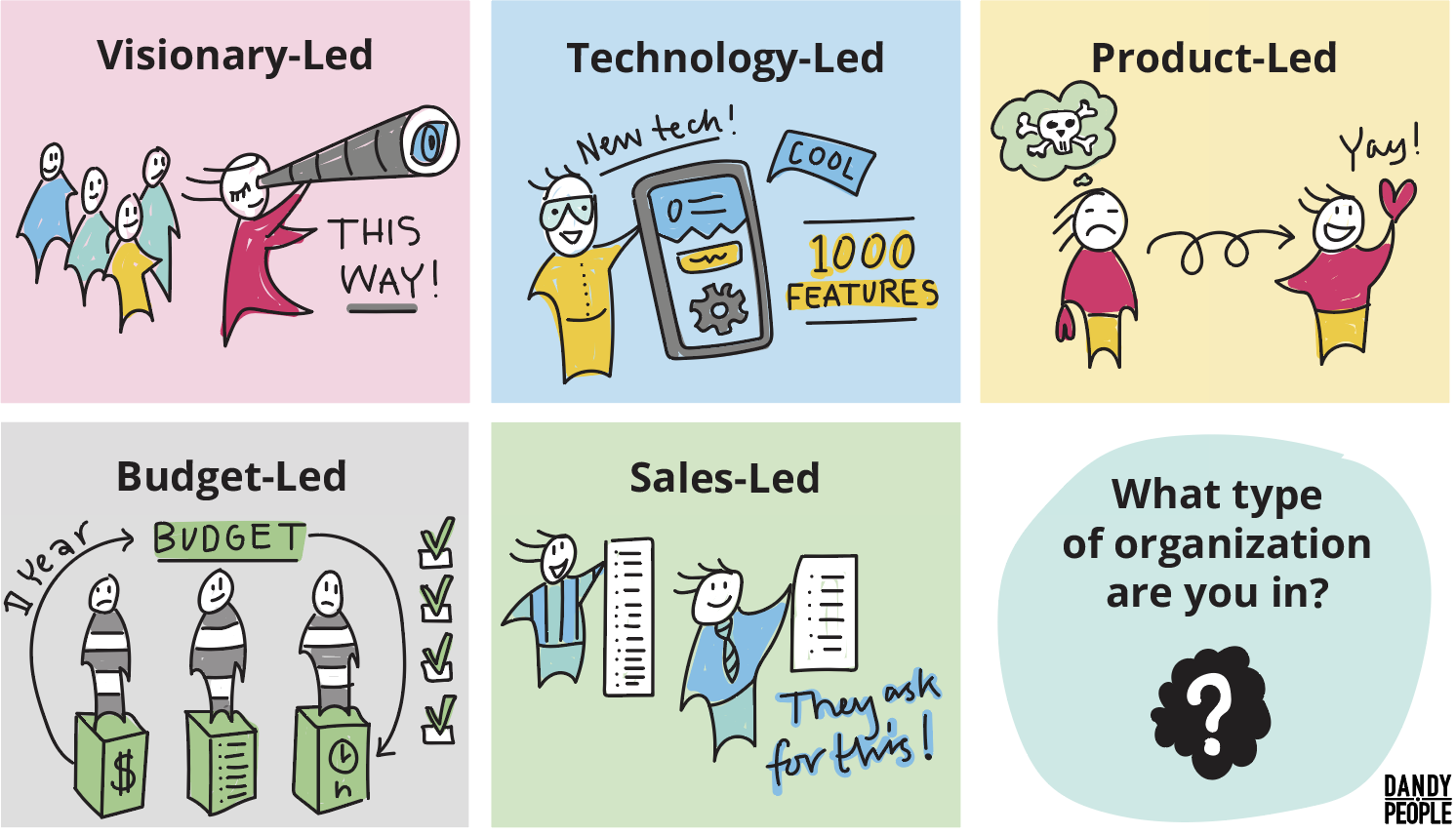 There are many ways businesses can organize to grow and deliver value, but not all of them are equally effective. Melissa Perri, the author of The Build Trap, acknowledges four primary organizational patterns that take very different approaches to achieve growth and value delivery, we have added a fifth pattern that is very common too, the budget-led organization.

Budget-Led Organizations
Budget-led organizations focus on long term planning and mitigate the risk of people working on the wrong thing by having everyone hand in their plans on an often yearly basis and having them reviewed and committed to. This is often a time consuming process, not only to plan, but also to follow up on how all parts of the organization are doing compared to the plan. Important metrics are often deviation from plan as well as obsession over if the work is maintenance or innovation (opex or capex). This type of internal focus gives the organization a locked focus. No matter if the target moves away, the structures are set up to make sure you stick to the obsolete plan. It does not allow new insights to impact what gets delivered and the organization cannot have customer focus nor compete on a fast moving market. Most times people in the organization spend most of their time trying to find ways to game the system to be able to have any success at all.
Sales-Led Organizations
Sales-led organizations work closely with clients to define the product roadmap, taking all of their requests, and sometimes customizing things especially for them. The challenge, however, is when it comes to scaling. Organizations with 50 to 100 customers or more cannot build everything uniquely to match the needs of each customer unless they want to become a bespoke agency. Most products delivered by sales-led organizations suffer from debts in all possible ways; product, usability and tech.

(more…)