A while a go, in the beginning of April, Staffan Nöteberg (The author of the best seller "Pomodoro Technique Illustrated") asked me if I wanted to create a poster for his method Monotasking. Of course I said "Yes, of course!" even though I had tons of work todo, and was just starting up a new business as well… I believed that I would definitely have time in about two weeks to start with the poster. A couple of months later, in early June we met again at the unconference Agile Sweden (I had still not started with the poster). Staffan was doing a talk about the Monotasking method and one of the things he said I will remember for the rest of my life, he said that there is "a bug in the brain that makes us believe that we will have more time in the future". I was such a victim for this brain bug 😉
Finally we hit vacation and I had the possibility to prioritize and put the poster on my short list 😀 Today me and Staffan met to do a Monotasking session finishing the last fixes on the poster. So here it is now for all of you who are interested in how to stop procrastinate and get shit done like never before!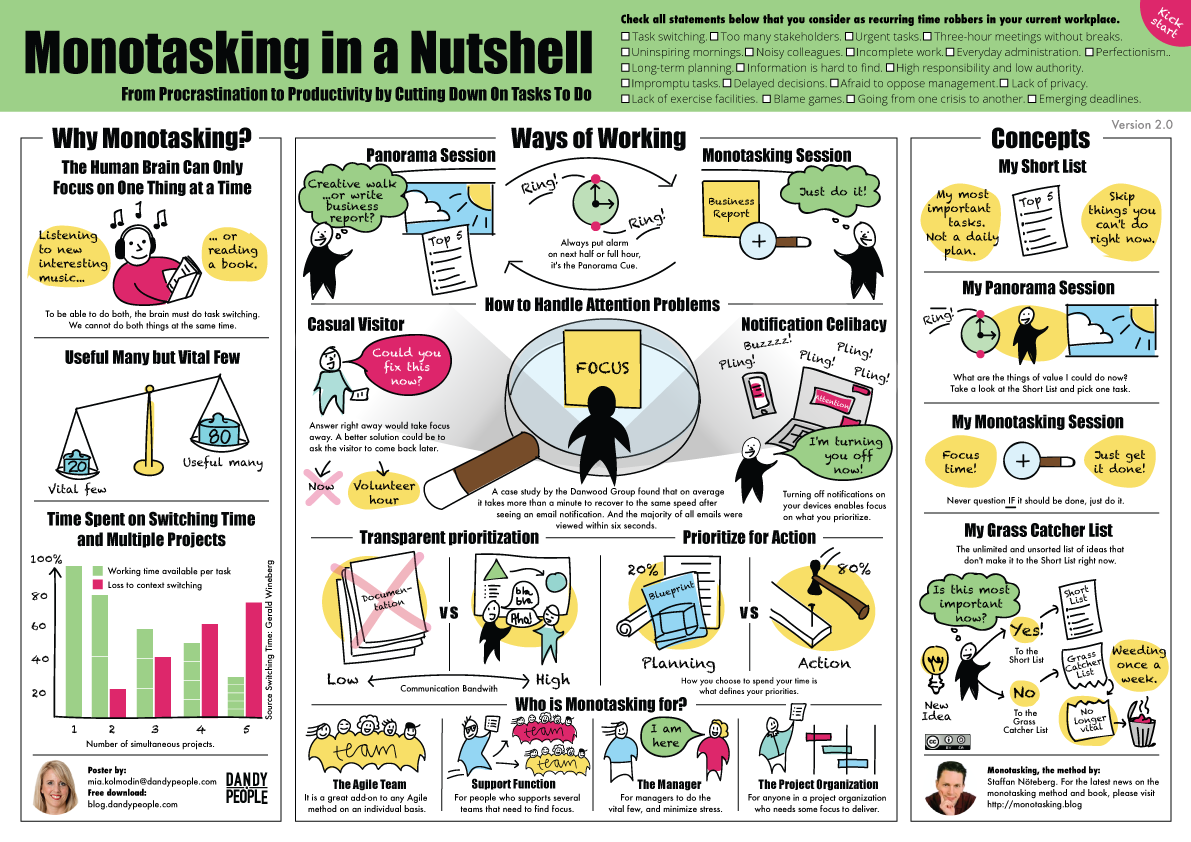 Download the infographic poster, Monotasking in a Nutshell
Download the poster below in your language: (or ket us know if you would like to translate it)
English poster in high resolution for printing (PDF) >
Portuguese poster in high resolution for printing (PDF)>
Chinese poster in high resolution for printing (PDF) >
Turkish poster in high resolution (PDF)>
Buy the poster in big A1 printed format in above languages in our shop:
Who is Monotasking for?
The Agile Team
It is a great add-on to any Agile method on an individual basis.
Support Function
For people who supports several teams that need to find focus.
The Manager
For managers to do the vital few, and minimize stress.
The Project Organization
For anyone in a project organization who needs some focus to deliver
Want to learn more?
Want to learn more and keep updated about the Monotasking method? Join the Monotasking training with Staffan Nöteberg >
EDIT 1: Thank's Jesse Bastide for proof reading of the poster. Awesome! The poster is now updated with better English 😀
Free to download, use and share
The poster is published under Creative Commons License, so please use it and share it as you like. If you are interested in doing a translation to any other languages (Chinese is coming soon) please let me know and I will help you with the file and publish it here in the blog as well.
You are free to:
Share — copy and redistribute the material in any medium or format
Adapt — remix, transform, and build upon the material for any purpose, even commercially.
This license is acceptable for Free Cultural Works.
The licensor cannot revoke these freedoms as long as you follow the license terms.
Under the following terms:
Attribution — You must give appropriate credit, provide a link to the license, and indicate if changes were made. You may do so in any reasonable manner, but not in any way that suggests the licensor endorses you or your use.
ShareAlike — If you remix, transform, or build upon the material, you must distribute your contributions under the same license as the original.
No additional restrictions — You may not apply legal terms or technological measures that legally restrict others from doing anything the license permits.

Here you find all the other posters in the series that are now translated to 14 languages and downloaded over 70.000 times world wide.