This is a workshop that I have used a couple of times to enable shared ideas about product development with development teams. It is originally called "Prune the Product tree", and part of the book Innovation Games by Luke Hohmann.
Last Friday we used it with the Dandy People team to look at Dandy and what we might need to, and like to focus on and do next, and what fruits we think it might give us.
I love these kinds of workshops and formats that are visual and where we can use metaphors and get creative in our discovery and prioritization together. The full workshop was over 4 hours (and we didn't finish).
USE THE MURAL TEMPLATE: Use the template in Mural
FREE DOWNLOAD OF PDF: Download the Prune the Product Tree poster for free in high-resolution PDF format
Checkin
Starting with connecting each individual with the topic and our own experience by asking each participant to reflect and sharing what we were most proud of from the past year, 2020, and what our dream is for ourselves and/or within Dandy during 2021.
Reflecting on our previous OKRs
Then we reflected on our OKRs for last year in pairs and mapped them in a spider web visualizing a spread of how we looked at our achievements. This was a great way to think about both how much we had managed to do, and also what held us back, as well as the format we did our goals last year. Was it helpful? Could we improve? We all agreed we can easily improve by setting key results more dynamically and revisiting them more often than what we have done so far.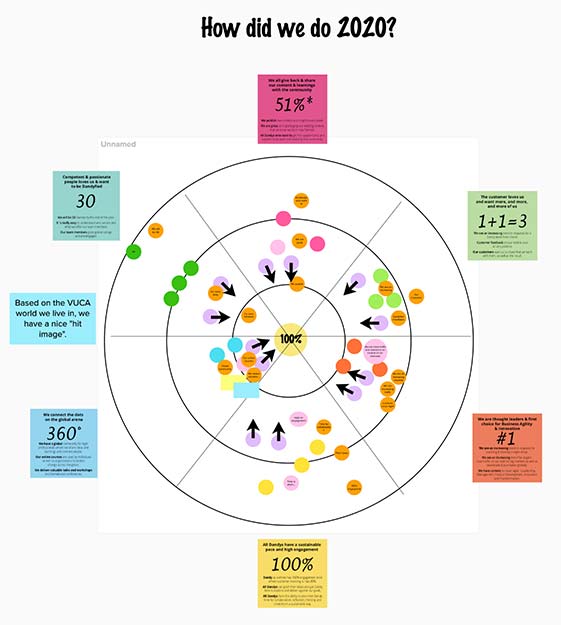 Pruning the Dandy Tree
The third part was building and pruning the Dandy tree where we had two groups working for about 45 minutes creating two trees. One online group working in Mural for everyone working from home, and one in the room on a big poster printout for those of us in the office. Both groups had different angles, slicing things differently and addressing different types of opportunities – which is great! Each group shared their tree and some vital discussions, giving us all as a group a great foundation for collectively setting the themes for our shared OKRs for moving forward as a team.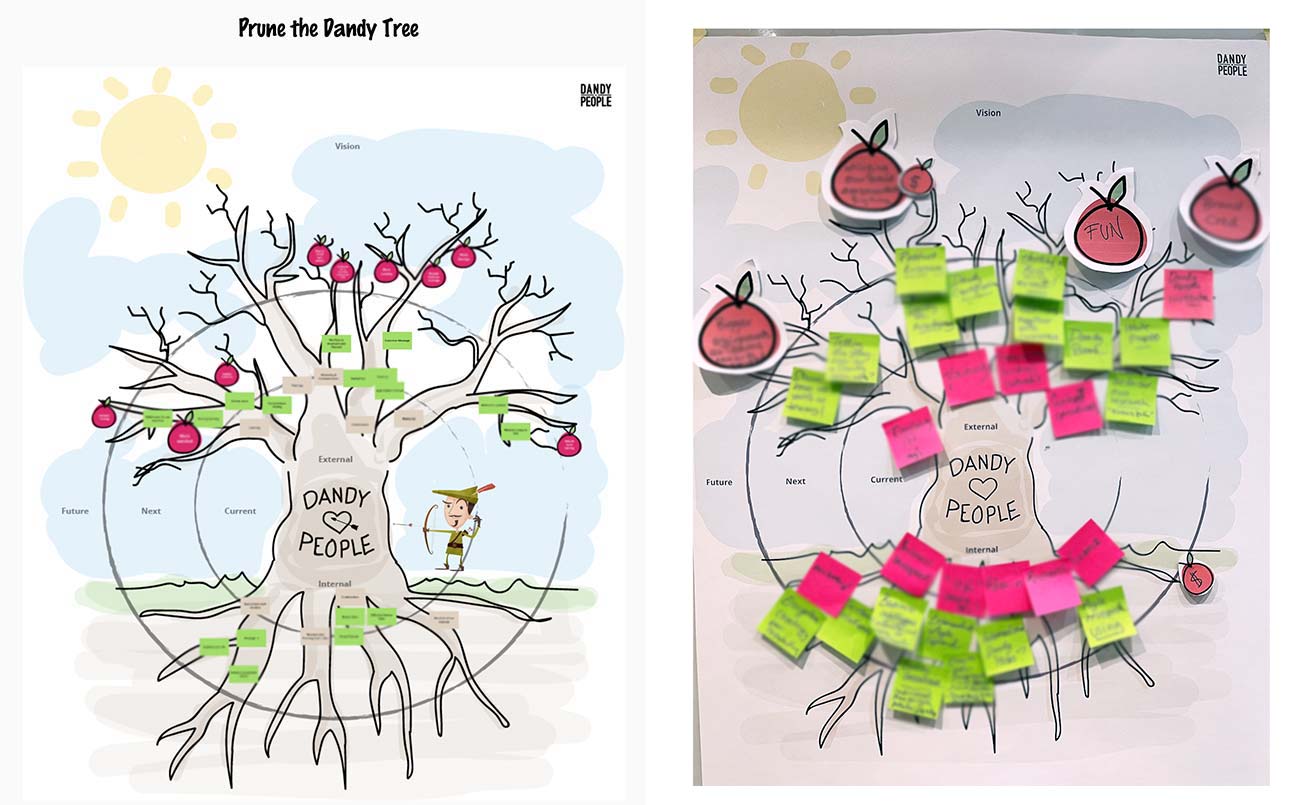 The tree represents, in this case, our company Dandy People, but it could also for instance be a product or a service. The branches can represent and group a key area and the leaf's activities, features, opportunities, or other things. We specified the branches of the tree to be external, reaching out, and the roots to represent internal things, that are needed for us to manage the top branches. Get nutrition, and keep the tree rooted, functioning, and balanced.
USE THE MURAL TEMPLATE: Use the template in Mural
FREE DOWNLOAD OF PDF: Download the Prune the Product Tree poster for free in high-resolution PDF format
Ideating on new OKRs
The last step of the workshop, ideating on the OKRs, we did base on a framework called SOAR in Mural. SOAR stsnds for Strenghts/Opportunity/Aspiration/Results. We made sure to capture everyone's ideas in the room (both physically and virtually) by asking everyone to write a sticky note each on each area, or doing a shoutout on some topics to get as many suggestions as possible.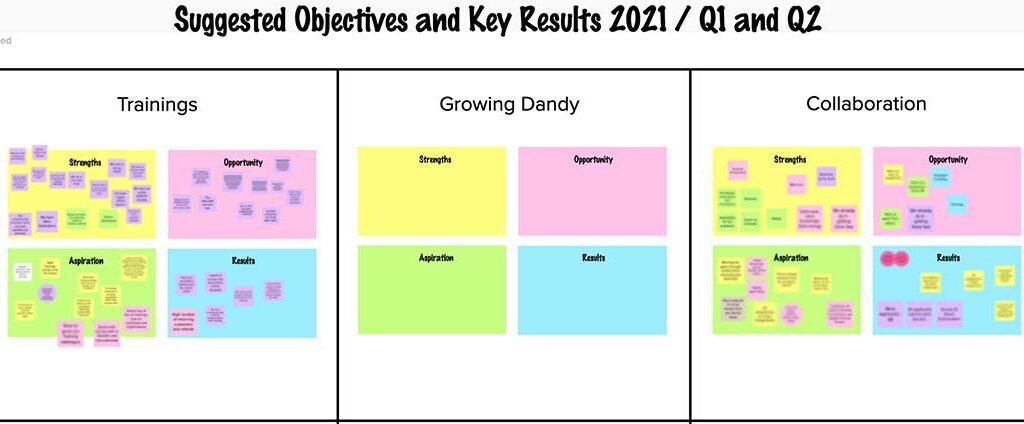 The next step for us will be to craft the objectives to capture it as a small vision and pick key results that we think will lead us to that vision (our strategy), but only stuff that we think will be doable in Q1-Q2, and then we will revisit to follow up and add new key results on a regular basis.

Hope this might give some inspiration to your strategic planning and goal-setting process. Feel free to download the printable PDF file of the tree, or use our template in Mural.