We are living in a world with a higher pace of change and complexity than ever before. Our conventional ways of leading and organizing are struggling hard to stay relevant in this new environment. Therefore, there is a need to think differently and structure ourselves differently to meet the needs of today.
We need to be more flexible with short lead times and able to make quick decisions at the right level, where they have the latest and most relevant information. In this leadership poster, we have captured Transformative Leadership which is a type of leadership that enables Agility in the organization.
FREE Download of the Agile Transformational Leadership poster (PDF) >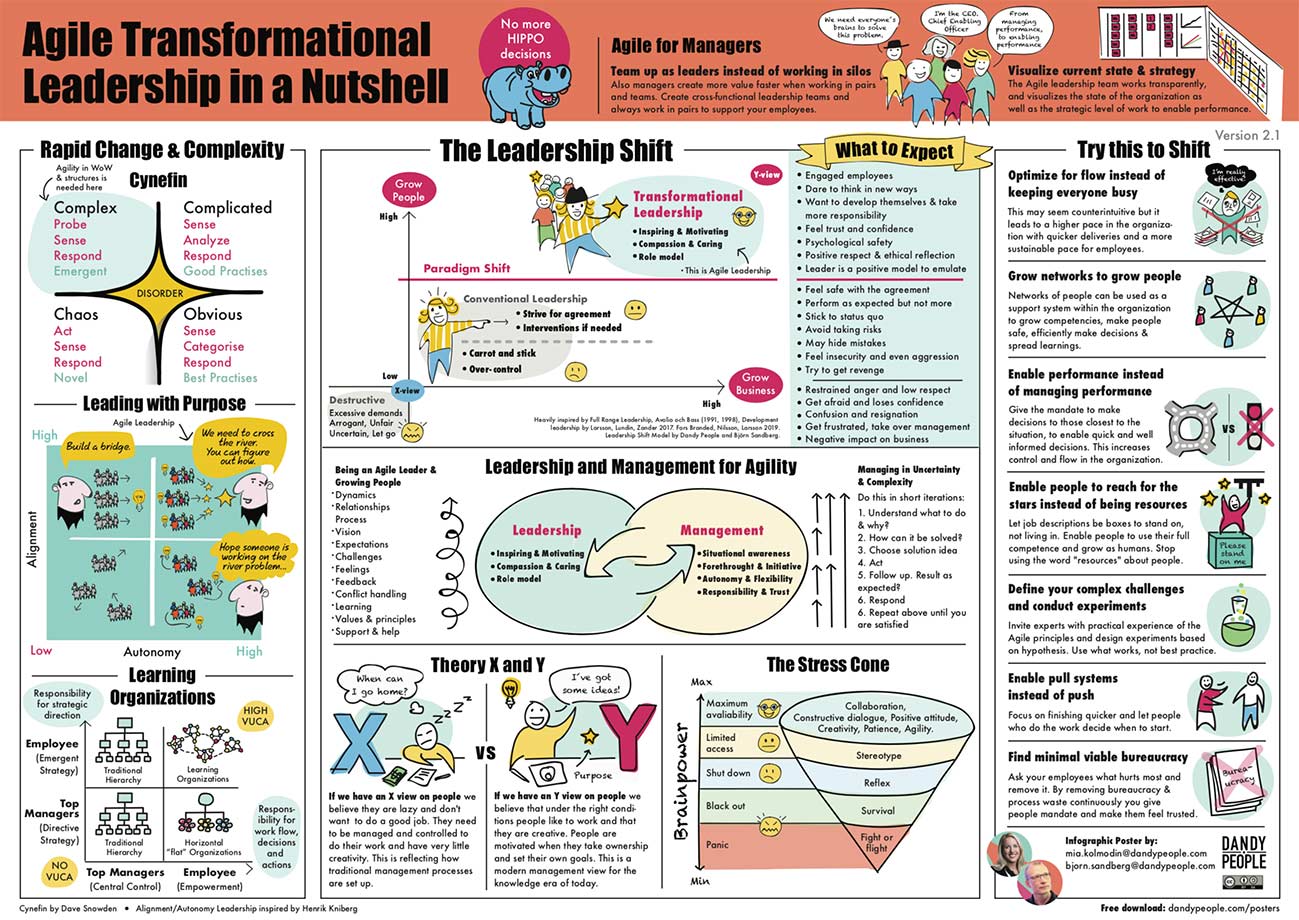 Join our online training based on this poster
If you are interested in learning more about the content in this poster or to becoming a Transformational leader in an Agile environment you are welcome to join our online training in Agile Leadership which is based on this poster. Teachers are Mia Kolmodin and Björn Sandberg.
Learning Organization
A learning organization is the best way we know to meet these demands and to handle the volatility, uncertainty, complexity, and ambiguity (VUCA) of the world of today and tomorrow.
A way to handle this is by task management and developing the organization to be a true learning organization. Start with the prerequisite for empowerment and gradually start to work with emergent strategies.
The foundation for making this possible is a leadership based on the understanding of motivation.
Theory X and Y Leadership
Agile Leadership is characterized by the understanding that people are more motivated by intrinsic motivation compared to extrinsic motivation. This is also closely related to the X and Y leadership theory by Douglas McGregor.
Theory X – extrinsic motivation – emphasizes the importance of strict monitoring, external rewards, and even punishment.
Theory Y – intrinsic motivation – highlights well-being and encourages people to approach tasks without direct supervision.
In the Leadership Shift model below you will find where X-leadership and Y-leadership lives.
A leadership shift is needed
The Leadership shift happens when we shift gear from conventional leadership, which many times has served us well, to transformational leadership, to secure the organizational result in a fast-changing and highly complex world.
The Leadership Shift Model illustrates and maps common leadership styles and the effect they have on the organizational result.
We all have the full range of all, thus behaviors to some extent and first of all, we need constantly work on removing the destructive ones.
It is also important to reduce the conventional behaviors and especially the one in the lower part of the model, and instead increase the transformational behavior as much as possible.
But we should not be afraid to make an intervention when it is needed, perhaps to stop a destructive leadership behavior. But try to do it with a transformational mindset, keeping focus on compassion and caring.
To summarize; constantly increase the frequency of the transformational behaviors at the expense of all the others. It will make people grow significantly better and will lead to higher organizational results.
Free to download, use and share
The posters are published under Creative Commons License, so please use it and share it as you like. If you are interested in doing a translation to any other languages please let me know and I will help you with the file and publish it here in the blog as well.
You are free to:
Share — copy and redistribute the material in any medium or format
Adapt — remix, transform, and build upon the material for any purpose, even commercially.
This license is acceptable for Free Cultural Works.
The licensor cannot revoke these freedoms as long as you follow the license terms.
Under the following terms:
Attribution — You must give appropriate credit, provide a link to the license, and indicate if changes were made. You may do so in any reasonable manner, but not in any way that suggests the licensor endorses you or your use.
ShareAlike — If you remix, transform, or build upon the material, you must distribute your contributions under the same license as the original.
No additional restrictions — You may not apply legal terms or technological measures that legally restrict others from doing anything the license permits.

Here you find all the other Free Agile in a Nutshell-posters in the series that are now translated to 14 languages and downloaded over 80.000 times world wide.