This course is held in English, but it can also be held on other locations and in Swedish, as well as an internal training for your company. See the Swedish training here >
This is a 2-day training where you'll learn how to work hands-on in a human-centered process for innovation where Design Thinking (research), Lean UX (hypothesis-driven ideation and continuous validation) and Agile development (Scrum) fits together. With collaborative work in a cross-functional team you will go from business problem to impact goal, to learning about the users, to exploring ideas and designing paper prototypes and validating your assumptions, and prioritizing continuously. At the end of the two days, you will have created a sliced user story map with your MVP strategy and you are ready to start delivering and validating your product in your Agile scrum team. This is modern product development.
These are all skills needed to act as a Product Owner for one or several Agile Product Teams, also known as Scrum Teams.
We speak Swedish or English depending on the audience – let us know your preferred language upon signup and we will make sure to accommodate your needs.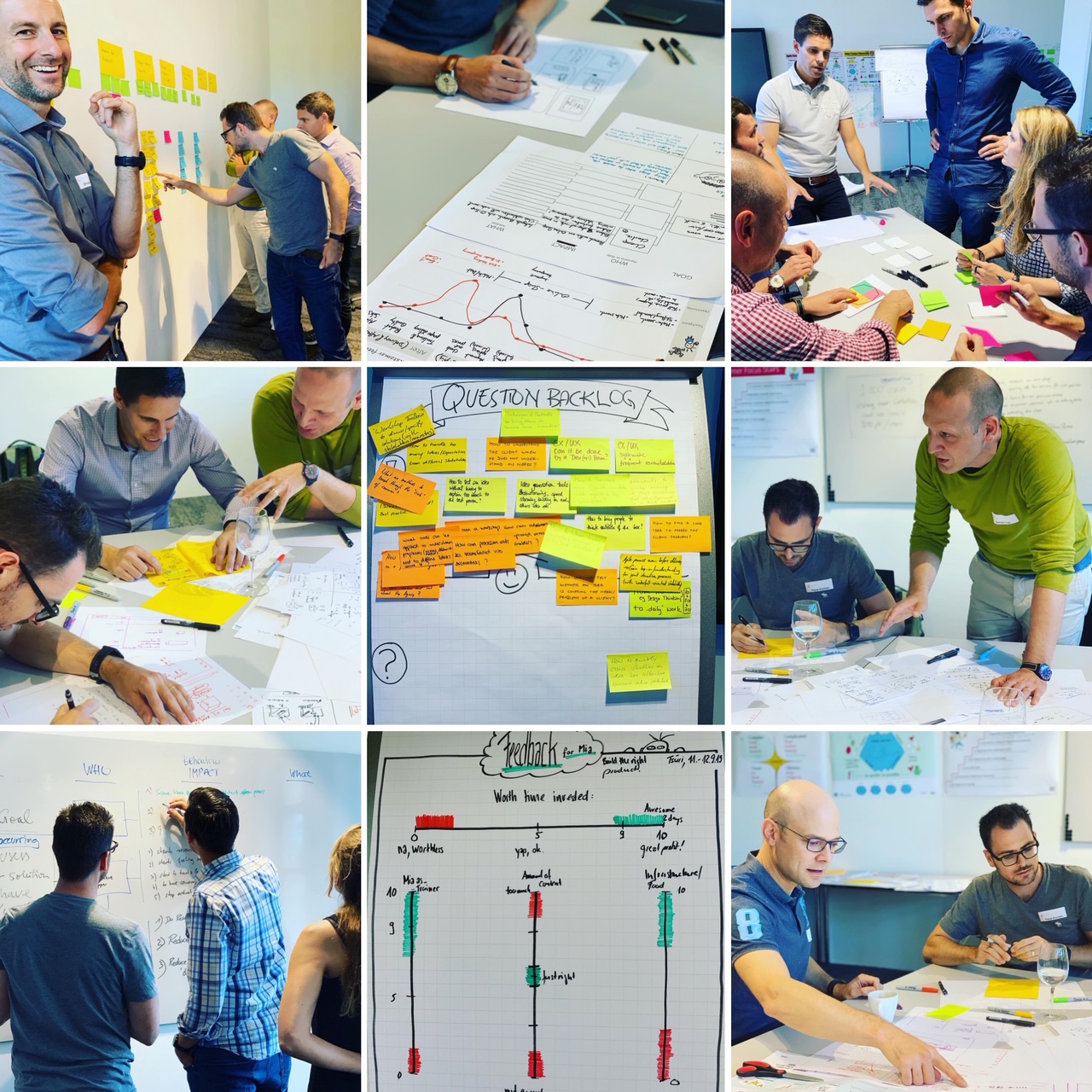 In this training, you and your team will get a defined process and a powerful toolbox for innovation with short feedback loops and a clear connection to Scrum and Agile product development. If you do this continuously in your organization you will have no more handoffs, giving you much shorter time to market, very little waste, and great possibilities to improve and adapt the process and product over time. It will be the easiest and cheapest way to innovate and test new strategies and products.
The training is also suitable for teams who want to become more T-shaped and learn how to better collaborate and work together in an efficient and structured manner to become product teams and work customer-centric and Agile.
Who is this training for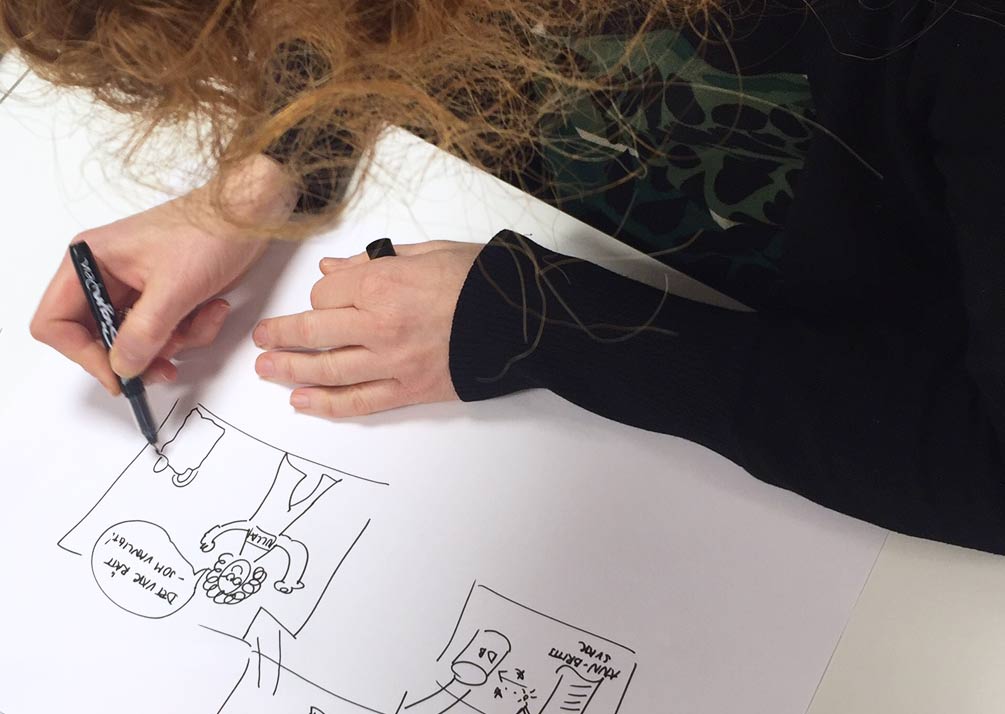 This training is for those who today work with digital product development, or if you want to start doing that, and want to use UX methods to better fit the solution to the user and business need. It is basic training for any:
Product Manager

Product Owner

Business Developer

Architect & Developer

User- and Customer Experience (UX/CX) (User researcher, Interaction Designer, Graphic Designer, Art Director

You will learn

Product Discovery – what is it and how does it work with Agile

A quick look into what different levels you can innovate in and what is right for you

How to work with discovery in a structured way with different competencies in a team

How to go from a business problem to a sliced release plan with validation with your team

Impact-driven and customer-centric product design

Methods to do Agile user research: User Transaction Flow, Customer Journeys, Roles and personas, Jobs to be Done and Storyboarding – and what to use when

Methods to plan the delivery against release- and impact goals in an Agile way: User Story Mapping

Hypothesis and early validation with users

Minimum Viable Product (MVP) – how to use it to learn and not get stuck in only releasing the smallest, not lovable product

Design Studio – Time boxed ideation and exploration involving everyone for better solutions

Paper prototyping, and digitizing prototypes for usability testing when needed

Examples from different types of product development

Examples of how to build and lead an Agile Product Organization
The role of the Product Owner in the context of Scrum

Workshops and methods you can use in your daily work and tips on how to facilitate them

What earlier students say about this training

"Gick kurs som du höll på Crisp en gång i tiden (Product discovery med Lean UX) och vill bara säga att jag hittills inte gått en kurs som gett mig sån konkret utväxling efteråt. Den förändrade både mitt sätt att jobba och mitt team. Så tack!"
– Jonna Samuelsson
Agile Change Management, Max Mathisen

"Det var en toppenkurs som gav mycket inspiration och många handfasta tips! Bra med ett case att följa och göra övningar kring genom hela kursen. Härligt med så få slides och att vi istället gick runt i rummet och pratade kring utskrivna bilder. På så sätt blir det mer dynamik och man somnar inte i stolen. Du är en duktig utbildare, både pedagogisk och kompetent inom ämnet.  Stort tack!"
– Catrine Björkegren
Agil Consultant, Frontit 

"The training gave me a lot of inspiration and creativity with help by goals, personas, and workflows without not designing anything. The focus is on how the design can support different customers' key goals, behaviors, and feelings dependent on where they are at the moment. A true a-ha experience but at the same time so obvious. Two really interesting days with a lot of different workshops. This training took me and my employer a big step closer to the customer. I truly recommend it!"
– Liza Hansson
Designer since 2001. Communication and Digital media at Agria Insurance for Animals

With clear, firm, and very practical advice together with effective workshops, methods and Agile processes Mia shares her expertise in how to develop customer-centric product design in a simple and inspiring way. I really feel that I will get used of what I learned during these two days in my work as a product designer"
– Ulrika af Klint
Product designer and Strategist

This training is suitable for teams. We speak Swedish or English depending on the audience – let us know your preferred language upon signup if not Swedish.

Where is this training

08.30 – 09.00 Breakfast
12.00 – 13.00 Lunch
09.00 – 17.00 Training

Your Trainer Mia Kolmodin

This is a popular training in modern product development that Mia Kolmodin has had for several years both in Sweden and abroad. Mia has been tweaking and updating the training to always keep it up to date based on new findings in her coaching and hands-on experience with clients. Mia is a well-known Agile coach, trainer, and international Keynote speaker within Lean UX, Product Management, and Product Ownership.