Conflict or friction is natural when we grow and develop who we are. It is often a combination of two or more types of conflicts. Make sure to identify which, and if possible choose collaboration as your solution style. When transforming to an Agile organization with teams and a new type of management processes and governance we often have to handle a lot of conflicts. It is important to understand that conflicts not necessarily is a bad thing, it is a natural part of becoming a high performing team and organization.
FREE Download of poster for Conflict resolution (PDF) >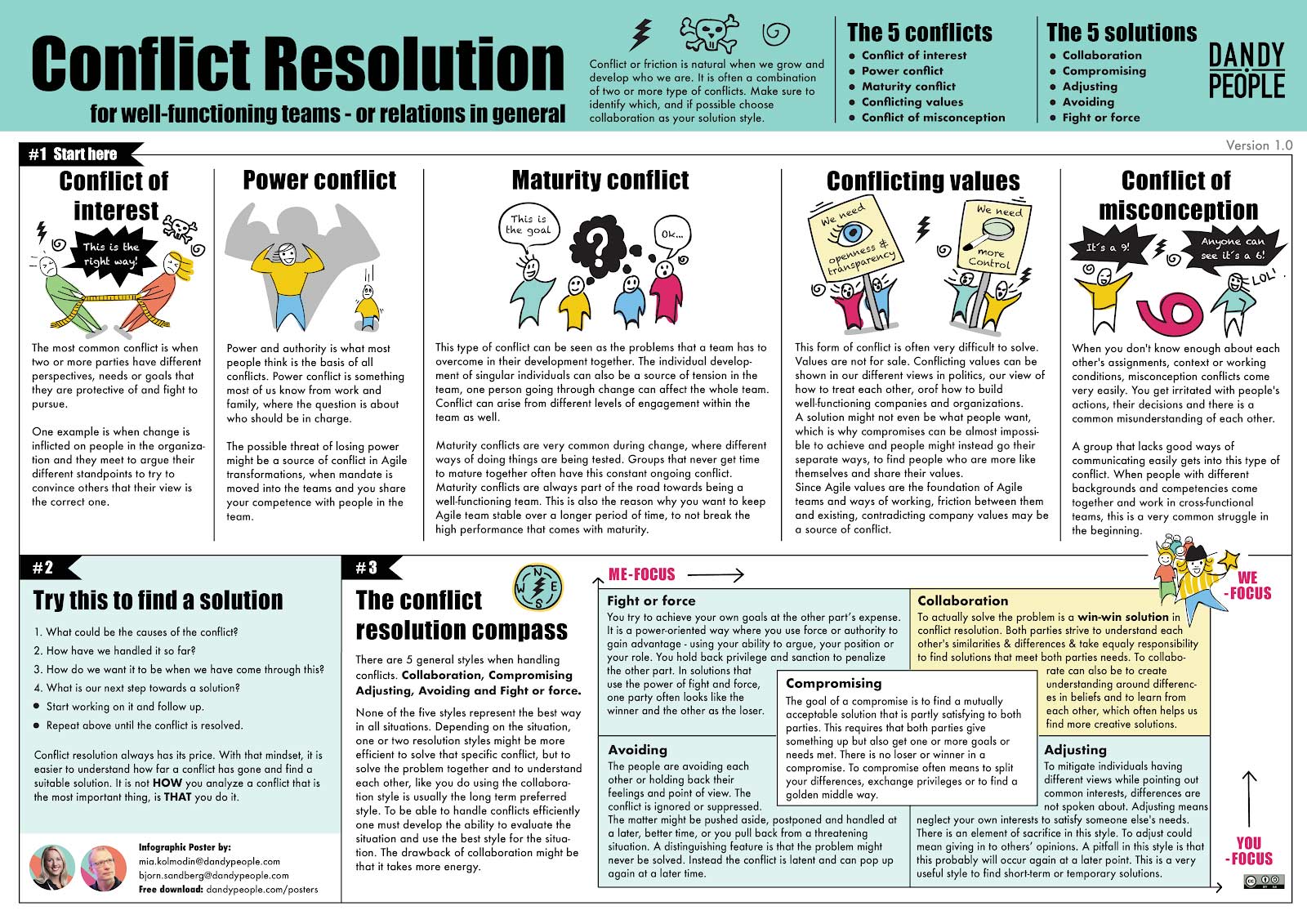 To be able to improve and change, conflicts need to be resolved by the people in the conflict and perhaps support to facilitate the process is needed. Often just a reminder that this is a natural part of improving, so let's move on and find out what we can do to improve together.
This poster was created to support smooth handling of conflicts everywhere in the organization.
We have divided conflicts into five different types. Usually, you see elements of several in conflict but one of them is the main type.
5 types of conflicts
Power conflict
Power and authority are what most people think is the basis of all conflicts. Power conflict is something most of us know from work and family, where the question is about who should be in charge. The wish to be in charge comes at an early age, when children want to be in charge of the situation, such as what clothes to wear, to get personal power and self-esteem.
The negative side of power conflict could be as bad as abuse or assault. The possible threat of losing power might be a source of conflict in Agile transformations when the mandate is moved into the teams and you share your competence with people in the team.
Conflict of Interest
The most common conflict is when two or more parties have different perspectives, needs or goals that they are protective of and fight to pursue. One example is when change is inflicted on people in the organization and they meet to argue their different standpoints to try to convince others that their view is the correct one. If they cannot come to a compromise or a win-win solution, it is the access to power and mandate that determines who wins or loses.
Maturity Conflict
This type of conflict can be seen as the problems that a team has to overcome in their development together. The individual development of singular individuals can also be a source of tension in the team, one person going through change can affect the whole team. Conflict can arise from different levels of engagement within the team as well. Maturity conflicts are very common during change, where different ways of doing things are being tested.
These challenges often arise when the team or group doesn't have the time to get to know each other and take each other's differences and competences into account. Groups that never get time to mature together often have this constant ongoing conflict. Maturity conflicts are always part of the road towards being a well-functioning team. This is also the reason why you want to keep Agile team stable over a longer period of time, to not break the high performance that comes with maturity.
Conflict of Misconception
When you don't know enough about each other's assignments, context or working conditions, misconception conflicts come very easily. You get irritated with people's actions, their decisions and there is a common misunderstanding of each other.
A group that lacks good ways of communicating easily gets into this type of conflict. When people with different backgrounds and competencies come together and work in cross-functional teams, this is a very common struggle in the beginning.
Conflicting Values
This form of conflict is often very difficult to solve. A solution might not even be what people want, which is why compromises are almost impossible to achieve. Values are not for sale. Conflicting values can show in our different views in politics, our view of humanity and how to treat each other, or of how to build well-functioning companies and organizations.
Often this kind of conflict cannot be solved and people might instead go their separate ways, to find people who are more like themselves and share their values. Since Agile values are the foundation of Agile teams and ways of working, friction between them and existing, contradicting company values may be a source of conflict
The Conflict Resolution Compass
There are 5 general styles when handling conflicts; 𝗖𝗼𝗹𝗹𝗮𝗯𝗼𝗿𝗮𝘁𝗶𝗼𝗻, 𝗖𝗼𝗺𝗽𝗿𝗼𝗺𝗶𝘀𝗶𝗻𝗴, 𝗔𝗱𝗷𝘂𝘀𝘁𝗶𝗻𝗴, 𝗔𝘃𝗼𝗶𝗱𝗶𝗻𝗴 𝗮𝗻𝗱 𝗙𝗶𝗴𝗵𝘁 or force.
None of the five styles represent the best way in all situations. Depending on the situation in the specific conflict, one or two resolution styles might be more efficient to solve the conflict, but to solve the problem together and to understand each other, like you do using the collaboration style is usually the long term preferred style.
To be able to handle conflicts efficiently one must develop the ability to evaluate the situation and use the best style for the situation.
Free to download, use and share
The posters are published under Creative Commons License, so please use it and share it as you like. If you are interested in doing a translation to any other languages please let me know and I will help you with the file and publish it here in the blog as well.
You are free to:
Share — copy and redistribute the material in any medium or format
Adapt — remix, transform, and build upon the material for any purpose, even commercially.
This license is acceptable for Free Cultural Works.
The licensor cannot revoke these freedoms as long as you follow the license terms.
Under the following terms:
Attribution — You must give appropriate credit, provide a link to the license, and indicate if changes were made. You may do so in any reasonable manner, but not in any way that suggests the licensor endorses you or your use.
ShareAlike — If you remix, transform, or build upon the material, you must distribute your contributions under the same license as the original.
No additional restrictions — You may not apply legal terms or technological measures that legally restrict others from doing anything the license permits.

Here you find all the other Free Agile in a Nutshell-posters in the series that are now translated to 14 languages and downloaded over 80.000 times world wide.