An agile team has a heartbeat and a rhythm to their meetings and conversations. So does the whole organization. To enable our agile teams to succeed in their mission some crucial conversations need to happen in a structured manner in the organization.
As an agile coach, Jimmy has a unique experience in helping modern agile companies such as Spotify, Kry/Livi, Tibber, and many more to discover how to make agile work at scale, beyond the agile transformation. With many stories and examples, he shares what he has learned about modern governance structures and ceremonies.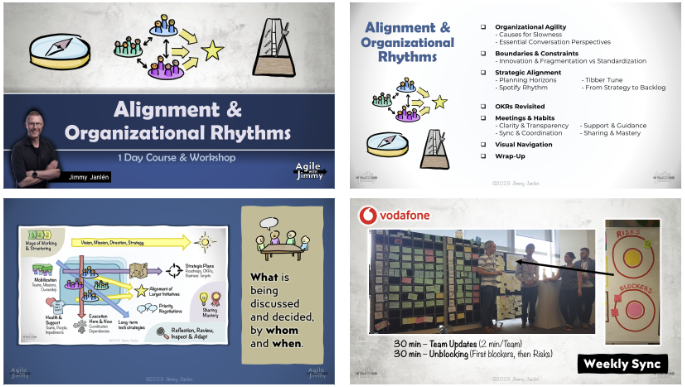 Even though we have autonomous self-organizing teams – they won't be able to succeed in their missions without support. They need mechanisms to continuously resolve dependencies and impediments, as well as guidance in prioritization and alignment.
In this course, we will inspect the heartbeats of an agile organization – the essential conversations that need to happen to enable and empower our agile teams to succeed in their mission and in their contributions to our shared collective goals. We will also discuss what makes us slow, preventing us from experiencing the promised benefits of agile.
Topics covered during the training…

➡️Organisational Agility
Common causes of slowness. Essential Conversation for the Agile org.
➡️Boundaries & Constraints
Alignment and Boundaries as Enablers. Fragmentation vs Standardization
➡️Strategic Alignment
Planning Horizons. OKRs. Other examples of strategic alignment frameworks.
From Strategy to Backlog. Roadmap visualizations.

➡️Ceremonies & Habits
Clarity and Transparency on when what and whom.
Support & Guidance. Sync & Coordination. Sharing & Mastery

➡️Visual Navigation
Organizational Maps. Transparency of Meetings & Rhythms
Who is this training for…
This course is for leaders and influencers on all organizational level, such as:
CxOs

Heads of Department/Area/Tribe

Engineering Managers. Product Managers, Product Owners.

Managers and leaders. 

Scrum Masters, Agile/Lean Coaches, Change Agents.
Prior Knowledge & Prerequisites
No prior knowledge is required.
But knowledge about Scrum, or experience from working with agile teams, is a benefit.
3 for the price of 2
For all of Jimmy's courses, you can redeem an offer where you get to send three participants for the price of two.
More info about this training October 17th
The training is conducted remotely over video using Zoom.
Schedule:
08.45 – 09.00 Technical check-in and coffee
12.00 – 13.00 Break for lunch
09.00 – 17.00 Training
Mer information om tillfället den 5 december, inklusive AW
Den här kursomgången är på Svenska, i Dandy Peoples lokaler på Humlegårdsgatan 19 i Stockholm.
Schedule:
08.30 – 09.00 Frukost och mingel för den som vill
12.00 – 13.00 Lunch
09.00 – 17.00 Utbildningen pågår
17.00 – 19.30 AW för de som vill.