Välkommen till en kreativ fredagseftermiddag tillsammans med Mia Kolmodin och gäster!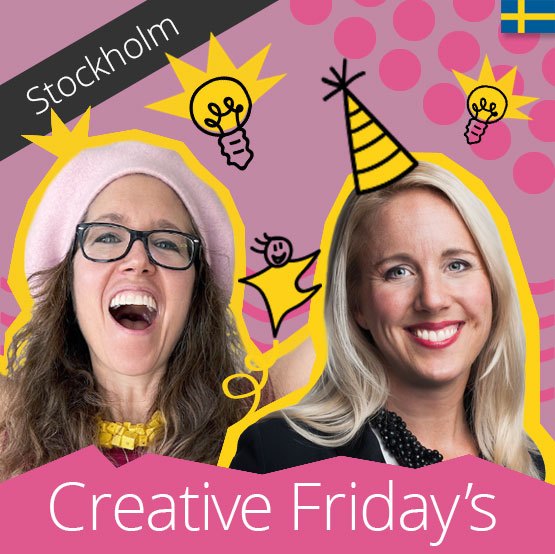 At this event we will speak English.
Tillsammans utforskar vi vår kreativitet, lär oss att möjliggöra kreativitet i olika former, utforskar nyttan av kreativitet och framför allt har en inspirerande, rolig och lärorik eftermiddag ihop. Creative Friday's återkommer löpande i Dandy Peoples kreativa lokaler med olika gäster under året.
PÅ det här tillfället har vi Mia Kolmodin och Kari Kelly båda från Dandy People som är certifierade LEGO® SERIOUS PLAY®-facilitatorer för att facilitera evenemanget. Det kommer att bli väldigt roligt – och du kommer förmodligen att lära dig mycket om båda dina meddeltagare, kanske också om dig själv, och lära dig mer om hur LSP kan möjliggöra kreativitet!
Innovation and Story Making with LEGO® SERIOUS PLAY® – med Mia & Kari den 1a December
Du kommer att få prova på olika kreativa övningar med den spännande metoden LEGO® SERIOUS PLAY® som är framtagen internt på Lego för att facilitera det strategiska arbetet. Mia Kolmodin och Kari Kelly är certifierade facilitatorer och de kommer att leda faciliteringen där ni kommer att få prova att jobba med både grupputveckling och innovation med hjälp av  LEGO® SERIOUS PLAY®. Story Making med Lego är ett effektivt sätt även för de som inte tycker att de kan vara "kreativa" att bidra med sina erfarenheter och ideér.
Målgrupp: För dig som vill utforska hur lego kan möjliggöra kreativitet genom story making.
Förkunskap: Inga förkunskaper om något behövs 🙂
Datum: 1 december
Tid: 13.30 – 16.30
AW: 16.30 och framåt
Plats: Dandy People, Humlegårdsgatan 19A, 2tr. Stockholm
Agenda
Introduktion (självklart med en kul lego-övning)
Bakgrund till LEGO® SERIOUS PLAY® och genomgång av olika användningsområden
Uppvärmningsövning
Grupputvecklingsövningar
Innovationsövning
Gemensam avslut kring hur ni kan använda detta i er organisation
Varmt välkommen!
Dandy People's kreativa lokaler

Our central workshop and training facilities that inspires to creativity and growth.
In the center of Stockholm you find our creative space of 100 sqm designed for Agile workshops, trainings, seminars, meetups and other activities to support fun and energizing growth. We offer our consultants, customers and partners to use our facilities and we also use it for our own activities within Dandy People.
The space is named Las Vegas, because what happens in Vegas stays in Vegas 😉
The Las Vegas space is divided in two big rooms with a wall, but no doors in between. That is why both areas are always used by the same group at all times. One part, the SOCIAL SPACE, of about 50 sqm is designed with comfy sofas and chairs for about 20 people. And on the other side of the wall is the WORKSHOP SPACE. This space is dedicated for workshops, trainings and seminars and it is an open space about 50 sqm with flexible furniture to fit any purpose.