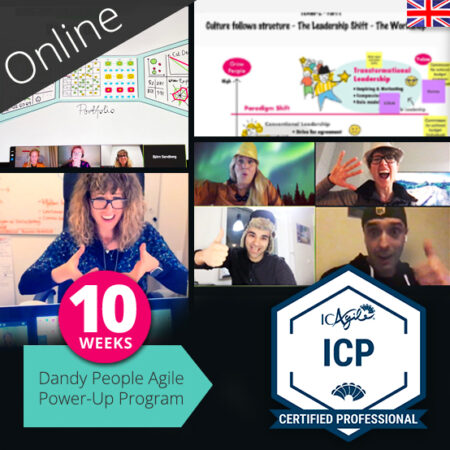 Are you curious about Agile and interested in moving from new to Agile to understanding how you can work in an Agile team and to support an Agile Transformation? Probably you don't know where to start? What if you have a chance to learn in a fun and interactive way supported by experienced practitioners and other students sharing the same focus? This is a training that will give you all of that – and more.
The "Dandy People Agile Power-Up" program combines self-led study and experience-based activities to maximize learning and interactions in a remote setting. 10 weeks cover 5 learning sprints: Agile Basics, Agile Product Development, Agile Teams, Leadership for Agile and Growth, Learning Organizations and Agile Transformation.
Access all our original Dandy material on our dedicated platform. Experience a 2-hour active workshop per week, facilitated by our experienced Agile Coaches. Your facilitators engage you with coaching sessions, break-out discussions, and hands-on practice.
Leave the program with your ICAgile Certified Professional (ICP) certification (upon completion), a toolbox that you can re-use, access to the training materials for a full year, and a network to continue learning from peers in the program.
Buckle up and get prepared for lots of fun learning and kick-start your Agile Journey!
How it works
Starts on 15th November with the first session, which includes an intro to get to know each other, the tools, and the program.
Then every Tuesday 3-5 PM CET we will have a 2h interactive online workshop. 5 workshops before Christmas (15Nov, 22Nov, 29Nov, 6Dec, 13Dec) and 5 after Christmas (10Jan, 17Jan, 24Jan, 31Jan, 7Feb)
2-4h of self-study is needed every week. The self-study content and assignments can be done at your convenience on desktop or mobile.
5 different learning sprints during the 10 weeks
Ends on February 7th with the last session which includes a group activity needed to receive the certification.
What are the perks of this program?
Visual & Fun
All online content and exercises are visual, fun, and always to the point. No endless, boring lectures or slides!
Facilitated Workshops
Dedicated online coaching sessions and facilitated workshops are all part of the training curriculum.
Agile Toolbox
You will learn to use great Agile tools in your own context building up your very own Agile toolbox through the exercises and great downloads.
Community & Learning Buddies
Get access to our Digital Community, buddy up with other participants to solve problems together, and share your thoughts in online coaching sessions.
Experienced Agile Coaches
This exclusive program is created and facilitated by experienced Agile coaches and trainers with many years of hands-on experience from dandy People and the Dandy People Network.
ICAgile Certified Professional (ICP) certification
Upon completion you will get an industry-leading professional certification from ICAgile.
Accessible 24/7
The self-studying content is available to you anytime you want, on mobile and desktop, and can easily be digested in small nuggets. It will also be available to you 1 year after the training for you to be able to use it in your work.

The Weekly Journey
Learning Sprint 1
Since this is an online training we first need to get everyone on board to use the digital tools – and to get to know each other.
We start by understanding the basics of Agile ways of working and some key principles and concepts. You reflect on the difference from your current way of working and the value this might bring you.
Learning Sprint 2
We dig into the why, and when you need to work Agile. We also dig into what value based Agile product ownership means, the process, and mindset. We take a look at some business cases to see how an organization can transform and become Agile. You create an understanding of what business problems you can solve for yours.
Learning Sprint 3
To create a high performing organization we need to start with the team. We learn about what a team really is, how to start one, and what T-shape means. You facilitate the start or re-start of your own Agile team.
Learning Sprint 4
We learn how to support the team to become high-performing and how to foster a growth mindset. We also take a look into transformational leadership and the impact it has on business growth, dig into the learning organization and the Buddy System and we learn how to do a Design Thinking workshop as a team.
Learning Sprint 5
We learn about the Agile transformation Ladder, what phases an Agile transformation usually goes through, and how some core management practices can be adjusted to support Business Agility. You take a look at where to start the transformation journey in your organization, or what the next steps could be. We share our learnings from the program and what experiments we can do.
Hi from the Trainers & Facilitators
All trainers have vast experience from Agile transformations, product development, organizational development, leadership development, team coaching, and have worked in many different organizations across different countries.
What do former participants say?

"The straightforward and not too long videos and texts in the training material along with the positive energy in the visuals makes it really easy to assimilate the information. An extra bonus is that the material is available for a long time afterward. I was positively surprised of how much I enjoyed the coaching-sessions and the workshops where I really came to appreciate the discussions with my classmates and coaches!"
Åsa Gugolz, Technical product manager, SE
"Without a doubt the best Agile program I've ever attended! The Agile Power-Up Program with fellow Agilists – both new and more experienced. A brilliant combination of theory and practical exercises conducted as self-study, homework and online sessions, facilitated by highly skilled Agile coaches. Definitely exceeding my expectations and worth the investment.

With this program Dandy People have created a format that has unlimited potential. I will gladly attend a future part two of this program."
Jesper Ingvardtsen, DK, Senior ScrumMaster at SimCorp

"Big shout out to Dandy People and their The Agile Power-Up program! We worked with topics like Agile principles, flow, feedback loops, Agile teams, Business Agility, Cynefin, conflict resolution, you name it.
I have been to several classes and certifications during my 10 years in this community and I can strongly recommend this one 👌
10 weeks of intensive agile training! 4 top of the class Agile coaches! What's not to like 🙂 Practical exercises, online games and self-study. This program is so much more valuble than many other 2 days courses.

Dandy People! Sign me up for next round."
Thomas AC Kofoed, DK, Professional Agile Coach & Scrum Master


"Konkreta roliga övningar, generösa ledare och härlig stämning! Jag har fått med mig en massa bra idéer och metoder som verkligen kommer att bidra till mitt fortsatta experimenterande i vardagen."
Ulrika Ekbohm, HR-Chef Svenska Spel AB, SE