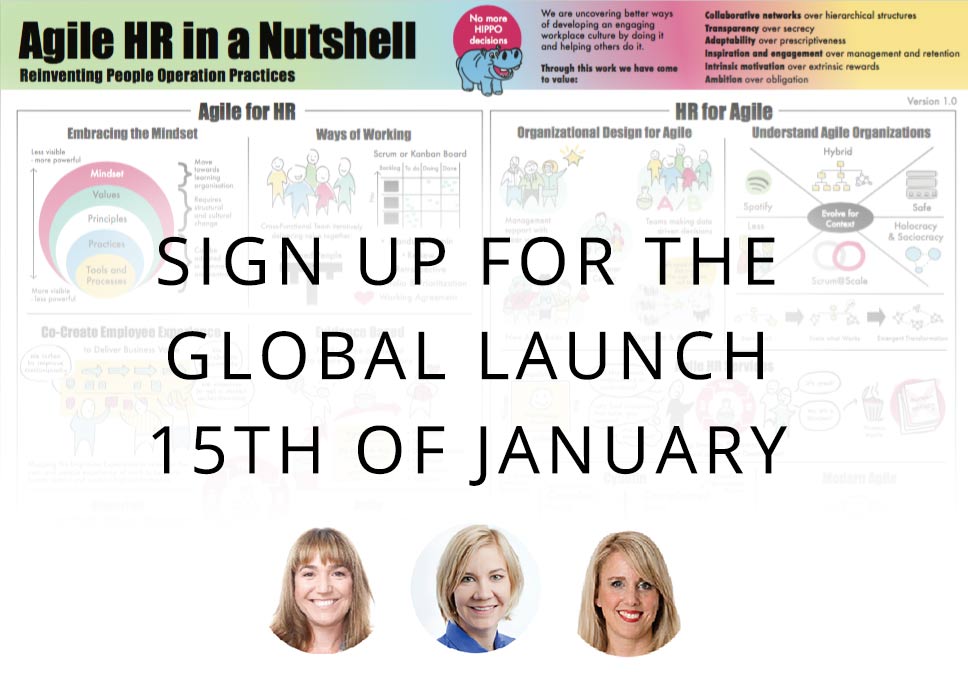 We've teamed up with the talented Riina Hallström and Natal Dank – co-creators of the Agile HR Manifesto –  to create the first Agile HR in a Nutshell free infographic resource. Join us for the global online launch and webinar to learn how this excellent learning resource will help all Agile HR enthusiasts, from active practitioners to budding learners.
We'll be hosting two webinars on Tuesday 15th January to cover different time zones around the globe.
What to Expect?
• Why organisations and teams are 'going Agile' and the implications for HR and the future of work
• What is Agile HR and how it is transforming the HR profession?
• Meet Mia Kolmodin and explore her Agile in a Nutshell infographic series
• Meet Riina Helström and Natal Dank from the Agile HR Community
• Explore the Agile HR in a Nutshell infographic and the core elements of Agile HR
• Understand the new knowledge, behaviours and skills Agile HR demands from a HR professional
• Open question and answer discussion
Sign up here: https://www.agilehrcommunity.com/agile-hr-in-a-nutshell-webinar/
Riina Helström and Natal Dank, co-founders of the Agile HR Community
Agile HR pioneers, who founded the Agile HR Community to ensure world class professional standards in a discipline they love and are proud to lead.
Riina and Natal combine an extensive background in senior Human Resource Management and Organizational Development with on-the-job experience applying Agile mindset and methodology across a wide range of industries and organisations. This unique combination ensures you receive the thought leadership required to guide your professional development, and more importantly, the practical know-how to instantly translate your Agile HR skills back into your workplace.
Mia Kolmodin, Founder of Dandy People and Agila kontrakt
Mia is an Enterprise Agile coach and trainer that works across the whole organisation from marketing to finance to innovate value chains, build networks of collaboration and enrich the customer journey. Mia's design background means she is also an amazing graphic artist who has famously penned the Agile in Nutshell infographic series, downloaded across the globe as an essential Agile learning resource.
When are the Webinars?
Each webinar is timed to suit a particular place in the world. but you're welcome to join any session wherever you are.
Register below and learn how Agile HR In A Nutshell and the Agile HR Community can help future-proof your HR career.
Sign up here: https://www.agilehrcommunity.com/agile-hr-in-a-nutshell-webinar/