What do you usually say is the difference between those who succeed and those who don't? Those who succeed always tries something new when "failing" using the learnings, and they always take smaller steps moving in their wanted direction to get to their next goal on the way.
With that in mind we designed this canvas as part of a training we created some time ago, the Dandy People Agile Power Up program. The main purpose of the improvement canvas is to give support to teams to continuously improve. What is great about it is that it works in any context, on BIG stuff or a bit smaller, and for any team or group, or individual.
During our training program that lasts over 10 weeks the participants gets to use it as an exercise in smaller groups to get familiar with how to use it and the thinking behind it, but also bring it in in to their day to day work. Many says it really helps them to focus and do real improvements step by step. Some also realize they have never really thought about change and improvement as a step by step process before and thet this canvas helped them to focus on finding the next small steps to take in the right direction, instead of trying to go big and reach that full, often too complex, goal directly.
FREE DOWNLOAD: Download the improvement canvas for free (PDF) >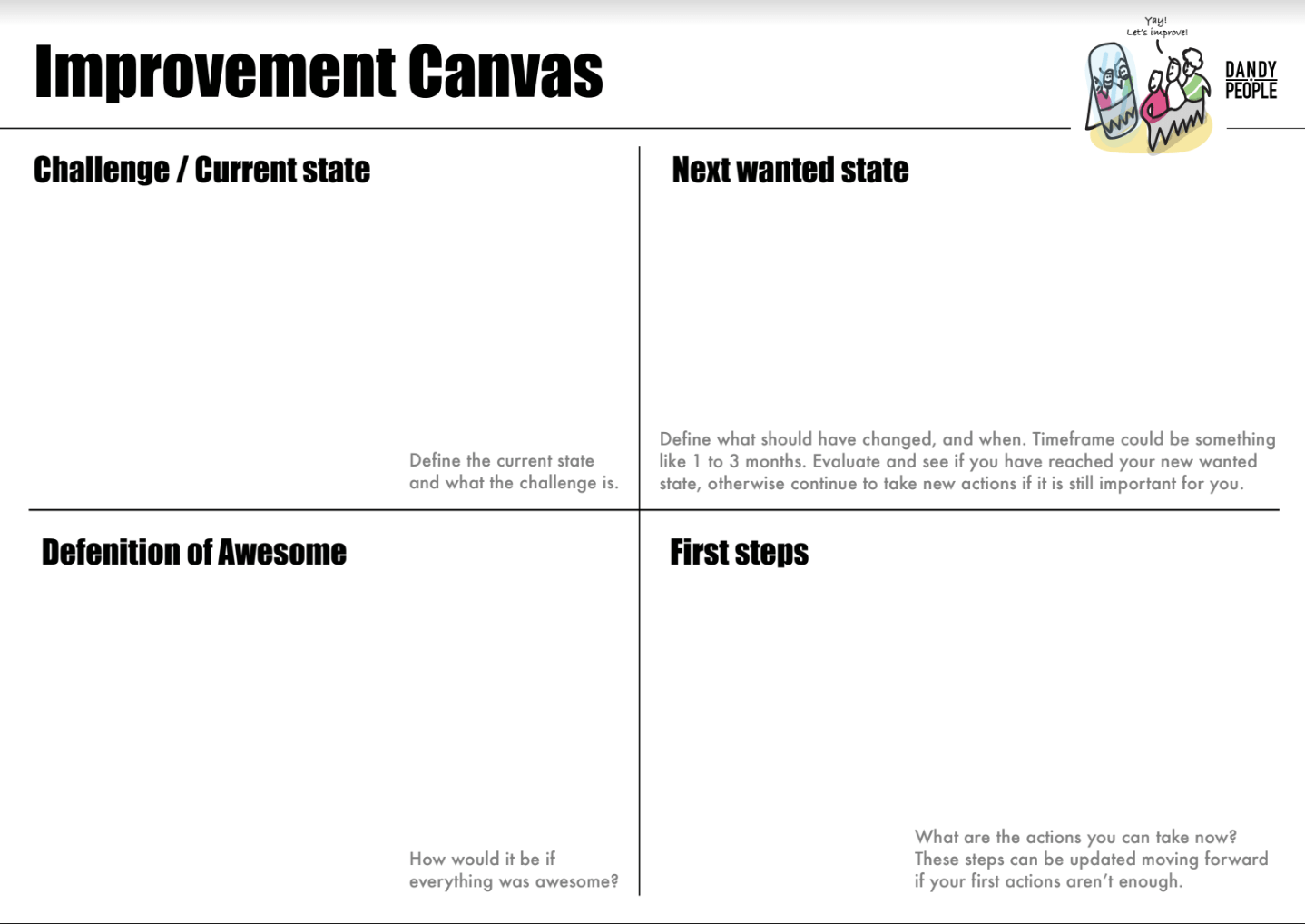 The four different areas
Challenge / Current state
First you start by understanding your current situation and defining what the challenge is.This is a great thing to do together to get a shared view of how it is today and what you think could improve. Write it in the canvas.
Definition of awesome
Then you want to take a look at and define what it would look like if it was just awesome, if everything was like you would like it to be. Define it together as well and put it too into the canvas. Getting a shared picture of this is crucial for enabling you to get there together.
Next wanted state
What would a next target state look like as a step in the right direction? What would have changed then? Also look at the time frame, when would you like it to be achieved? This should then be something you can evaluate to see if you have reached this next wanted state or not – and if not come up with new next steps or experiments to do. Or if you have reached your next wanted state, is it like your definition of awesome, or do you want to continue to moe closer to it? If so, set your new next wanted state and continue once again.
First steps
What are the actions you can take to move closer to your next wanted state? Evaluate if you are moving towards your next wanted state when possible and adjust your actions if needed, and define more when needed.
If you are an Agile team you add your actions/activities to your short term plan (perhaps the sprint backlog) to get it done as soon as possible to be able to see some change. Some organizations who wants to do a lot of improvement to take bigger leaps might see themselves doing 50% improvement work for a period of time (or even more). But it can also be so that you as a team use this for making improvements based on what you find on your retrospective and that you have one improvement story each sprint in your sprint backlog to always keep adapting.
Just as it is with a good knife, the more often you sharpen it, the easier it is to cut and slice the food. And just as a professional chef at a top notch restaurant never skip sharpening their knifes, neither does we who want to be able to deliver great value to our customers.
Hope the improvement canvas helps you and your team do more great stuff together!