This is the third post in the November Agile Leadership and Management Series.
As an Agile Leadership Team, regardless of the four Leadership team hats you find yourself wearing, there are certain conditions that dramatically increase the chances that a group of leaders will develop into an effective team.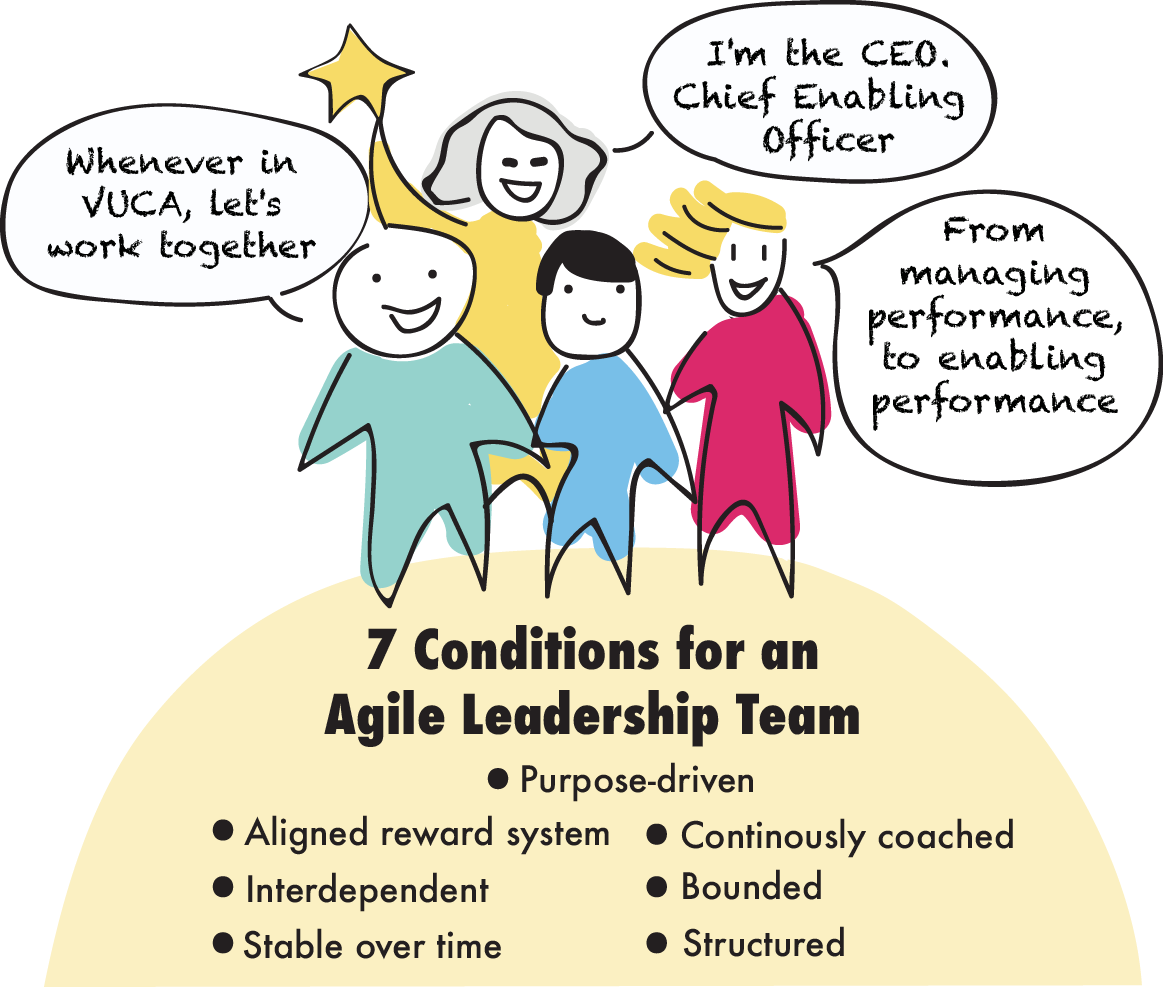 The 7 conditions of an Agile Leadership Team
Purpose-driven – The Agile Leadership team's purpose must be challenging, consequential, and clear.

Aligned Reward System – Agile leadership teams can only be successful when they get the information, education, reinforcement (i.e., aligned reward systems), and basic resources they need to fulfill their purpose.

Interdependence – The work of an Agile Leadership Team must require joint effort, shared responsibility, and collaboration across organizational boundaries to achieve a collective, enterprise-affecting purpose.

Structured – Team structure refers to the specific features that shape how members behave and interact.

Bounded – Effective Agile leadership teams have clear boundaries.

Stable – Effective Agile leadership teams maintain stable membership long enough for members to know each other's strengths, limitations, and learn how to work together as a team.

Continuously coached – The best Agile Leadership Teams are continuously coached and are coaching themselves to evolve, learn, and grow.
When these conditions are not in place, researchers have found that members are likely to encounter chronic problems when working together, such as dysfunctional conflicts, uncertainty about how to best proceed with their work, dealing with issues that get seem to get resolved and then reappear, and continued focus on individual silos at the expense of enterprise-wide outcomes.
---
Did you enjoy this post? Please follow us on LinkedIn for daily updates >
The next post in the November Agile Leadership and Management Series: Starting an Agile Leadership Team.
---
Sign up for the free webinar
The new Agile Leadership in a Nutshell poster will be released at the end of November 2020. Sign up for the free release webinar here if you'd like to learn more about it.
Topic: Free Webinar – Release of the Agile Leadership Team in a Nutshell Poster
When: Nov 30, 2020 06:00 PM Stockholm
Register in advance for this webinar:
https://us02web.zoom.us/webinar/register/WN_8-st6zZGQA2M-xQLS12euQ

After registering, you will receive a confirmation email containing information about joining the webinar.