At Spotify they did an analysis of all Spotifys RnD offices, how the people move, sit, collaborate and what they like or not.  The analysis has been used to build and renovate all Spotifys new offices.
Here are some of the key takeaways I have made from visiting Spotify and talking to them about their RnD office space and what it means to them and how they are looking to redesign the BJG RnD office in Stockholm. This is my interpretation of their thinking expressed in 10 Agile design principles for office spaces to allow aligned autonomy. You can read more
about that visit in this post >
If you have Agile teams in your organization, or if you are planning to evolve in to an Agile learning organization, these design principles are for you to use to create an environment where Agile teams can thrive.
These are the 10 key design principles for Agile office spaces inspired by Spotify
No walls between teams – Instead they use string walls which has become a signature design for the Spotify spaces, allowing the teams to feel just enough separated but still getting the benefit of viewing and listening in to conversations – or they use sofa areas as natural separators. Also the string walls gives the possibility to put up work or fun stuff which makes the space even more personal and visual.
Only one coffee machine and kitchen per floor – so that people meet and interact with others outside of their squad (team) and tribe (teams).
Every employee should have their own desk – people tend to be very attached to their desks. Especially the developers that have several screens or people with a lot of other equipment or personal features.
Desks should be big enough for two people – this is to cater for easy access to pair work, wether it's pair design or pair programming. High performing Agile teams do this a lot.
Sofa area in every squad area – it's a great place to sit and discuss, and anyone can join in if they have a solution or more information. People also love to lie down and work by them selves during the day. Also they act as separators of space in a nice way.
Meeting rooms included in all squad areas – it's one of the keys to efficient team work at Spotify to never have to book a meeting room to collaborate with people within the team. At Spotify squads have a 2 people meeting room to talk with someone face to face in private, a full squad meeting room – and in the new renovated space they will also have meeting rooms for 4 people.
As  much whiteboards as possible – it should be possible to collaborative and brainstorm and leave stuff on the walls on as many places as possible near the squads, but also in collaboration areas. It can never be too many whiteboards in an Agile organization.
Big screens accessible in all squad areas and meeting rooms – to make daily meetings efficient all squads have their own screens to use for meetings – and others to use to visualize their data.
Video conference equipment in all meeting rooms and squad spaces – it should always be possible to dial in to an office and join an conversation in a good way.
Space for fun and relaxation – strive for that everyone should feel at home and that they can find spaces to relax and have fun in, also in their spare time. Invite employees to come to the office with friends on weekends and of course to bring their kids.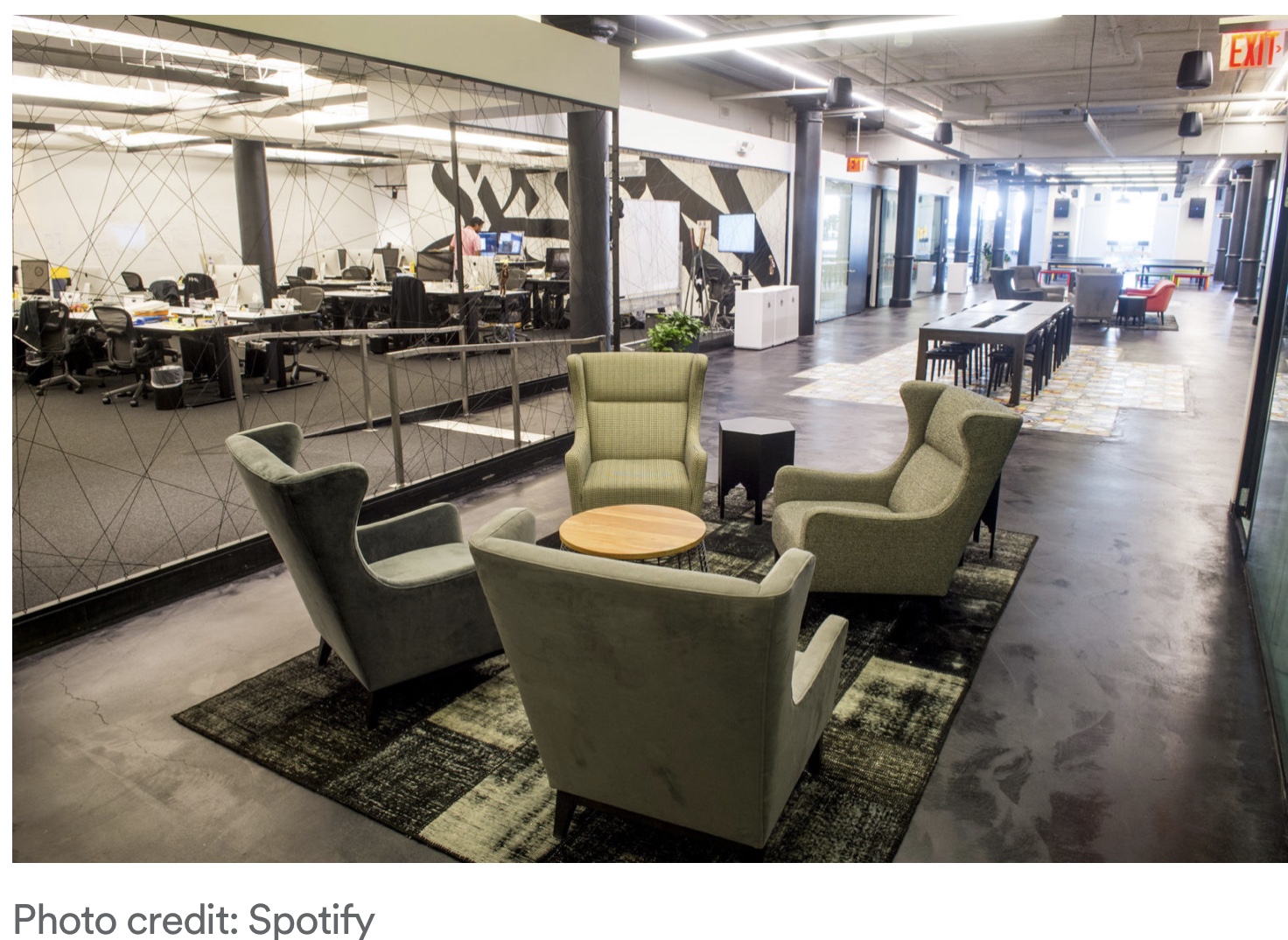 Rules at Spotify
What they also have are as few rules as possible, and the rules they have are supporting the Agile core values
Squads decide themselves what to use and how – its always up to the squads how they want their space to work and look. They should be able to make it "their" space.
Always changing and improving – the spaces should reflect who we are and what we do. Anyone should be able to add or improve an interior detail, and we should always adapt the interior to support new context. It should be an ongoing creative work, not something done for us, rather by us.
If squads need to collaborate they decide themself how to do so – If a team from Stockholm need to work with a squad in NY, they would probably travel there to make the collaboration as smooth as possible. But it's totally up to them, at Spotify they have no rules for that but they to try to organize themself to have as few dependencies over time as possible between tribes.
Trust people – We are all grownups and we want our colleagues to like us, so at Spotify they don't have any rules or policies of how to behave in our space. "We want everyone to be able to feel comfortable and be themselves."
Cleaning is done without interrupting privacy – the cleaning in the squad space is done by the nice cleaners who work in the office, but if teams don't want them to clean their desks they don't. People tend to like their stuff not to be touched by others.
Here you find all the posts from Dandy People on Agile office spaces:
Here you can read the official Spotify posts about their office space: