Strategy is only as good as its ability to enable your product people to make smart decisions. It must evolve to remain fit for purpose. For those of you who want to make sure your product strategy serves your people, a collaborative approach helps you recognise and prioritise the most crucial gaps to work on.
The last post shares the product strategy health check template. Here's one way you could work with it to align your POs, PMs, CPOs or whoever is in your product org chart. Co-creation is key to a shared commitment and conviction. Start with asking your product people to identify areas where they want more context. You can enable them a little better, each time, even if the official strategy is still in progress.
Treat it like a Kata, returning monthly or quarterly (but no less frequently) to prioritise the next biggest gap you want to close. A strategy isn't grown in one night, so this is something that you can make more robust over time, piece by piece. Each time, gather product people to add what they know, then dot vote on which field they most need more data on to make informed decisions. Then split into pairs or small groups, choose one, and work on making it clearer before you next meet. This way, your strategy evolves over time, can gradually be strengthened, and benefits from collective effort. Don't forget to remove old, irrelevant info as you go too.
How to run the workshop
Invite people to a session. Depending how mature or detailed your strategy is, or how many people you have, you can timebox one hour and no more than a half day.
Ensure your meeting is accessible from anywhere. Even if you're back in the office, someone may need to stay home with a mild cold, but still able to contribute.
Give an overview of the framework. Beforehand you can share details, answers, and links so people can get across the context before meeting. Ensure as many of the fields have information as possible. If you have the answers to some questions, but no one can access them, you get the added bonus of information flow and not wasting knowledge you already have.
Give time for attendees to ask any questions to clarify the framework. (This is not time to ask questions about the content or insights that inform your strategy).
Each person gets three votes to highlight the question that would most improve their knowledge of their product context. You can use the Miro voting function or emojis of your choice.
Prioritise items in a list to the side. You can copy/paste questions into a new list.
Ask which roles are best suited to address this question. Does it need to be the CPO? A data scientist or UX researcher? A PM?
Each person present adds their name to a note or has an avatar that they move to the question they want to deep dive on to improve the answer before the next session. Pairs and small groups are recommended.
Review the list: Are the top issues covered? Does anyone need to rearrange to ensure this? It's more important to answer a few of the questions at the top than many questions that are less voted.
Agree on when you will check in next and identify challenges, new information, and what you learn. Whether you have a daily, weekly, or fortnightly huddle is up to each small group or pair to self-organise.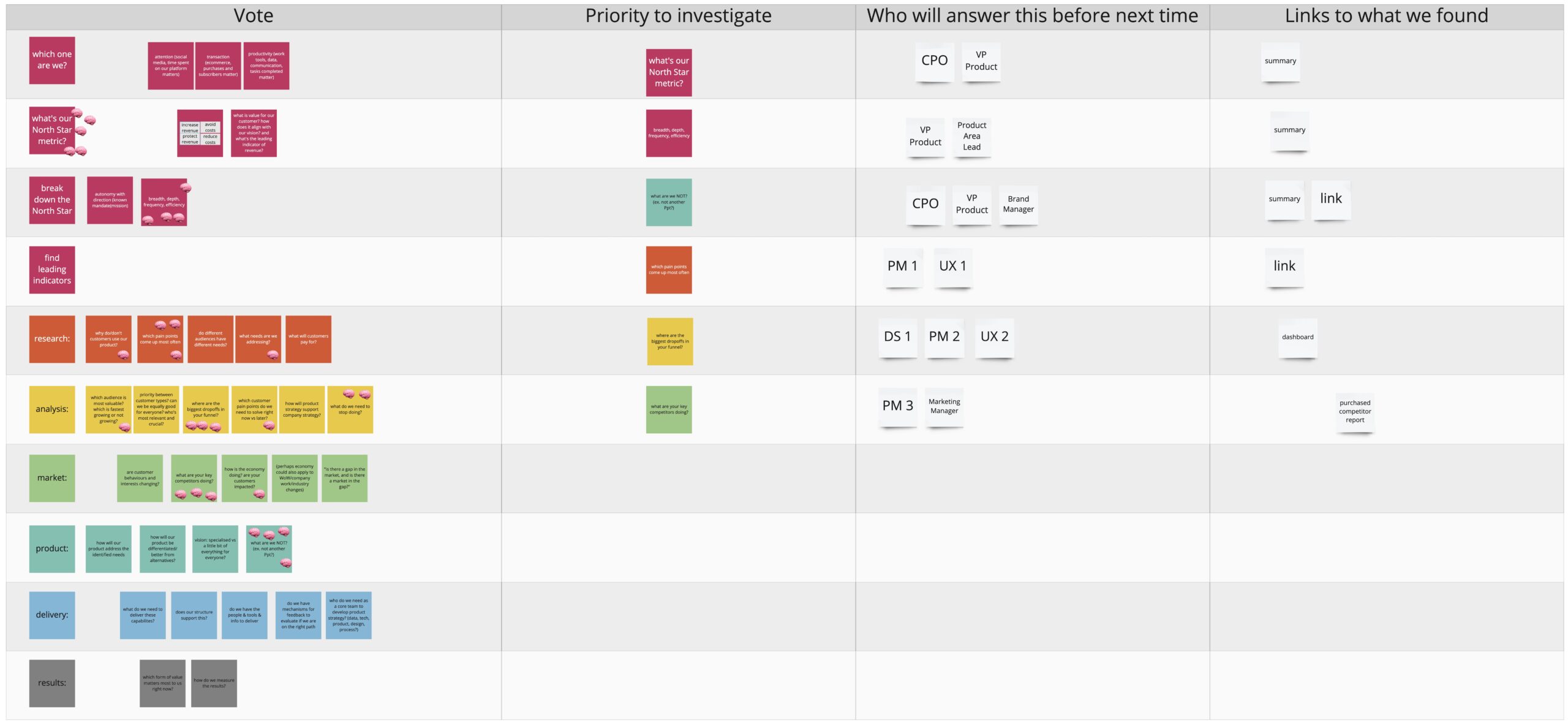 You can copy the second part of this Miro board to get started.
Continuous use is key. Strategy can be intended for a 3 year duration, but new conditions, competitors, or customer opportunities can pop up at any time. Check on this monthly or quarterly to see if each component is still valid, and if any area needs some attention.
Try this out, and let me know if you have additions, changes, or reflections on your own strategy development.