This is a canvas you can use with your team to visualize some of the key concepts, facts about the team – but it is also a part of the process to build a high performance team to do the activities needed to fill out the canvas with the team. Keep it visual by the team and bring it with you on important team meetings.
Download the Team Canvas for free in high resolution (PDF) >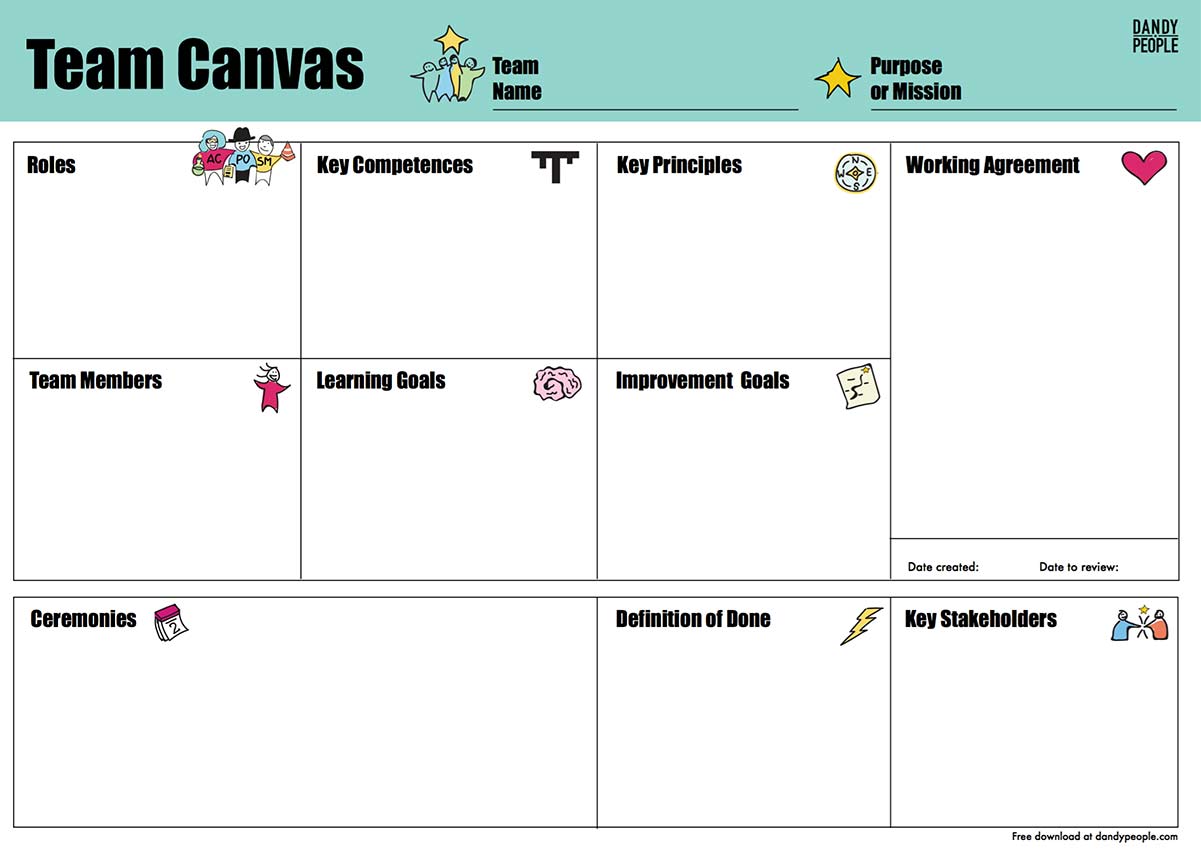 Team Name
It is always great for the team spirit to come up with a nice and cool or funny name by them selves, don't let any one else set it for them.
Purpose or Mission
It is crucial for the team to set a clear mission to enable them to focus and give clarity. It should be in connection with user- and business strategy and it is usually a job for the Product Owner if the team has one. What the team delivers and prioritizes depends on their mission.
Roles
What roles the team has depends on how the team works. If the team works in Scrum it is usually just three roles, Team, Scrum Master and Product Owner. When we work Agile and want to build high performance teams that can collaborate and work towards a common goal we don´t want people to have other type of roles wich might make it difficult for the team to collaborate on what has the highes value right now.
Team Members
These are the people in the team. A efficient team has everyone in the team at 100%.
Key Competences
What the teams key competences are is great to call out clearly. The key competences should be in line with the team mission so that the team can deliver end to end without dependencies to other teams. In Agile teams we rather talk about competences then roles.
Learning Goals
It´s great to also call out learning goals for the team and for individuals. If the team as a whole need to grow competences to optimize the performance or to be able to take on a new mission they should do so as a team. Calling out the goal makes it clear and easier to plan for and follow up as a team.
Improvement Goals
An Agile team is always improving, often small things in every sprint. But sometimes the team need to collaborate with others outside the team, with other teams and with other functions. Those kind of common goals and activities, for example OKR´s, Objective and Key Results is something the team can work on for a longer period of time and perhaps measure impact in collaboration with other teams. Both type of improvement goals can be put here.
Key Principles
Principles that we understand and see help us be as good as we can be are a great way to help us experiment and improve over time without moving in the wrong direction. An example of principles is "We take end to end responsibility", "Everyone in the team meets with the customer" or "We stop starting, start finishing".
Working Agreement
To create a working agreement with a team is a great way for the team to come together and agree on how to collaborate and take responsibility and ownership together.
Ceremonies
The ceremonies teams have depends on in what process the team works. To make that process clear and define it enables the team to improve it. If the team works in Scrum the common ceremonies are Refinement, Sprint Planning, Daily Standup, Review and Retrospective. The team can also highlight who is responsible for what ceremony.
Definition of Done
Many teams and their customers finds it valuable to have an agreement on when the team is done with their works, or "done-done" as it is sometimes put. What are the expected level of commitment that we expect from each other. This is usually a great way to minimize conflicts in the team and also between team and customers. The definition of done is usually a list that covers what should be done before someone can pull something on the Scrum or Kanban board to "done".
Key Stake Holders
To create a list with the teams key stake holders enables the team to become more autonomous and to get in contact with them also without the Product Owner.