The first course occasion of Agile Change Management has been held successfully on 14-15 November 2017 with 10 experienced and curious change leaders participating from companies in transportation, retail and consulting. We are very grateful for the generous exchanges of ideas and experiences by all participants and we are very happy to see that everybody shared many laughs during the numerous practical exercises 🙂
Participants' comments on LinkedIn can be found here and here. We work extensively with feedback on all our courses and the next occasion will incorporate a dozen or so improvements to make it even better.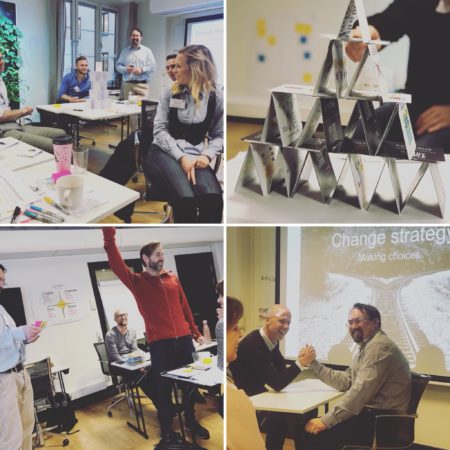 To successfully lead change in a people-friendly way when operating in a complex and rapidly moving environment we need an iterative discovery of what actually works in terms of bringing people and system to work in a new and improved way. We have combined concepts from Lean, Agile, DMAIC and the Standard by ACMP and labeled it Agile Change Management. Experience from teaching these concepts in Japan, the United States, Brazil, UK, Ireland, Sweden and China have been incorporated into the design of this course.
In the picture below we see the Agile Change Process which is made up of an outer circle representing a change that is needed. It contains both a people track and a system track as both dimensions are needed for change to happen quickly and ensure return on investment. The inner circle Plan-Do-Check-Act is the iterative discovery using experiments that gradually takes us past obstacles and towards the goal. The change is concluded when peoples' new abilities have led to goal fulfillment and the improvement is sustained and celebrated.
The concepts covered in the Agile Change Management training are covered in a free poster.  The Agile Change Management in a Nutshell poster is available for free download here >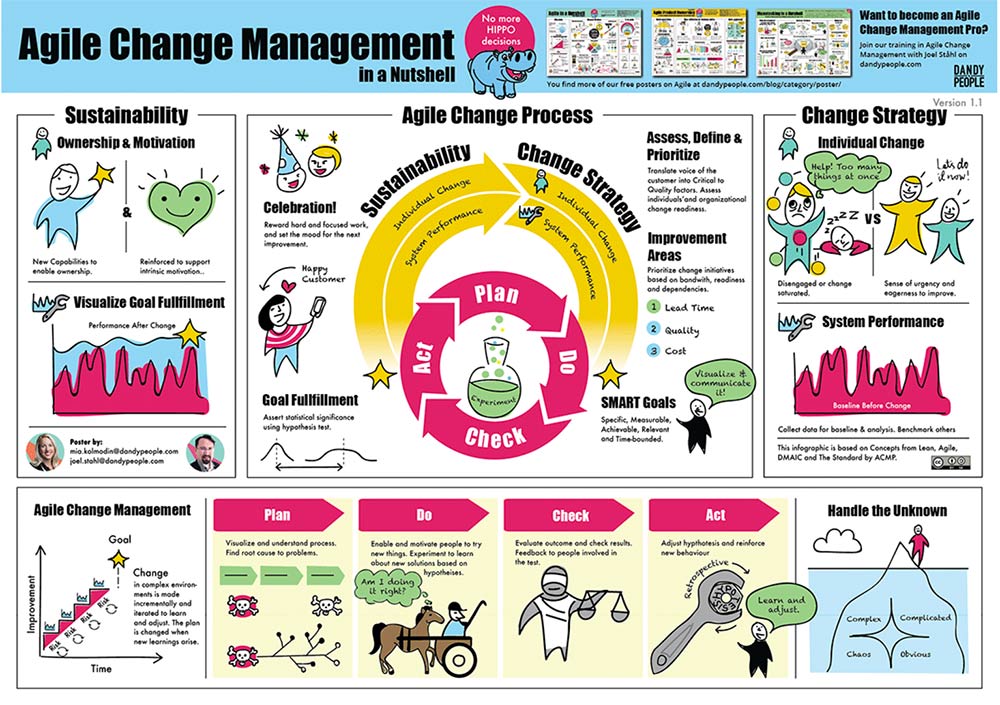 Free to download, use and share
The poster is published under Creative Commons License, so please use it and share it as you like. If you are interested in doing a translation to any other languages (Chinese is coming soon) please let me know and I will help you with the file and publish it here in the blog as well.
You are free to:
Share — copy and redistribute the material in any medium or format
Adapt — remix, transform, and build upon the material for any purpose, even commercially.
This license is acceptable for Free Cultural Works.
The licensor cannot revoke these freedoms as long as you follow the license terms.
Under the following terms:
Attribution — You must give appropriate credit, provide a link to the license, and indicate if changes were made. You may do so in any reasonable manner, but not in any way that suggests the licensor endorses you or your use.
ShareAlike — If you remix, transform, or build upon the material, you must distribute your contributions under the same license as the original.
No additional restrictions — You may not apply legal terms or technological measures that legally restrict others from doing anything the license permits.
Want to help and spread this poster by translation it to your language? Please let us now!
Our other posters in the Nutshell series
Agile in a Nutshell poster >
Monotasking in a Nutshell poster>
Agile Product Ownership in a Nutshell poster >