Since the customer is what drives the value in the organization, we must also organize accordingly. Narrow minded, sub-optimized-silos-days are finally over – future proof organizations with teams that have customer focus and can use their brain power to deliver value – here we come!
Poster downloads (PDF):
English poster > 
Brazilian Portuguese >
To organize around the customer journey has proven to be extremely effective in order to deliver as much value as possible, as fast as possible – and to make the customer as well as the employees feel awesome! In most organization the organization structure itself is what´s causing the most pain – maybe no wonder when you reflect on that the silos based hierarchical organization is over 100 years old! You can download the Agile Leadership poster for more on that topic.
We are starting to see great results from organizations that have embraced this that makes for a strong business case for any organization. We love to be able to finally be able to share this concept with you. Enjoy!
The Over all Structure of the Customer Journey Product Organization
We have captured the over all visualization of how the organization can work hoping to give you a goal picture and a common understanding.
Here you can Download the poster in high resolution (PDF) >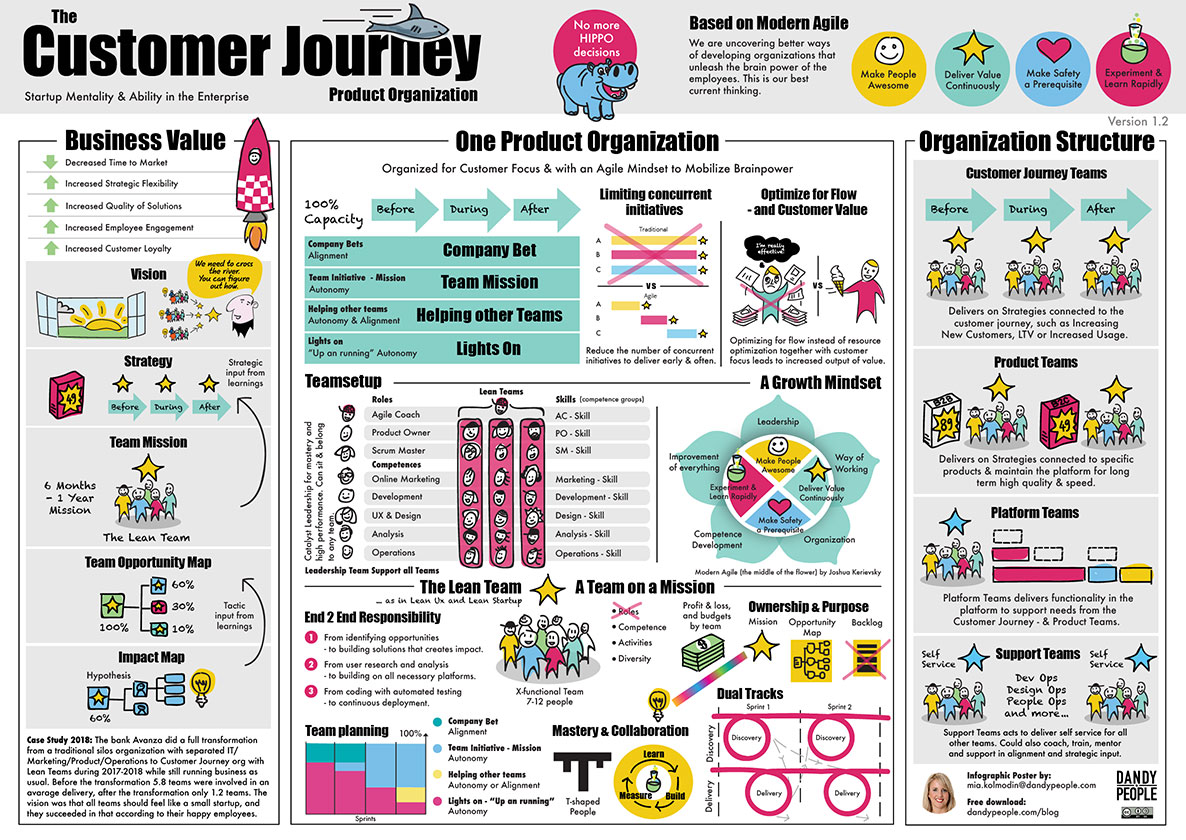 At Dandy People we support teams and organizations to become Agile to be able to focus on the business strategies and to mobilize the brain power in the teams to deliver value continuously. We call these value driven Agile teams for "Lean Teams" since they own the process end 2 end to deliver value, and that they also own the part of the service or product end 2 end. These teams work hypothesis based and have clear missions for 6-12 months with clear KPIs that gives them mandate to decide what to do when and enables them to have a ongoing learning process – all which is needed in a fast paced world if you desire to be the leading product or service within your niche. Crucial for these teams are of course the T-shape of the team members. The T-shape is something that enables the team to work as a team and it creates a really strong teams without dependencies to people within the team – and it also prevents the team to not do mini-waterfall in the team (just doing their part and handing over to the next). You can read more about T-shape here and how to grow it as a leader.

In this post you can download the poster for free and learn more about:
Lean Teams Connected to the Customer Journey with Missions
User research, Planning and Delivery across the Organization – connects as never before
Slicing for Value with User Story Mapping to create Alignment
The different type of teams
Cross-functional competences is needed in the Lean Team
Modern Agile and Continuous improvement of the System
Choosing what type of Organization you want to have Together
Avanza Leads the way with Lean Teams and Customer Journey Organization
Presentation on the Customer Journey Product Organization
Lean Teams Connected to the Customer Journey with Missions